Well my false promises of regular updates is attributed to all sorts of things happening here which I was not expecting.
Last time I came here - in 2008, I was a mere smidge away from outright hating the place. It was in the depths of a very horrible winter with wet snow and I was also unwell on the journey over and ended up in hospital. This time, I am very much enjoying myself even though some of the same things are still overwhelming me.
This is almost the exact opposite of Reykjavík in these aspects. It is so dirty, the air is so revolting like thick soup on some days, the noise of car horns and more never, ever, ever stops. These things are why I cannot see myself ever living here. A stay for 6 months maybe, but no more. Maybe its the mother in me, maybe its because I was born in the countryside or maybe its just because base things like peace and clean air are completely understandable requirements. But as I am here for a limited time, even these things are not marring my stay in any way. I am instead absorbing the heat, the energy, the size, the variety - the things which Iceland doesn't, or rather can't provide.
Being here is more or less the equivalent to being on Mars, or as Ívar says, another dimension. I went shopping for simple household things, and it took me about 20minutes to buy shampoo as I was sniffing various bottles of some sort of toiletries to try and work out which was shower gel, or shampoo or conditioner.
Getting a taxi requires you to have the address in Chinese or confidence to pronounce the street, which I try and have done quite well at, but sometimes its best to get the address from
smartshanghai.com
on your phone and simply show the driver the screen. There is no guessing any words, everything is so completely foreign. I have stood staring at written Chinese just from complete fascination about how on earth it works.
The green man at crossings does not mean cross the road. It means look both ways frantically before crossing, or use the rule as I have adopted - don't cross a busy road without a Chinese person or five stood next to you. The roads are absolute bedlam. The bicycles piled higher than imaginable with stuff, mopeds and motorbikes with whole families including infant babies held by their mother perched on the back - no one with helmets. I am continually amazed. And yet, there seems to be very few accidents. It seems to work.
The city has about 28 million people in it. When I have told locals that the entire of Iceland has a mere 350,000 people they laugh almost hysterically. Its beyond their comprehension. But even though the city is this size, I have bumped into people I know every day except one. This point blank freaks me out but is incredibly common I have been told. The ex-pat world and art worlds specifically are not so big.
So far I have been sampling things around the city, amazing cocktails at
el Coktel
, now my favourite bar on earth. Its like being in a Bladerunner scene, and the staff are impeccable.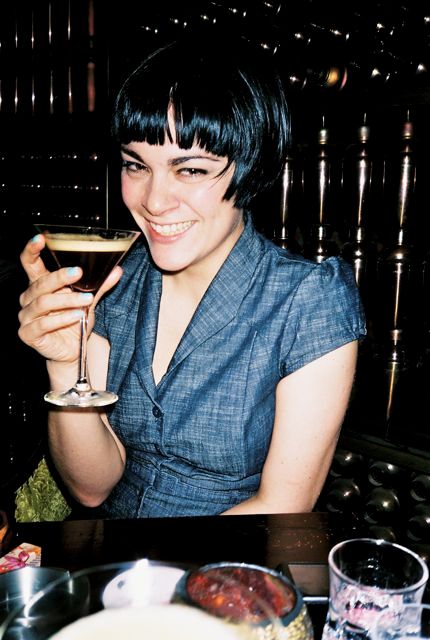 I have taken advantage of the ridiculously cheap prices of manicures and pedicures and massage and tailors. In addition I have had a haircut which was a very interesting procedure. One assistant massaged me and washed my hair and then cleaned my ears - he managed to rub just up to my ear drum without making me deaf. I sat more still than I ever have in my life whilst this went on - terrified if i moved I would lose my hearing, but but it was amazing. The chap who cut my hair seemed to almost cut one hair at a time he was so precise. We got through the entire proceedings with not one word mutual in language and I enjoyed myself immensely. I shall go back when I am here next.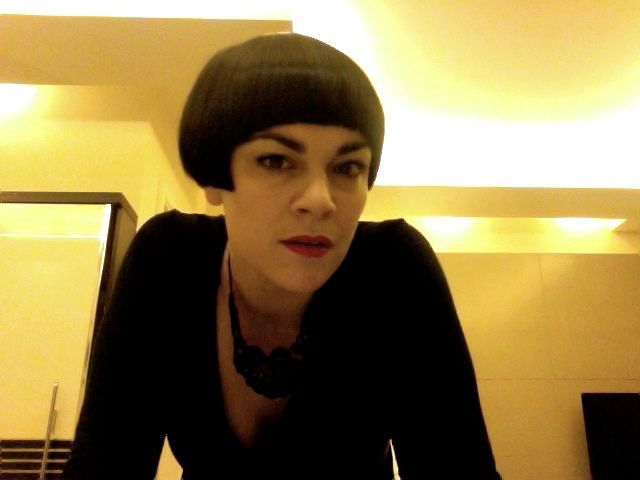 It appears there will be a coming back next year. These things I cannot discuss yet. But what I can discuss is the fact that I am doing a Shanghai Special of The Weird Girls Project in 2 days time. This is one of the reasons I have been busy.
I have managed to pull this off because Converse have been ever so good and are supporting the project. You will have updates after the event of course. I am very excited and also very nervous. I need a translator for the direction and wonder how much will be lost this way - only one way to find out though!
This weekend I am off to Moganshan, an amazingly stunning place by everyone's account, bamboo forest everywhere and that will be my last days here for this trip. I can't wait to use up ridiculous amounts of film. Talking of which, I will be collecting more films from development today, so expect an image only post soon. There is so much to talk about but to be honest, I would rather spend my time out there enjoying it than sat here writing. Maybe on the plane home, maybe.