Three weeks have passed since I last updated. Two of those have been spent in the UK. The time here has been filled to the highest level with things done and places seen. As I am sat on my two and a half hour train ride to Paddington trying to ignore a particularly precocious child I will endeavor to share these in a more than bullet style format. I was utterly dreading getting on this train, it being the Friday of the bank holiday and I have been berating myself for being too tight to pay extra to book a seat. It isn't that bad so far however. I secured a seat facing the right direction at a table with a rather attractive woman who smells nice and doesn't seem to have too much interest in telling me about her innermost problems and what's more I have a power socket – in standard class! Lordy me I am a happy camper.
Icelanders get a bit excited about trains, understandably as they don't have any. But long gone are the romantic days of compartments and manners. These days you consider yourself blessed if you don't have someone who dribbles, smells of sweaty arsecrack, decides to talk your ear off and yet has nothing interesting to say. Or there's my favourite of favourites – continually call people from their mobile phone to announce 'YEAH MATE. HAHAHAAAR. WHERE ARE YOU? I'M ON THE TRAIN. YEAH. NO. FUCKIN ELL. SHE NEEDS TO LEARN ER PLACE THAT ONE' etc etc ad infinitum until someone, usually me, loses their patience. I specifically try and travel in the 'quiet carriage' in an attempt to avoid these heinous fuckwits, or at the very least, have a good reason to get properly gripey.
It doesn't take a lot to be decent to those around you. If I wear headphones I put the sound on before placing in my ears so that I can hear whether its too loud and if its possible to hear what's playing from next to me. If I am ever going to partake of an egg mayo sandwich or sinful burger I eat these before boarding so that I don't pollute the very small amount of air everyone is going to be sharing for several hours.
Manners even in rage. Always ask politely if they would mind speaking a little less loudly, or quiet carriage wise, if they could make their utterly pointless calls from the corridors. Second time I politely ask again, but with eyes flashing vaguely psychopathic intentions. Third time however I grab phone from said fuckwit, tell the person at the other end that they will continue this conversation after the frontal lobotomy and hang up.
I love trains. No, all joking aside, apart from the fact they insist on selling burgers in the buffet carriage (sell food which DOESN'T smell like putrid armpits would be a wise move in a confined space I say), you can get up and stretch your legs, have a table and a cup of tea and this means train wins over coach any time. Coach is just hideous if over an hour travel. In the UK at least.
Planes are supposedly starting to allow mobile phones soon (and some already do in first/business class) and I think this should be banned forthright. Provide a few phone booths of sorts for emergency or essential use, but can you imagine a long haul flight with some fuckwit bellowing 'YEAH MATE. WHERE ARE YOU? I'M ON THE PLANE' etc for hours on end. I see air rage increasing in the future. Mine at least.
AAAAAAaaaaanyway. /rant.
So way back in the distant mists of time after I last updated you, I headed off on the long weekend of the beginning of August into the countryside, a little way past Laugavatn with Gaui, Kalli and Björg to get to an astoundingly lovely summerhouse where Sveinbjörg, Davo and their 2 month old son Elías had been all week. It was Davo's birthday and so Sveinbjörg had cunningly invited us out there for hang outs and dinner to celebrate the passing of age.
We all got to see what a peach Elías is. He really does sleep most of the time, and more or less doesn't cry. Dream child in my view and by the looks of his parents they are thoroughly enjoying his presence.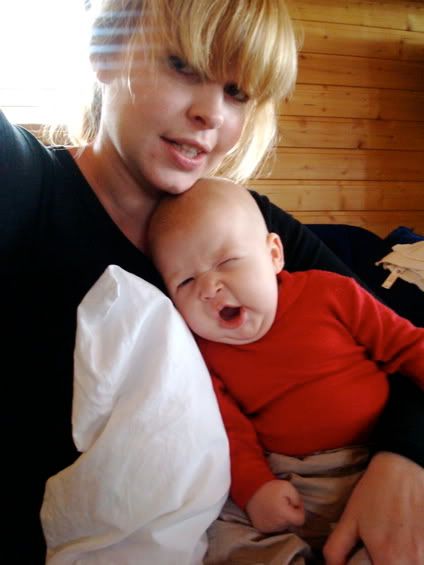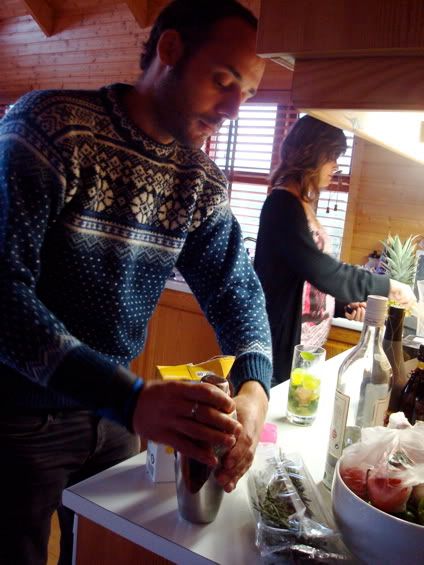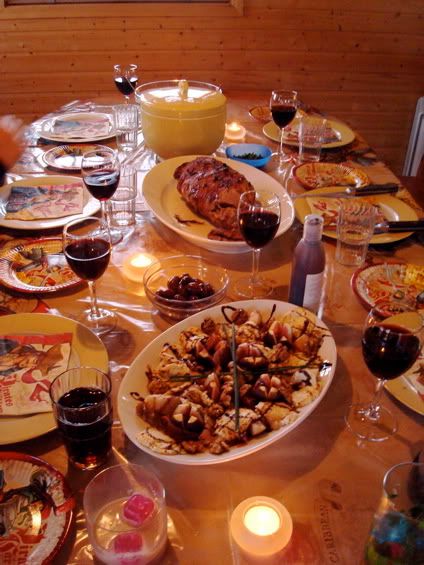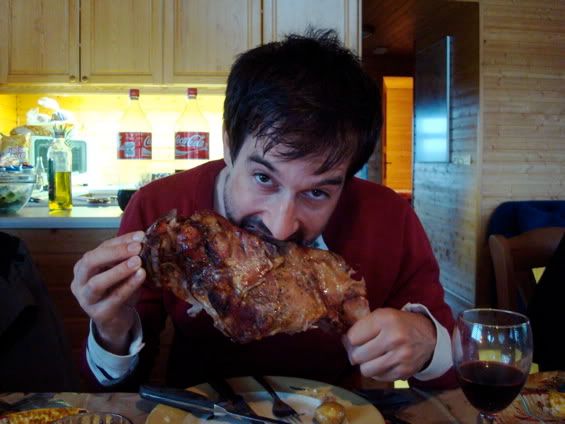 This was, we all agreed, a rather wonderful idea. No stress, just casual company on a weekend night out of town. We played card games, and Buzz and enjoyed a lovely dinner and the no doubt ill advised hot tubbage after drinking of red wine.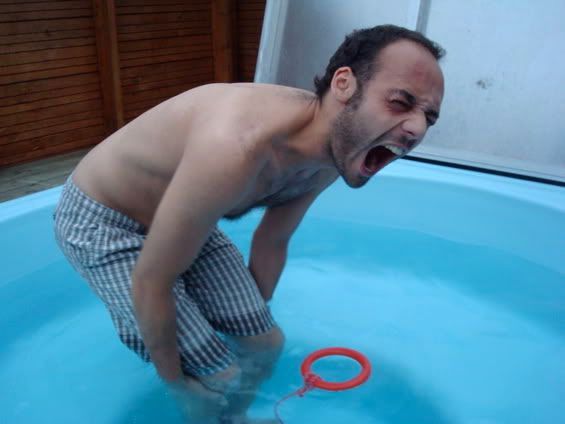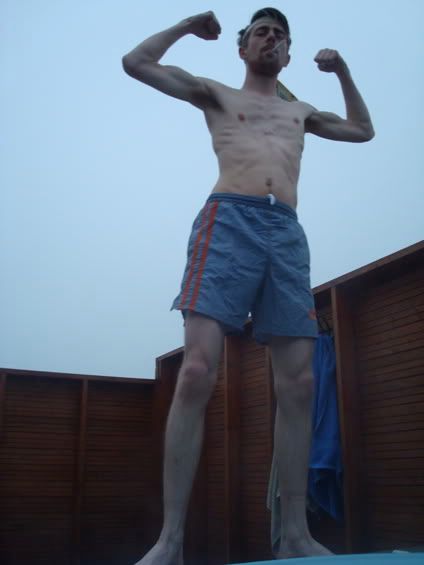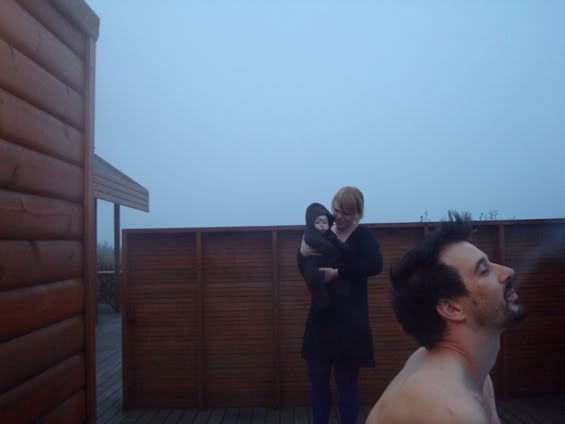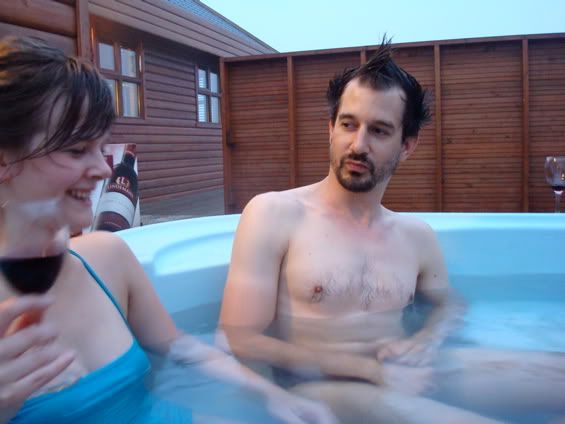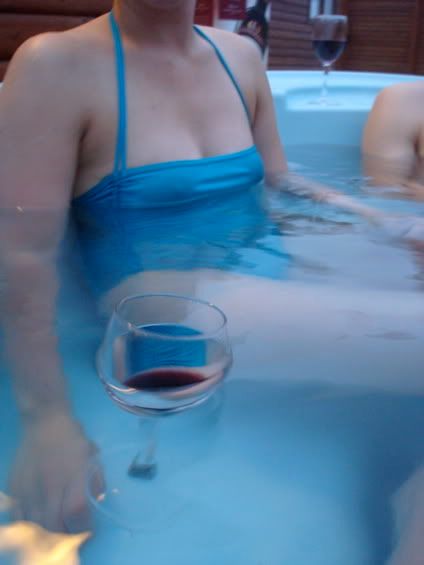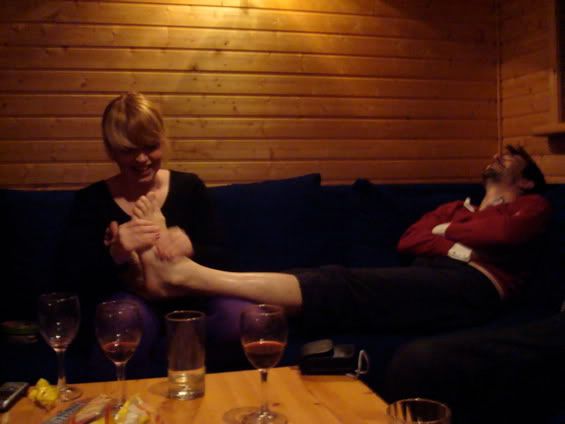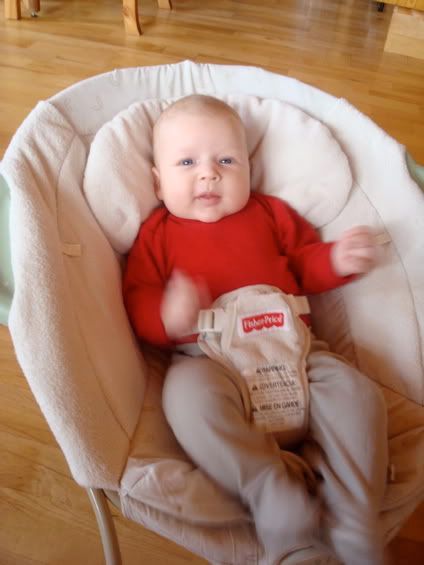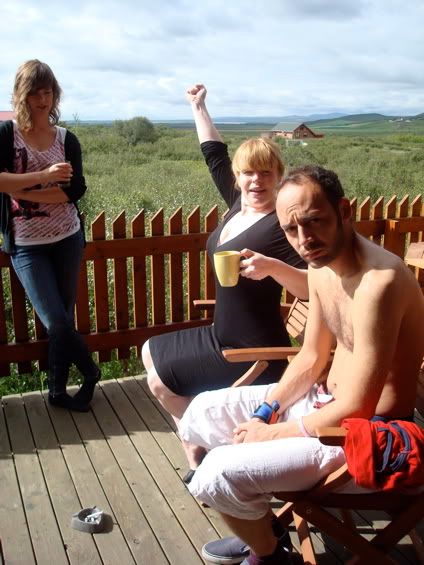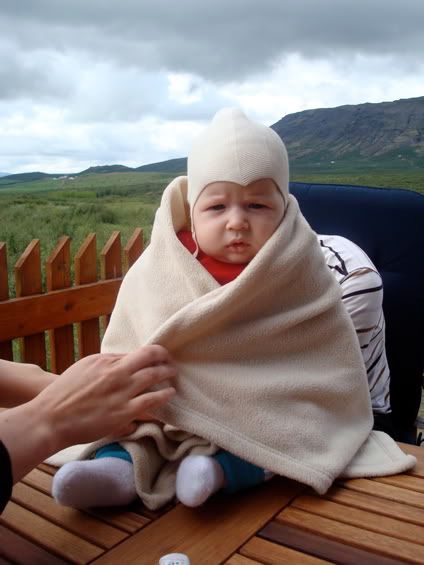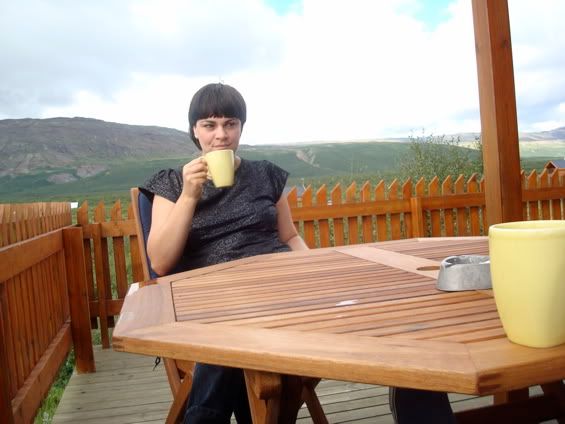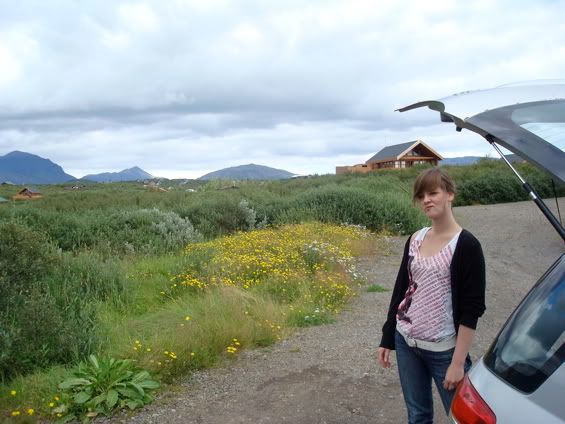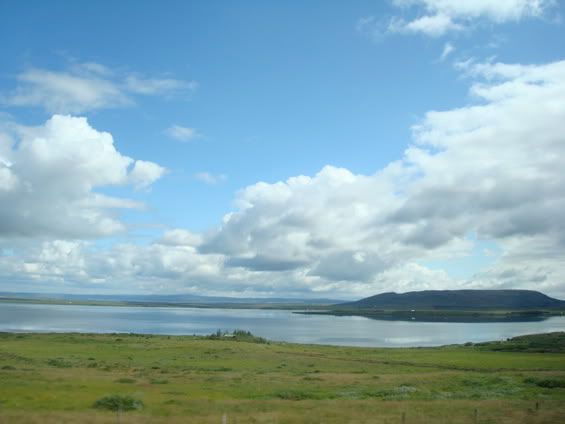 I am utterly in hearts with the concept of summerhouses. The Brits don't really do this (with the exclusion of some Scots), and its not that surprising. We are such a densely populated island that there aren't vast expanses of countryside in which to populate. One of my friends in Devon, Jo, and her man have just bought one in Finland. The Scandinavians are very much into this as are a large number of other European and eastern block countries. I want one badly. But so far don't own a a property at all so will have wait.
Only a few days after this it was time for Magga Sigga and I to head to our adventure in the UK. The itinerary I had planned over 2 months in advance (I jest not) was mostly low cost excursions and entertainment as neither of us are rich, but the crash of the krona meant I knew my as yet unused in over a year credit card would be more or less smashed. Its way past funny now. I know Iceland is an expensive place to live but we used to have the advantage of other places seeming cheap in comparison. Now, we are, not to put too fine a point on it, fiscally fucked.
Meditative chanting had been..
Oh hang on a minute, I just glanced out of the window to see sun beating down on the most luscious green English countryside dotted with churches and a castle and felt a pang of something. I do love Devonshire countryside, and even though I am more than itching to get back to Iceland right now, I miss trees. I can see at least 7 types of adult trees from my seat and oh... Still. I like life in Iceland more so will shut up.
So yes, meditative chanting had been used to persuade my brain not to remind myself throughout my trip what everything cost. I more or less didn't and have no cash left but had an awesome time.
Our journey went so smoothly I am beyond speechless and we arrived at my friend Matt's house in Barnsbury so much earlier than expected that I insisted on taking Magga straight out to Holloway and my old favourite local pub for a pint. It was humid, a very warm and very cloudy night and Magga's Icelandic lungs didn't know what hit them. I was aware I was breathing a soupy air, but she hadn't experienced this before and was in quite some difficulty for 3 or so hours. Its shocking when reminding myself I lived in this for so long. Physically I recoiled every time I saw seats outside cafés or bars near main roads and had no idea I was doing it until someone pointed it out.
We got to
the Swimmer pub
and as soon as the barmaid chatted away in that way English pub barmaids do, I felt a wash of warmth at being back. This is what my entire stay in London was like. Some signal of freedom or choice or friendly black cabbie would make this swell of familiarity and almost longing hit me. Then what seemed immediately afterwards a local borough newspaper headline would read 'Pregnant woman stabbed to death in front of 3 year old' or I would pull Magga away from an alleyway with faceless hooded youths asking us why we wouldn't go off with them, or a homeless crack head would come to show card tricks explaining he didn't want to lose his dignity and beg and then be told firmly by the pub owner he had to get the fuck away before he got what's coming.
I miss a lot. Especially the things and attitudes you can't get anywhere except in London, but I knew that I could never move back. This trip I was going to inhale and absorb as much Londonness as possible, especially my Londonness. I would share the things I loved and missed with Magga and revel in it. But I knew that maybe because of age, or because of distance – I wouldn't be upset to be leaving. Quality of life. Quality of life. Quality of life. No matter that I can't get a good Japanese dinner in Reykjavik. No matter that booze isn't served in shops after 6.30. No matter that the selection of pubs and clubs in 101 is getting pathetically small. My quality of life is infinitely higher.
This was mirrored in the words and faces of all of my friends we met whilst there. Every single one mentioned they were tired. That they had a very short time left in London. That they didn't know how they were actually still there. London is amazing, it has a zest and vibrancy you can't get in many places, but it has an expiration date. Mine was up just as I left. But like any favourite dish you have eaten too much of, avoid it for a while and when you taste it again a long time later, you savour each mouthful.
The Swimmer in Holloway
has long been a favourite of mine. Its cosy, has a true pub vibe, friendly bar staff, an outside area and really good gastropub food. I introduced Magga to cider, actual cider. If you visit Iceland you will find Strongbow and this plastic bottled stuff called 'Cider' which is in all honesty the most sugar dense sort of 7up with a splash of apple or pear flavour and very weak alcohol content. Avoid.
She liked it, and it liked her, doing what all good cider does and hit her head a lot quicker than she expected. The rest of the trip she called it apple beer which is equally as cute as it is kind of gross sounding.
After this we popped into the depths of Camden for a pint in the very baby-sick smelling
Good Mixer
. The smoking ban has definitely released the inner aroma demons of bars hasn't it? We got back to the house via the Woody Grill kebab house. RAWR I love Woody Grill even though we couldn't get
Halloumi
I showed Magga the joy of having a chips in hummus kebab with a real wrap kebab, not a pita. I could go one of those now actually.
The next day we were blessed with the weather. It wasn't sunny, but it was very warm and wasn't raining. Something which it did do every single other day of our trip. Got to love English summers which are even more fucked up than before thanks to our global warming. Iceland on the other hand had sun every day we were away. I wonder when we are going to actually pay attention.
We got up and headed to the East end. There were a few places I wanted to have a look around and we were meeting the director for Epsiode 6 of
Weird Girls
after lunch there. Vintage clothes shopping. Oh we did a lot of this. Every corner of London has vintage clothes stores but one of my ultimate favourites has to be
Absolute Vintage
just off the end of Brick Lane. I had asked Magga to decide her budget for this store before we got there, as I know the tendency to want more or less everything in this store, and we had many more yet to go to.
Her audible inhale upon stepping foot inside spread my own grin wider. I love London even more when showing someone else the little bits you'd miss being a tourist. We spent about an hour in there I think and found some incredible buys. Its not expensive at all and has such a collection of stock I think almost anyone can enjoy 30 minutes in there. The only thing which bugs me about it, along with many others is the insane panic if you take any photos. I can understand this with stores selling new stock, for fear of price checking and competitors but when you have one off stock it confuses me. Surely promotion is better? I had snapped a couple of images before being told to stop and apologised, but I am fairly certain showing some of you lot these will lead more custom their way. Oh well each to their own.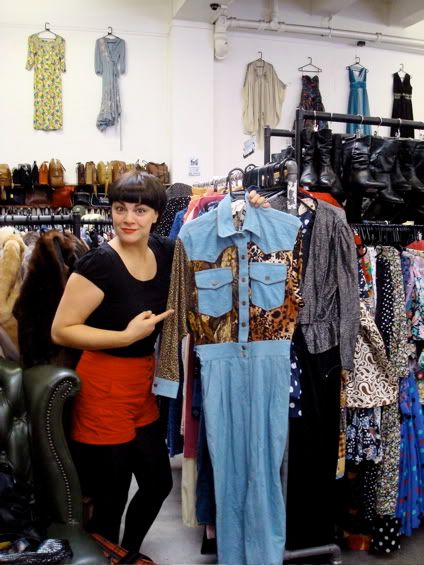 Once we had blown our clothes budget for the day we pootled to a Moroccan tearoom I like up the other end of Brick lane. This is a place I find cosy and they open the front of the store in decent weather so you can nose at people. I normally like a long stay here but the be-dredded clerk was insistent on playing dub and drum and bass at volumes beyond acceptable. To be honest its my least favourite music but I don't mind it in small doses. However as we were the only customers (unsurprisingly in retrospect) I asked twice if we could have it a level in which we could possibly hear ourselves and he simply invited us to a dub night he was hosting in Camden.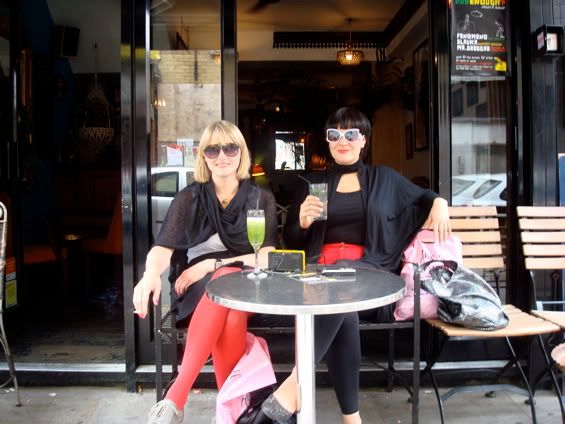 We continued to drink our (very nice by the way) cocktails on the street seats and I had only just said to Magga that I was annoyed I couldn't get through to Paul, an old boyfriend and long term friend when he waltzed up in front of us. Even in 8 million people this happens. We sat and tried to chat and then Mr Dub pulled out a pair of bongos as if he hadn't pushed his worse side on us enough. Paul makes me look subtle and after announcing that some people know the line and ignore it, and this knob doesn't even know what the line is – I texted Ali apropos of bongo trauma and said we would meet elsewhere. She's right, why is it the most enthusiastic bongo players are usually the ones who are utterly shit at it?
Ali took us to another nice pub, where more warm bar service was enjoyed along with great enthusiasm discussing Episode 6 and a general overspill of ideas and fine tuning which left me with the feeling I might pee myself at any point.
After a very brief stop back at Matt's place we changed and headed off into town for 'soho night' as per itinerary. We took a bus from Kings Cross to Trafalgar Square from where we would stroll to Soho. I had explained to Magga that throughout our stay in London if she didn't mind, I would avoid tube journeys wherever possible and also plan days and evenings in as small an area as possible so more time can be had enjoying things compared to traveling. This is, in my reasonably experienced opinion, the best way to 'do' London. Fuck the list of sightseeing, choose an area and milk it. London is exhausting enough without pushing yourself from one side to the other willy nilly.
It was an epic time to hit Trafalgar Square as the opening ceremony of the Olympics was being screened and another of those swells of London Love hit me. These sort of outdoor events where everybody can come together are great. We soaked up the atmosphere and made our way through back streets towards Soho until I hailed a tuktuk for the fun of it to take us to
Wagamamas
.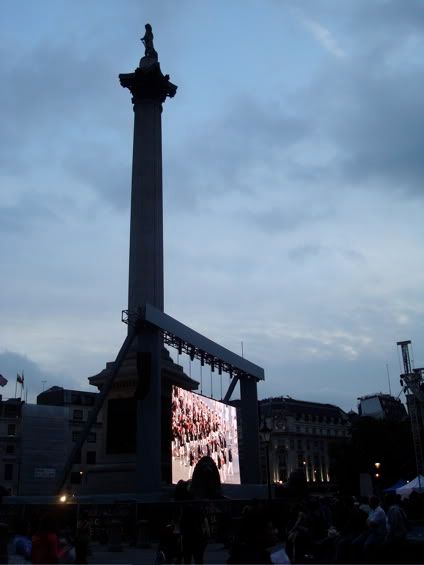 Oh the holy grail of
Wagamamas
. Its a chain restaurant. It shouldn't be so awesome yet it is. I had 4 Wagamamas during my stay in UK and will miss it more than other things. If you hit a city in the UK and want to eat without being too posh or private, check their
website
and go. Freshly made, pretty much healthy, zesty tasty food for decent prices.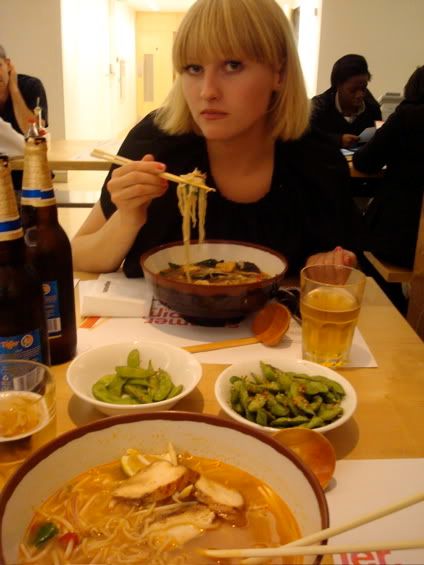 James Dickie met us in Soho afterwards to go to
Garlic and Shots
on Frith Street. This is a vampire goth metal bar I have mentioned more than once before. We managed to get the coffin room downstairs which made this perfect. We didn't eat but if you are going to I recommend the vampire steak fyi. Bloodshots were consumed which was the main point for going and we left a few later with more than a subtle hum of garlic surrounding us.
Next on the agenda was the Hideout. A small and very discreet underground bar run by a scouser named Trisha. I am not going to tell you where it is as that's the whole point. Its one of the treasured places in Soho you can go and feel like you are somewhere secret. We stayed there playing ball with an over entusiastic dog until James had to get his train.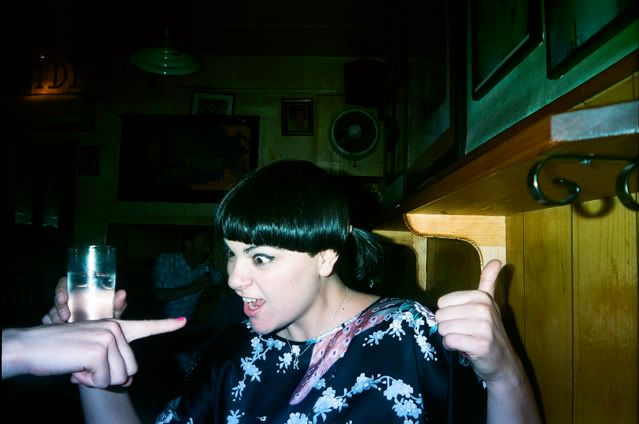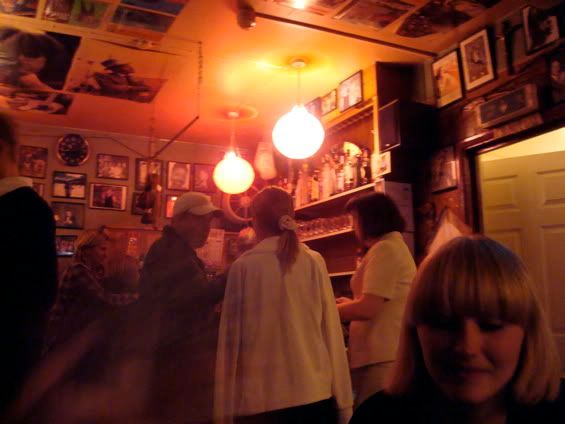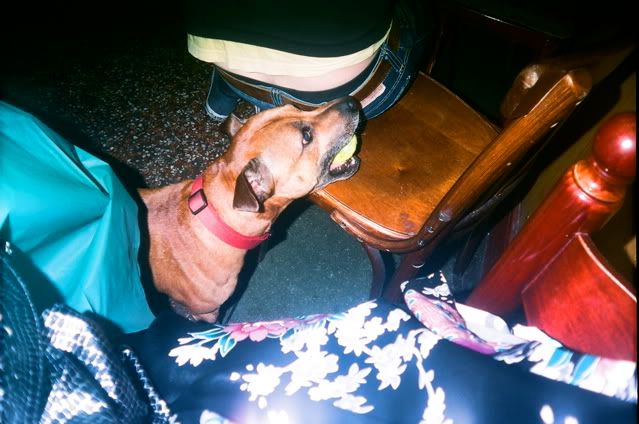 The Crobar
was next stop after his departure. Jaeger Bombs and a jukebox which plays awesome metal but which the queue on tracks lined up is hours long. I requested Def Leppard 6 times in a row and still didn't hear it. As I headed to the bar when we first got in, I bumped into my old friend Ben who handily is now manager in there. Score.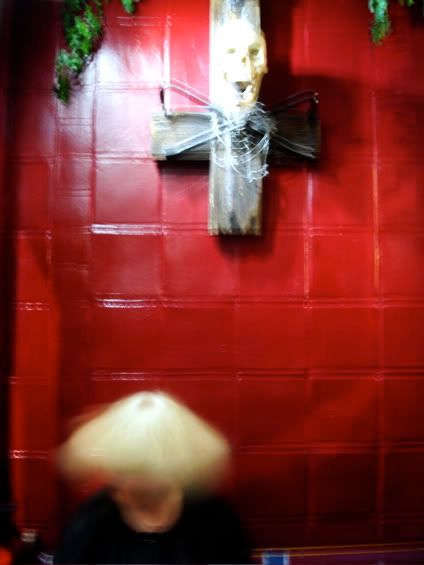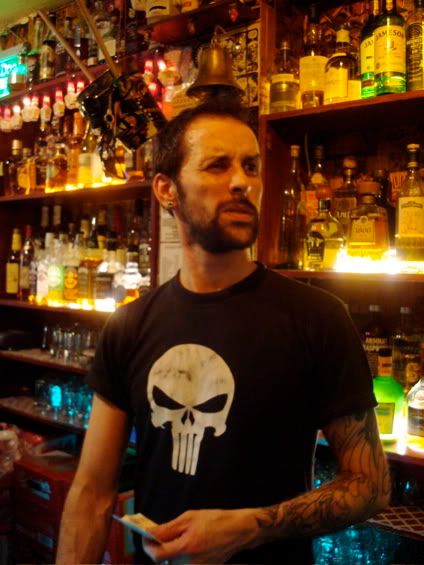 I also bumped into Chris, one of the punk boys I used to hang out 2004-2005ish and get up to all manner of inappropriate mischief and mayhem with. We managed to persuade him to come with us to
the Ghetto
, a seedy club nearby, and their Friday night offering 'Cock'. A self explanatory gay night which used to be of epic proportions. It didn't really seem to get started properly the whole night and when having a chat with a door man he pointed out too many straight people had started coming. Fair enough I thought, I was there with 2 straight people.
We left Chris at around 3am and perversely, after the fact that I usually crave places to close at 3 in Reykjavik, I was hungry to keep going. I dragged Magga all the way up to Chalk Farm and the Marathon Bar. This isn't a bar, but a kebab house, one which used to entertain those who wanted to keep going with somewhat illegal parties going on until silly AM. We arrived just as they were closing and I was very disappointed.
Several randoms were outside all bitching between each other about who's house to go to for an after party. Upon being dragged into this conversation it became apparent that most of these people had never met each other before and this was more or less going to be a world of wrong. The one rather nice seeming chap who's house had been targeted tried to entice us with the words 'there's load of coke' and my mind was made up. I hailed a black cab and took us home.
Saturday dawned and Camden was the target.
The Camden Kitchen
was our brunch stop and its still as good as I remember it.
Heavily laden with carbohydrates and earl grey we targeted the market where I explained to Magga we were going to walk past many stores she might think she wants to shop in, but in actual fact hasn't seen where we are going. More vintage stalls were explored and budgets spent. We kept going until it was closing time and then headed out of the rain to the Enterprise in Chalk Farm for a pint with Paul.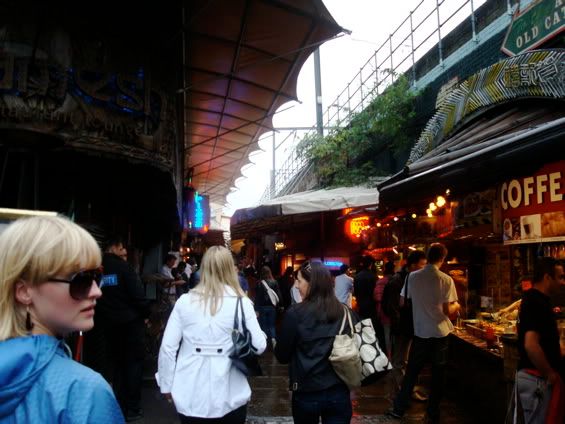 One more quick shower and change of clothes before meeting up with Seb in the
Hemmingford Arms
just around the corner where we could soak up yet more proper pubness with the twist of really decent Thai food.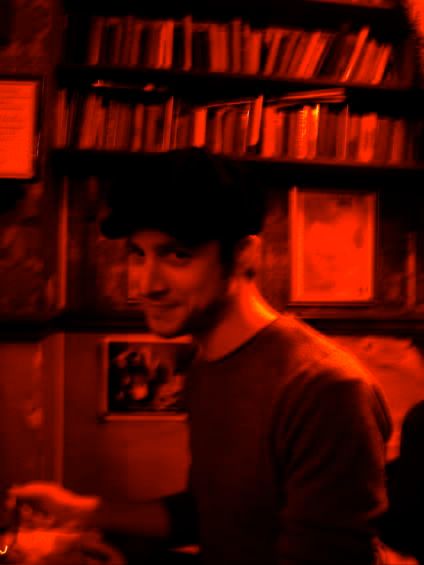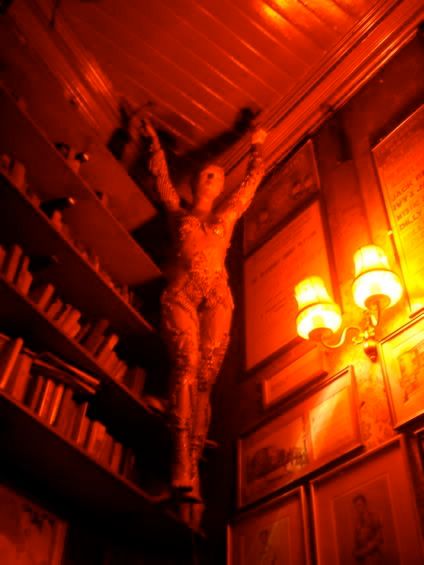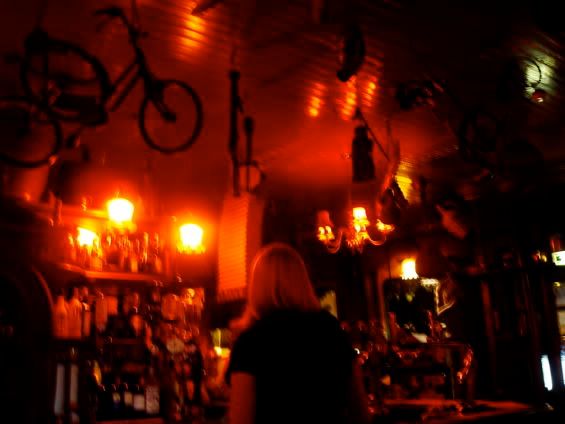 We discussed various far too deep subject for a couple of hours and then left the pub and them behind to go up to Holloway's
Big Red
. Its not my favourite place but it is easy to get to, Paul, James and Seb all liked it and Magga got to see a large number of tattooed Rockabillies in one place. It also has a great jukebox with proper goth and more metal on it.
Whilst playing The Cult and Sisters of Mercy Paul bought me a snakebite and black for old times sake and on my first sip I instantly discovered why I stopped drinking these over a decade before. We all chatted ourselves silly and drank ourselves sideways until Seb and Paul had to get themselves home.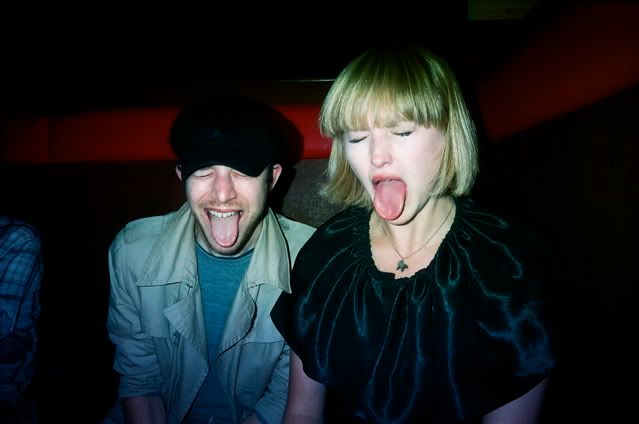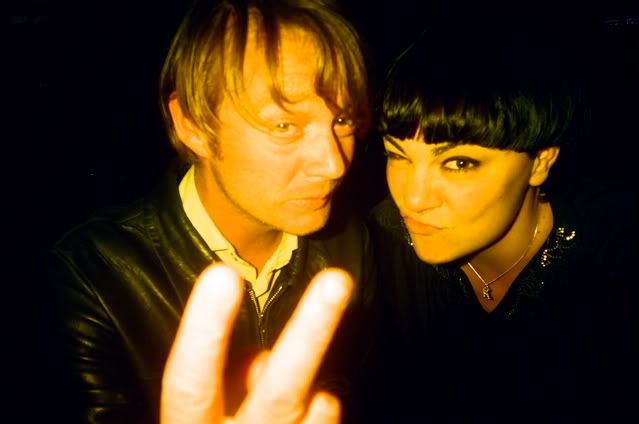 Unaware that it was almost 3am at this point I suggested we head to
After School Klub
at the Quad for old times sake. James used to Dj there and even Magga had been once before on her only sleeting visit to London a few years before. We got to nearish and hired yet another tuktuk which proved to be even more fun than last time thanks to the horrific mix of shots.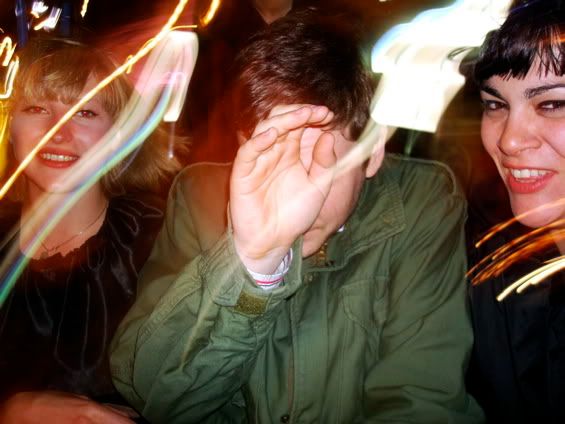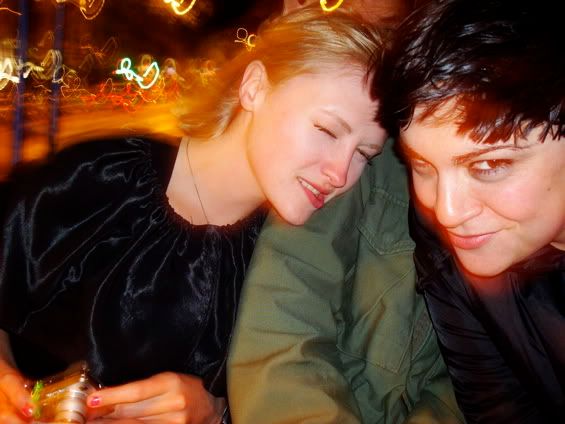 Pulling up just near the club realisation of the time came to as it was throwing people out time. James gave Glynn, the club's genius and old friend a call and he came out to let us in for some after hours hooha. It was amazing to see this place even empty. So many many many many nights spent there. Oh my.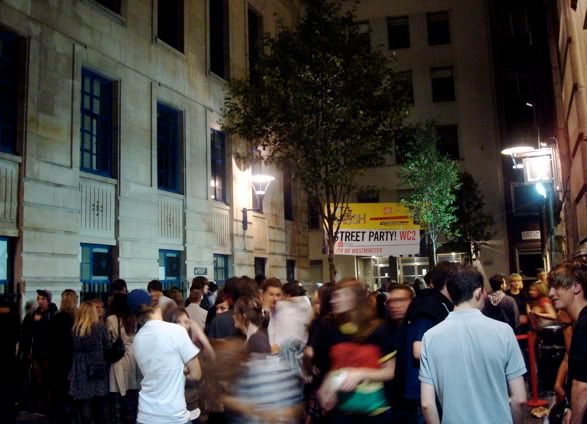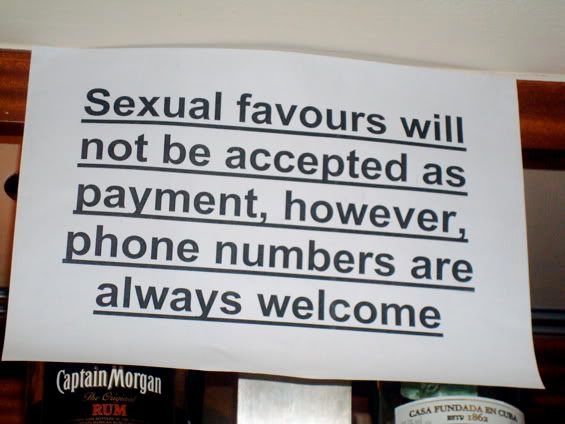 Afterwards Glyn and his sidekick were kind enough to drive us home through the now torrential rain via a Tesco Metro. For reasons unknown James, Magga and I went mad and spent a small fortune on munchies which were not really consumed until several days later in Devon, amongst which included posh dark ginger biscuits, pikey french fancies, scotch eggs and goose fat. Random.
3 hours later and a hangover beyond comprehension my alarm went off. We had a table booked at
Banners restaurant
in Crouch End and as we were leaving London that afternoon, and our targeted venue was an ideal recovery spot I made Magga and James get up and clear up by playing Def Leppard at considerable volume. The youngest of my step brothers Nick and my friend Jess were meeting us there and we got to our 1.30 reserved table in perfect timing.
Banners is my and Bob Dylan's favourite brunch venue (and evening venu) for a reason. Its tiny yet doesn't get claustrophobic as much as intimate. Its food is always in my 8 years of attendance decent and bold and would suit the word hearty. The portions are in all honesty so large they are unnecessary but these days its a welcome change. They are kid friendly should that be something you need and if kids are out the way they do a margarita to knock your block off, frozen or straight.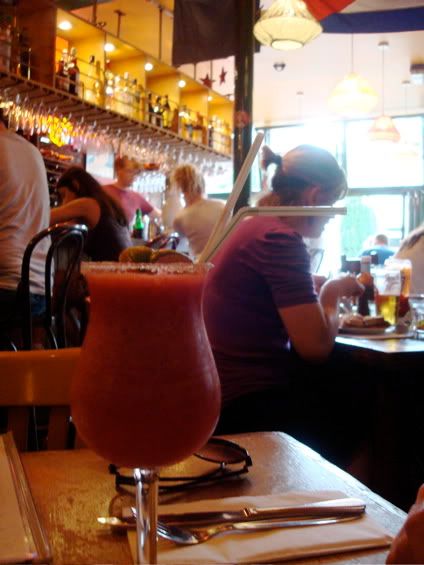 Magga decided to follow whatever I was having so I opted for my usual recovery dish – Bubble and Squeak with eggs and brown Toast with a side order of garlic spinach. They don't have the spinach side on the menu but its always available and essential for the morning after needs.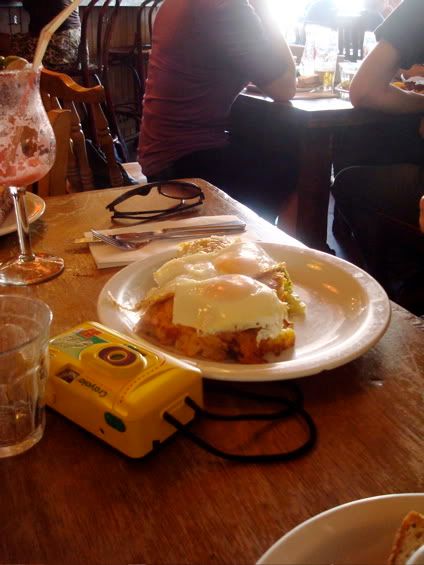 We left in enough time to pop round the corner to the
King's Head to get downstairs
for the Sunday afternoon jazz club.
This is the most perfect Sunday thing in London and I hasten you to go there at the first opportunity. Its run from 2 until 5 and costs 4 pounds to get in. I used to prepare a Sunday roast, put it it a very low oven, buy the Sunday papers, arrive, order a bloody mary and sit and read them. The old gents there, of which there are many, were aware that they should not interrupt this moment until the papers were folded, upon which I would switch to Guinness and chatting to them leading to the odd dance as things pick up.
I discovered this, hang on, no I didn't discover this, I was first exposed to this by my neighbour at the time, around 2001, Laurie, who is one of the Jazz Trio who run the thing. He must be 80 by now but fuck me if he can't still play jazz drums better than any man I have ever seen. His son and he run this. The premise is that the Jazz Trio (2 of whom have passed on and been replaced by new grey army members since I have attended) play regularly and anyone who wants to come down with voice or music can join in on certain songs.
Laurie had invited me repeatedly before I actually went, and when I did, I kept it secret from my housemates for several months as I cherished it so much. As with all things good, sharing is natural and I liked to lure friends from across london with hangovers to enjoy this phenomenon. Hanging out with guys who were there when Jazz was the equivalent to today's popular musics such as techno is brilliant. I often used to extend the 5pm end by moving with them to another pub to continue talking. I miss that.
So we went, we chatted and enjoyed the atmosphere and I was happy to see I wasn't forgotten by Laurie et al even though its been a good few years since I have been. Even Nick said he wouldn't have come from across London to see me if it didn't involve the jazz club and banners. Family love.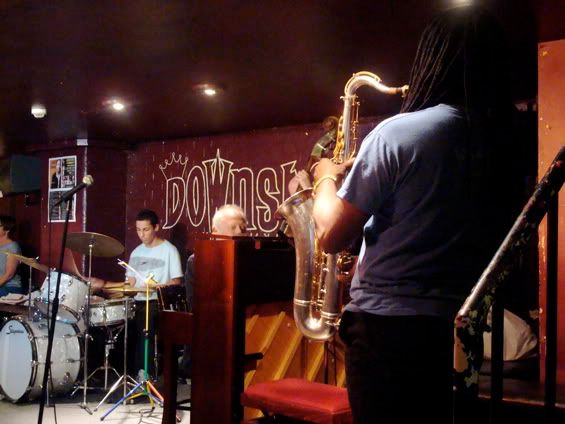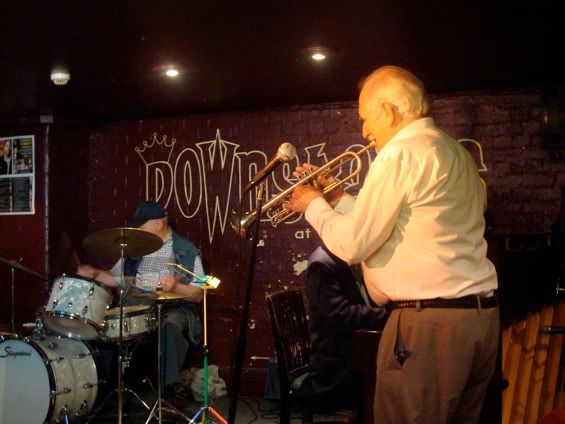 After jazz came traveling to Paddington with luggage and a seat on the train to Devon. We had upgraded to first class with some weekend deal thingamy and when we were boarding the train I was more thankful than ever as a massive football match had ended an hour or so before and the station was rammed with one of my least favourite male personas – the drunken football fan, more than that, the drunken Man U football fan (Arsenal 4 LYPHE). Thankful that is until we settled on the aforementioned QUIET CARRIAGE to discover a shitload of these lovely gentlemen had upgraded too.
A particularly loud group settled into the seats behind us, each with their own Burger King maxed out meals and several CRATES of lager. My face could not have been more thundercloud. The air stank of fast food and booze before we had even departed but I consoled myself with the fact they were probably leaving at the next major stop, reading. That is until two of them took out their mobile phones 'AWIGHT MATE. ON THA TRAIN INNIT. YEAH. BATTERED THE FUCKIN CUNTS DIN'T WE? YEAH. YEAH. HAHAHAAH. FUCKING TWATS. YEAH GET INTO PLYMOUTH AT.....'
If you watch South Park, you know what happens when Cartman explodes? He kind of makes a bizzare bursting spasm noise and shakes. That was me. I decided not to enter into any conversation about anything with them but cut our losses and try to find us a new seat. By the time I had come back a large group of their friends, obviously not from the upgraded first class had gathered around having a sort of party whilst they replayed match moments on their mobile phones at top volume. Wishing they all had a nasty bout of diahorrea simultaneously for the rest of their journey I moved us to a different seat.
Incidentally when we neared our Exeter stop, I had to go back to our table to collect a bag I left on the ovehead rack. Two of them sat in our old seats looked at me, somehow swaying as they sat, each with red wine smiles stained up their faces and their teeth a dark purple, food down their fronts and one said 'oi daaarlin, why'd ya move away?' to which I politely replied 'because I wanted to sit in the QUIET CARRIAGE' at the top of my voice whilst maintaining a truly polite and sticky sweet tone. 'Shame thaaa. We could've made out wi' each ovva' To which I laughed so hard I swear I peed a bit, patted their foreheads and replied 'Not even in my worst nightmares'. Honestly, I ask you.
We arrived at Exeter St David's station to be collected by step dad Mike, otherwise known as James Bond. I had warned Magga to expect the following upon arrival from Mum; Dressing gown and slippers in each of our rooms, far too many instructions involving light switches and windows and a general oohing and aahing about it being late to be up at around ten pm and from Mike, an offer of almost any drink under the sun. Lo, it was true. Its good to be able to rely on things in this day and age.
Mumsy had to work the following day so we had arranged with Mike for him to be so lovely as to take us to
Dartmoor
. It was almost perfect Dartmoor weather. That is to say it was grey and moody and drizzly. It is of course lovely as pie to be in hot weather but the moors have something much more moving about them when its like this.
The traditional stops of
Haytor
rock and Widdecombe on the Moor were made. Haytor does something to me. Standing atop this huge mound of granite and knowing you are at the highest point in my home county with (even in drizzle) a view 360degress around of countryside. Of green, of yellow, of moorland and patchwork farmland, all the time being batted by the wind and reminded of England. Not england now, but england then and england timeless. Whatever this country does to itself, let it never touch the National Parks.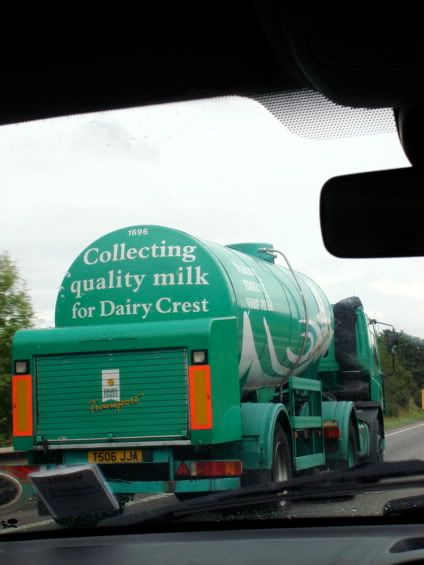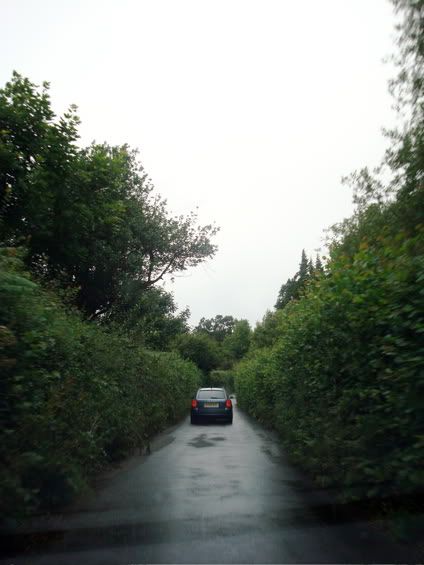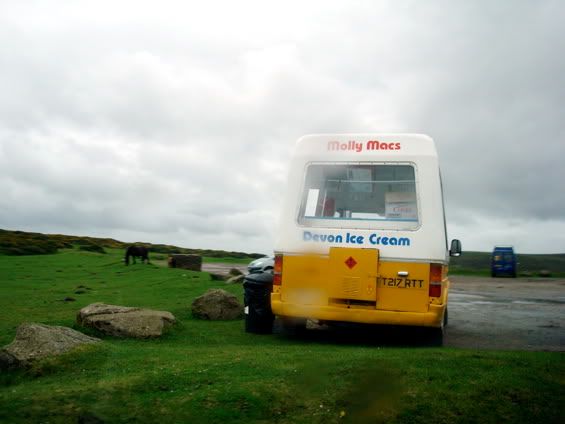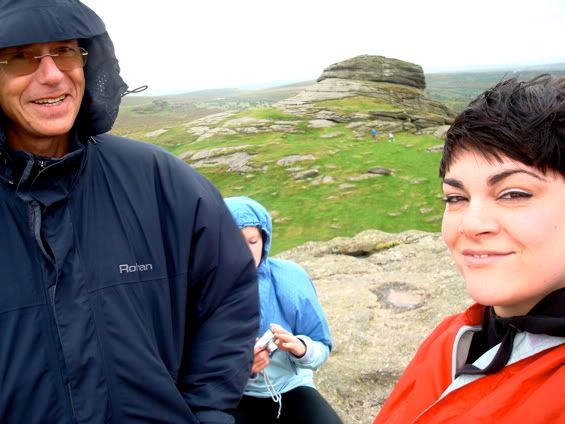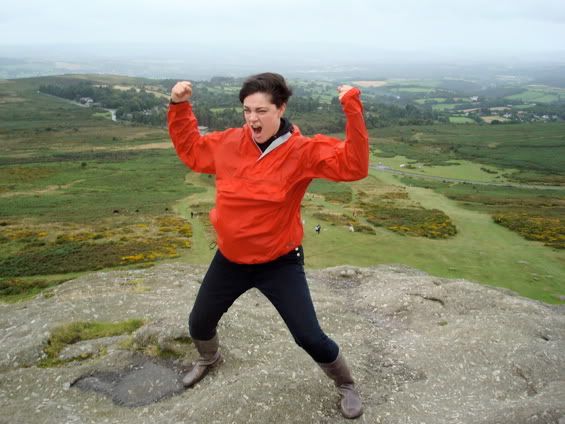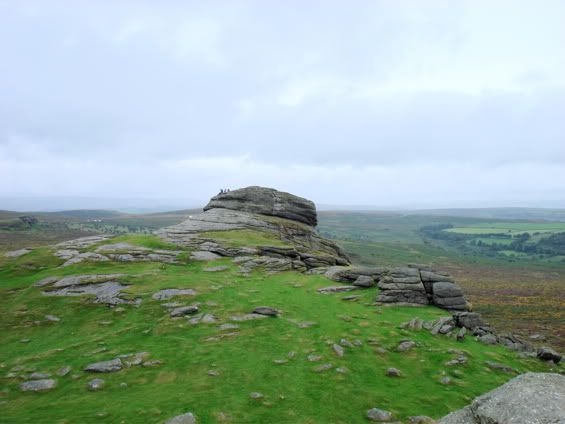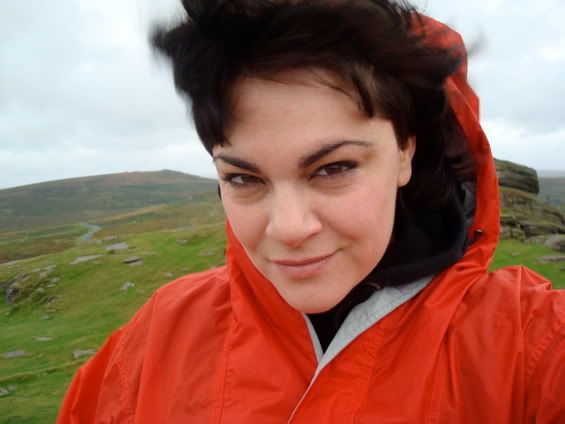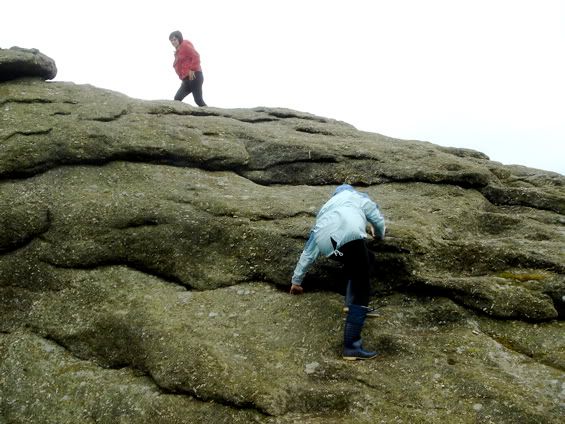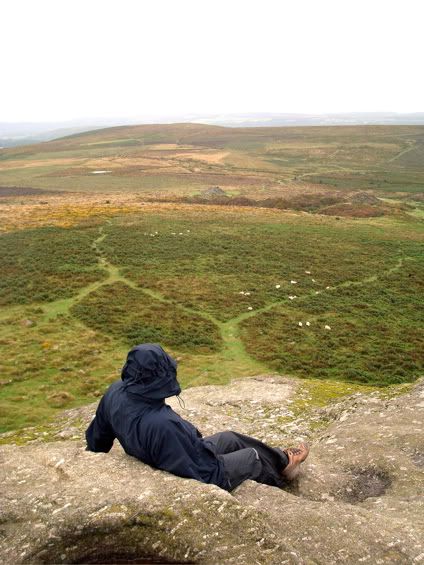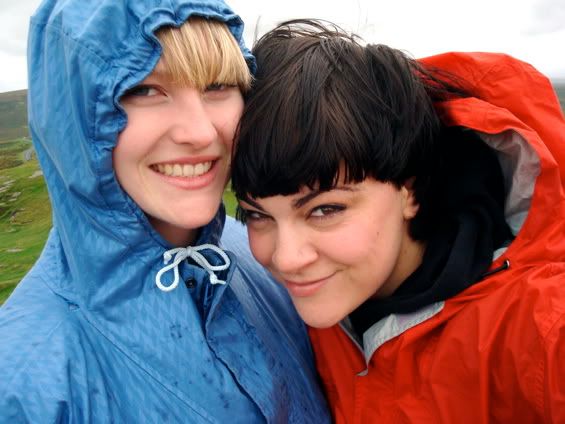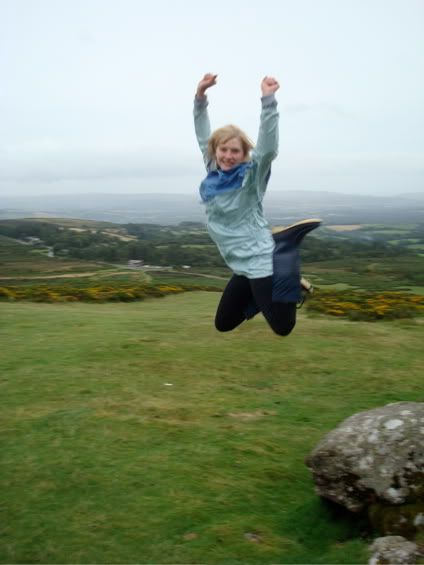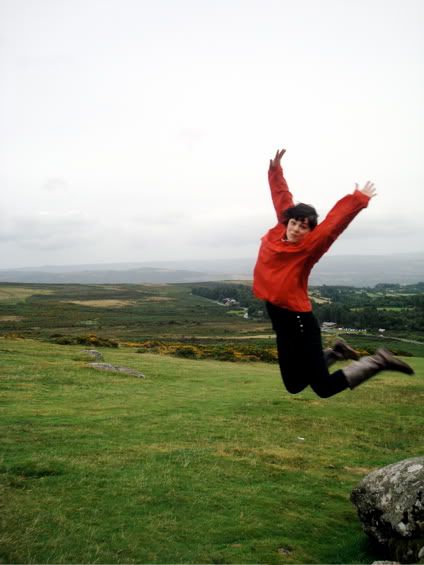 Widdecombe-on-the-Moor is a marked 'picturesque village' by OS maps. OS never lie and picturesque it is. Its obvious by the various trinket shops that its heavily visited by tourists but nevertheless its a Devonshire village and a pretty one at that. Having Dartmoor Ponies randomly waltzing about is a reminder of that. These ponies are all over the moor and do as they please until once a year, whoever 'owns' them herds them up and checks whats where and then they are off again. Hardy little buggers they are.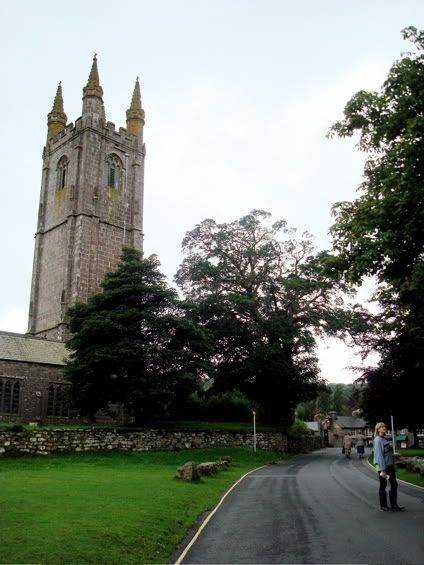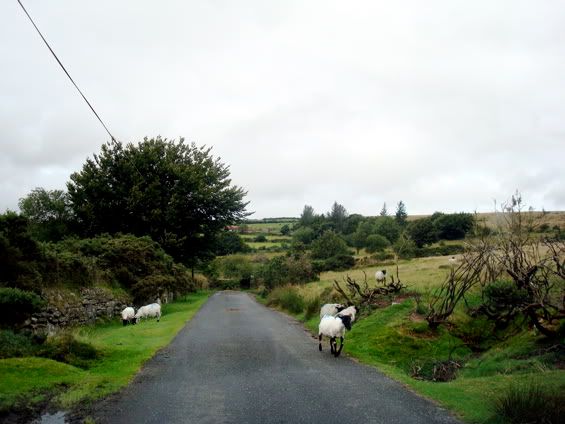 Next stop was Princetown, to be truly raw and epic, to see
Dartmoor Prison
- beautiful for a Napoleonic grand prison of formidable history. We went into the Plume of Feathers Inn for lunch where, as per the earlier part of our trip, they played the Cult and Sisters of Mercy etc. I felt very Goth. I introduced Magga to Real Ale and had a local brew of Jail Ale accompanied by genuine, real, no shit sausages with horseradish mash. I was very happy to see she loved it. My own lunch was a suet pastry steak and kidney pie, I hadn't suggested that to her thinking it might be overkill but she ate half of mine anyway.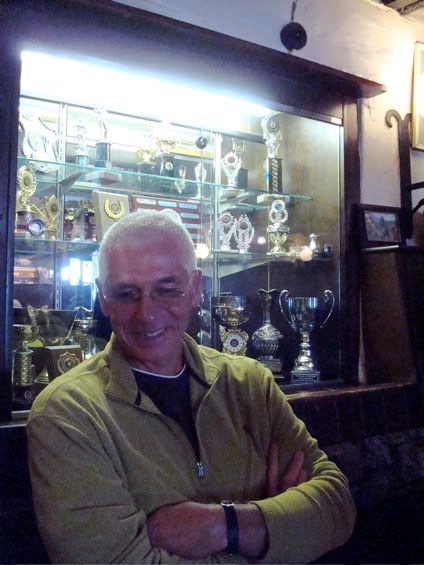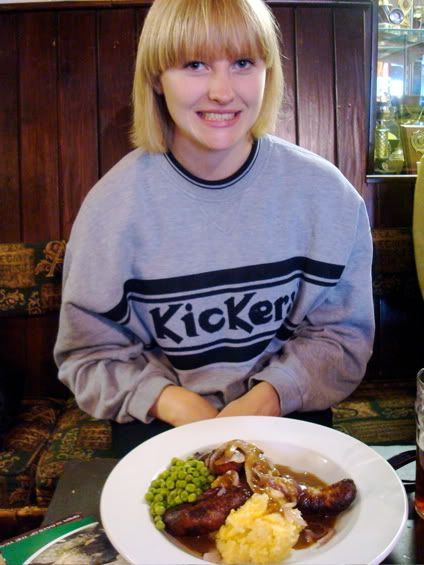 In true tourist style we went to the information centre and had fun with brass rubbings and was overjoyed to see they had local tales on CD. I had been struggling to explain a full hardcore Devon accent to her for a few days but just put the headphones on and watched her face. She couldn't understand a word.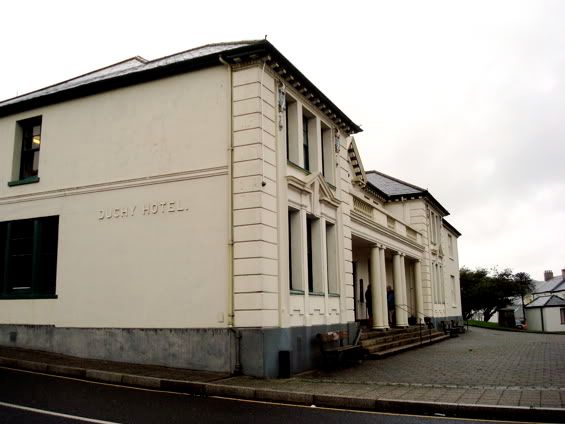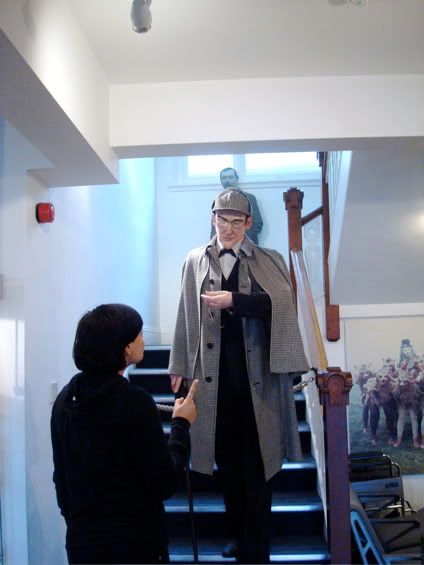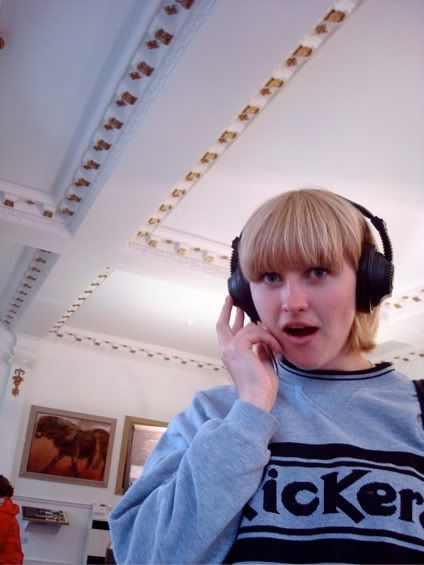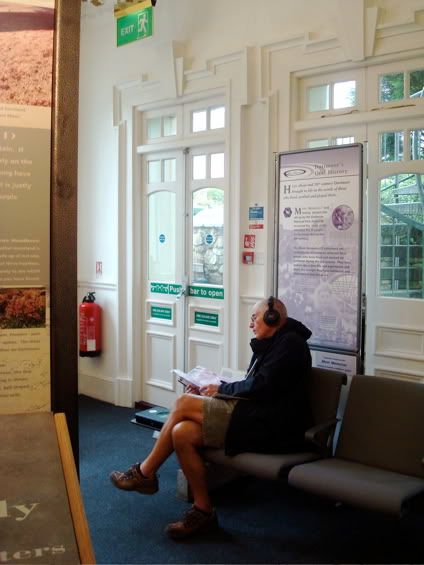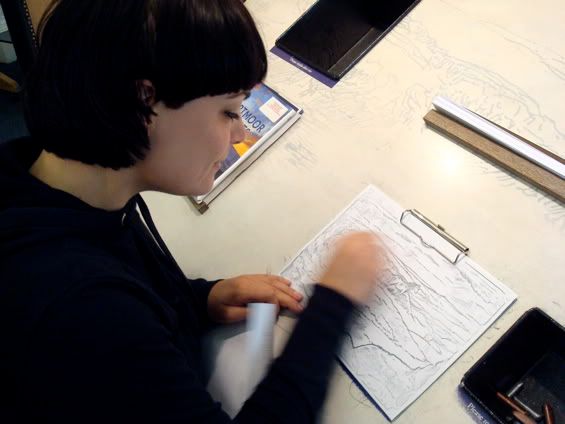 We pootled through Moretonhampstead and I asked Mike to stop outside Dunsford at
Brimblecombe's
cider press. Here they make no bullshit westcountry cider (i.e. Paint stripper) through a thirteenth century cider press.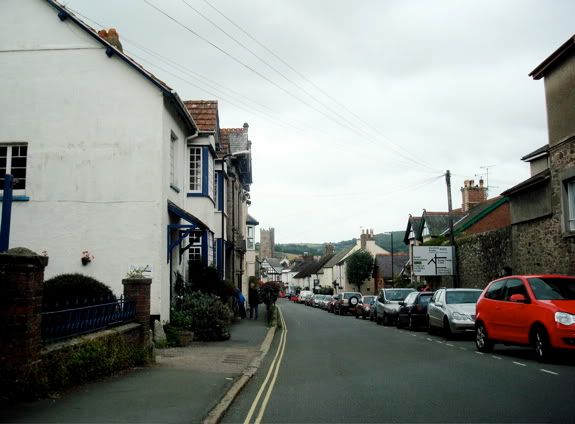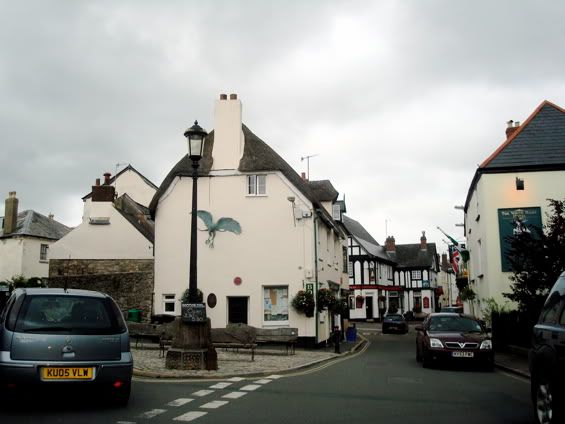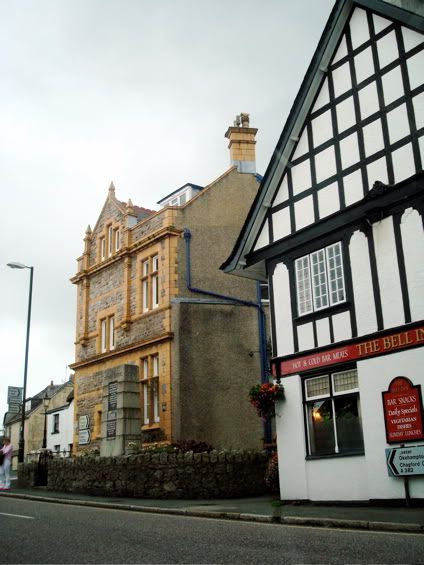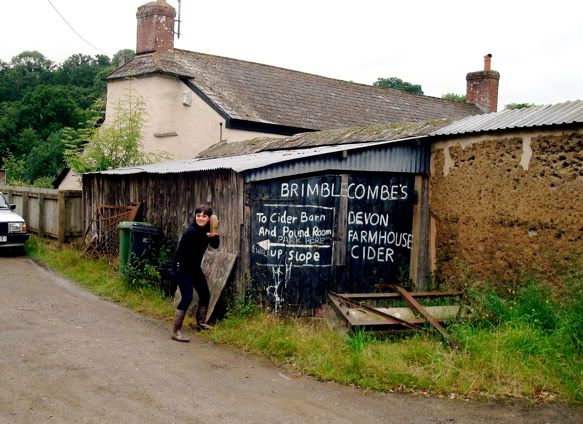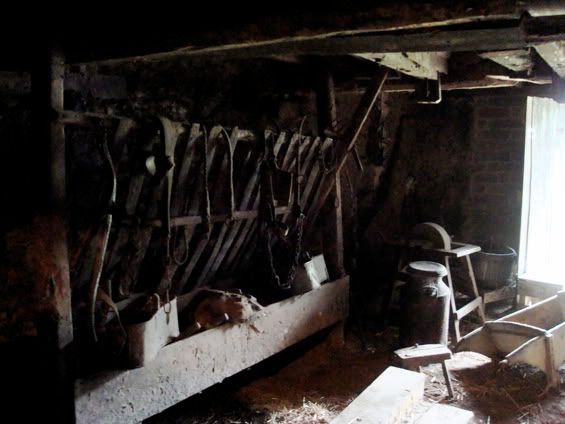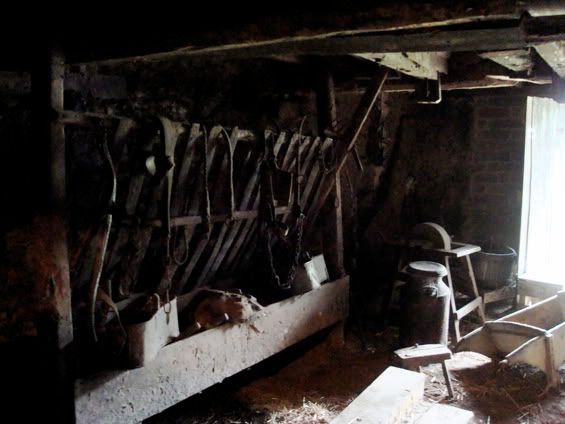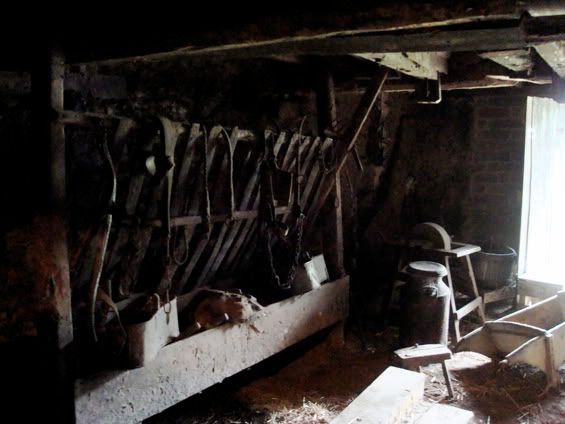 Tuesday was a surprisingly gorgeous day in amongst the very heavy rain showers. We headed to Topsham, a village on the Estuary that is so quaint its one of the Devon Grey Army's secondary HQs (primary being Sidmouth and Budleigh Salterton). There was a particular antique place I wanted to take her to on the quay. Its 3 floors of mayhem. We must have spent a couple of hours in there by the end and my prize moment was bumping into Antiques Roadshow's
Tim Wonnacott
and having a chat about the Icelandic antiques market.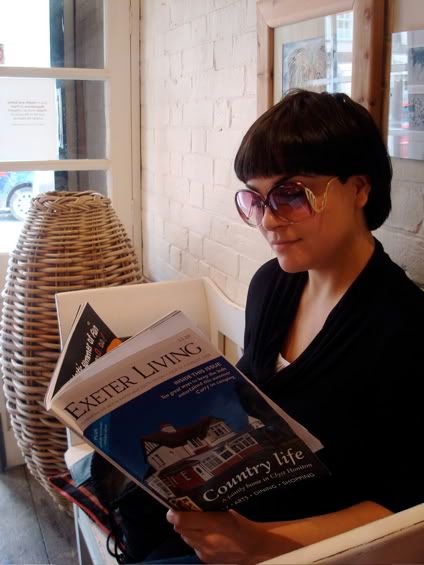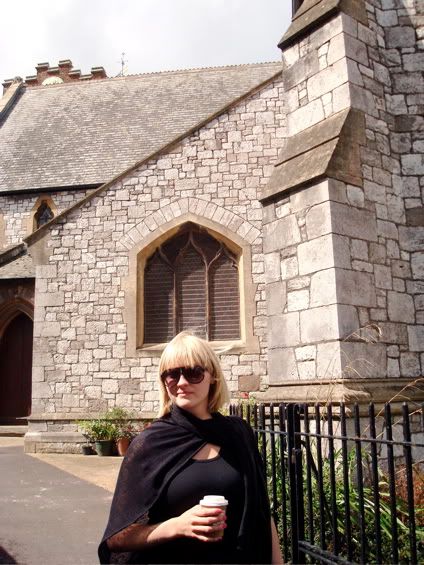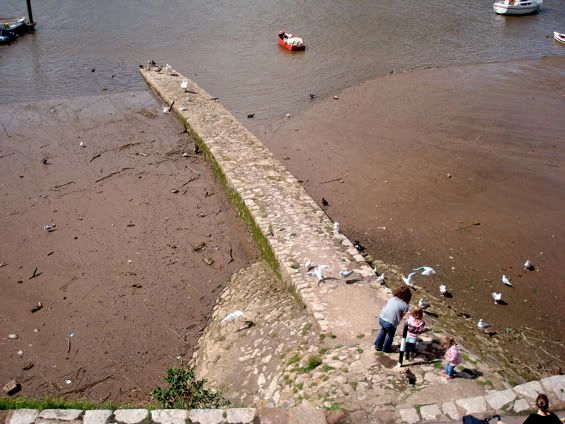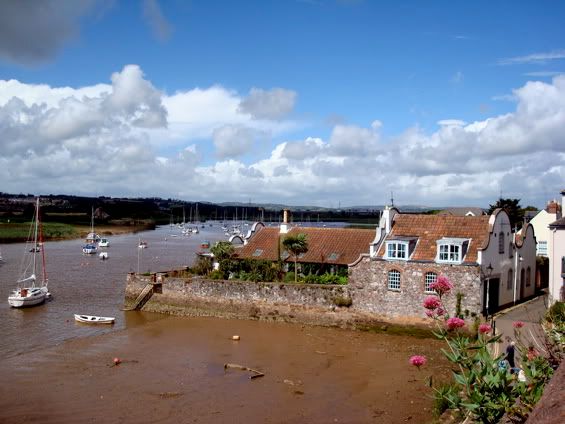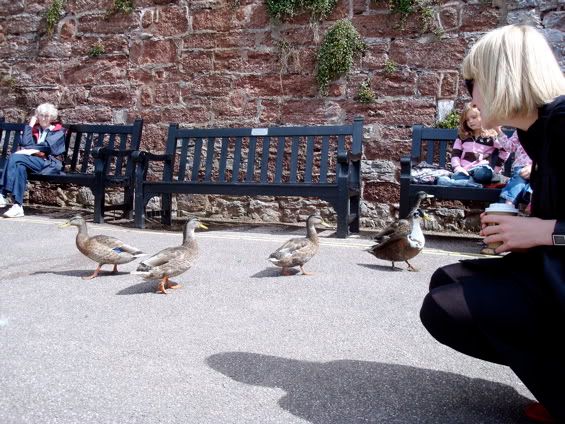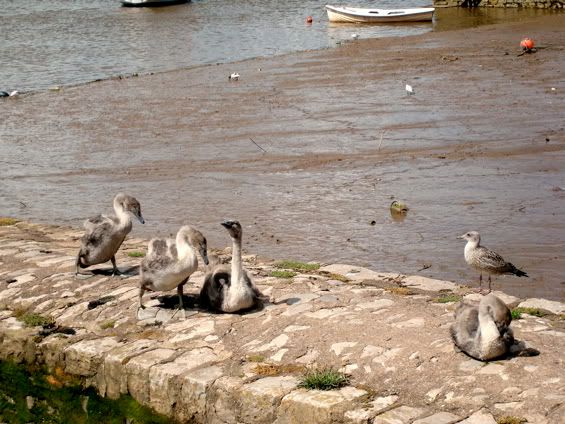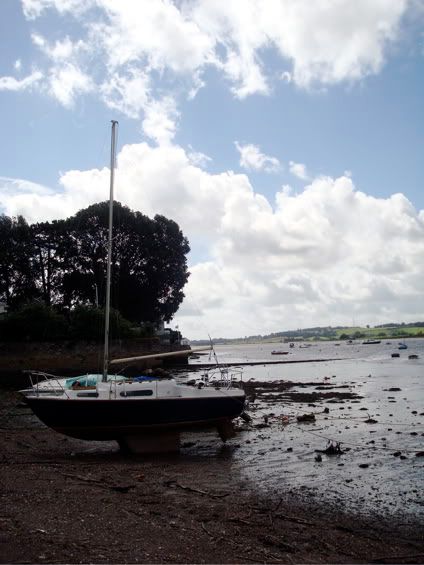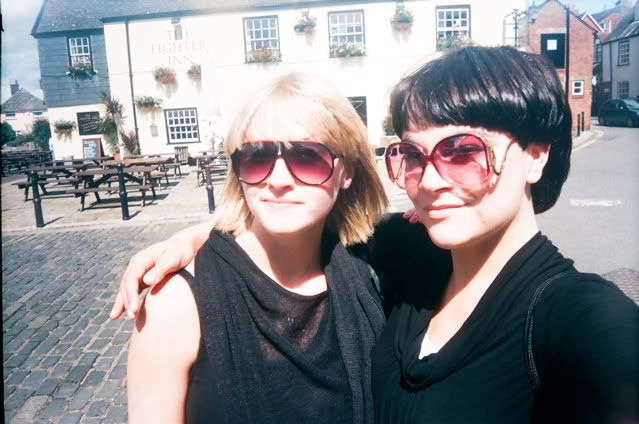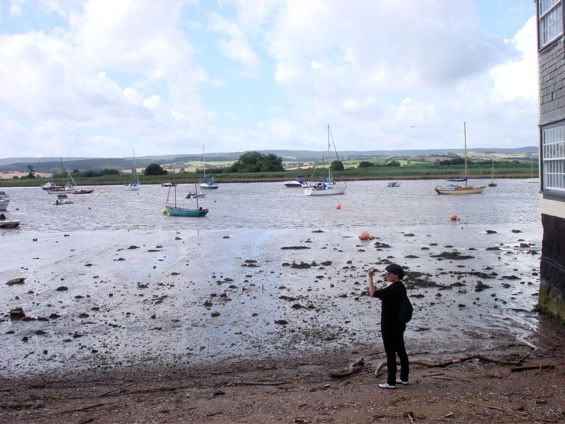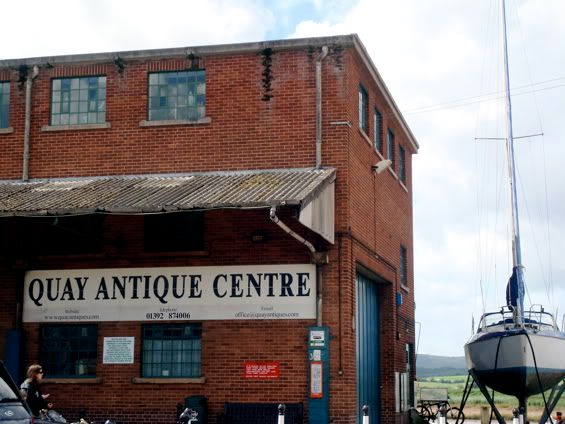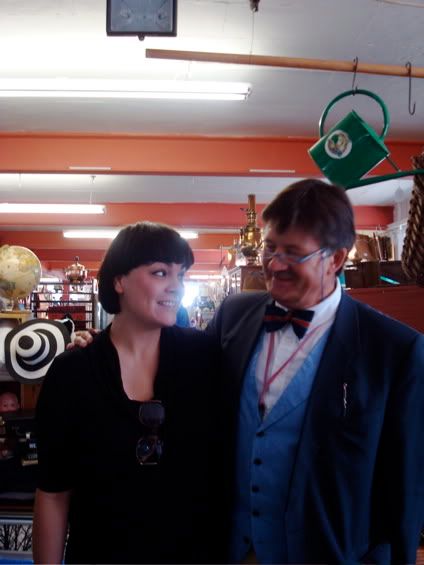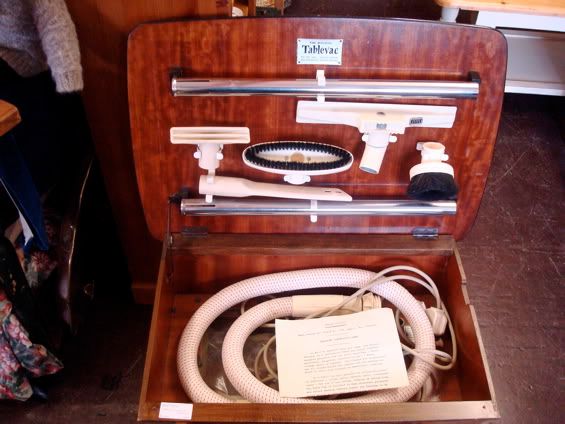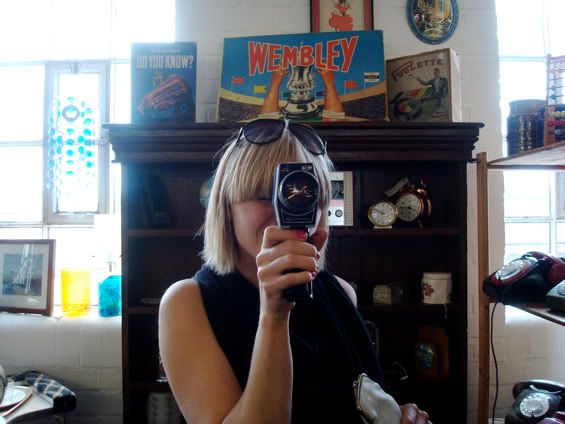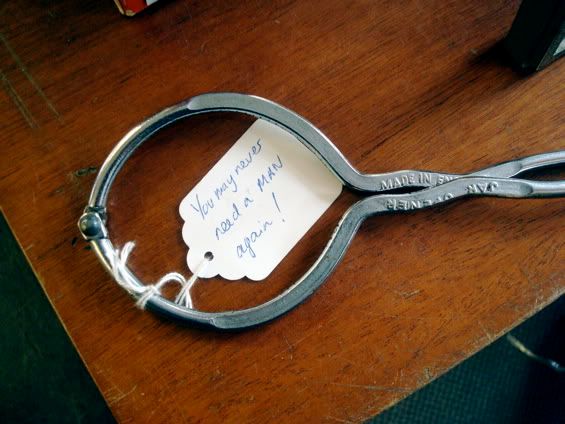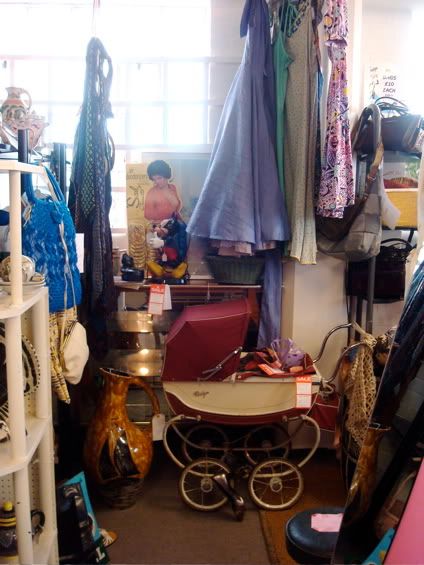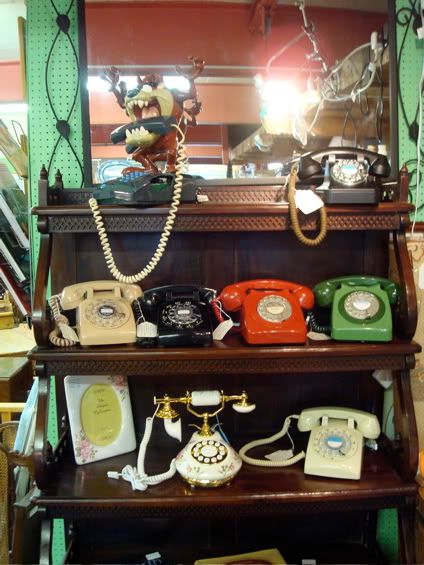 A long bus jaunt back to town and more Wagamamas followed by a trip down to the arcade on Fore street and
The Real McCoy
where I purchased the most ridiculous sunglasses ever. Next we went round the Cathedral and finally stopped to have a cream tea.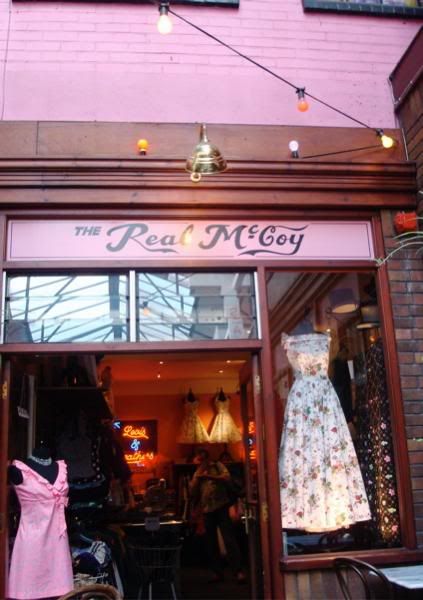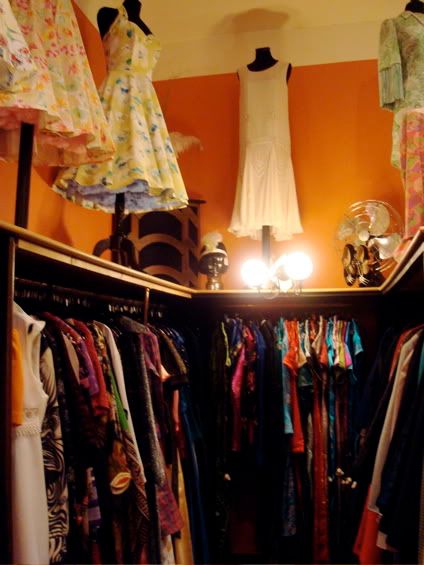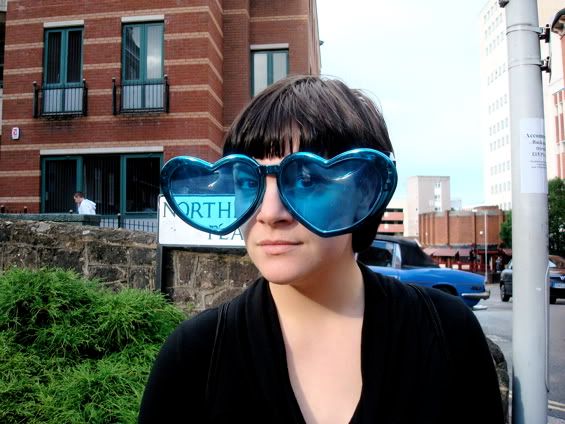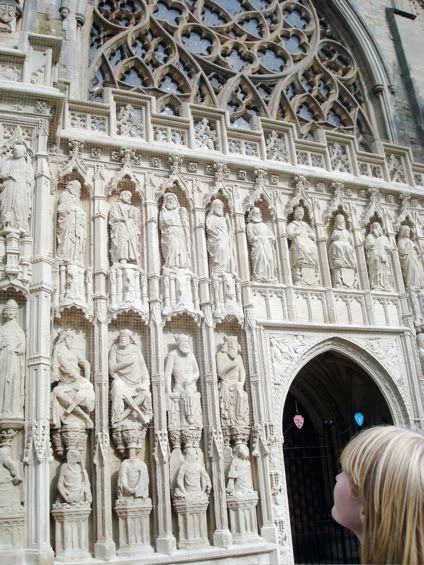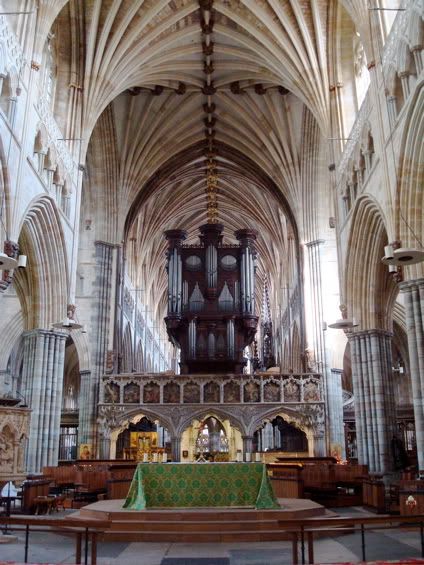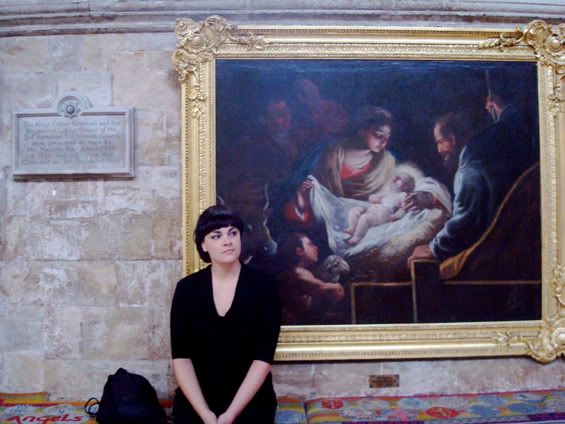 I had tried to explain to several Icelanders how wrong yet right
clotted cream
is. That you can make a spoon stand up in it. Here is the proof.
The next day I had persuaded slash begged Mumsy to take us out in the camper van exraordinaire. Why do parents get all the fun stuff after you leave home?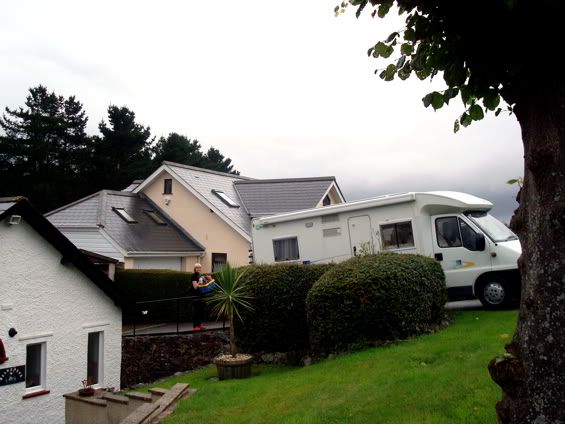 We headed towards Dartmouth but stopped on the way at the enchanting monk inhabited
Buckfast Abbey
and gardens.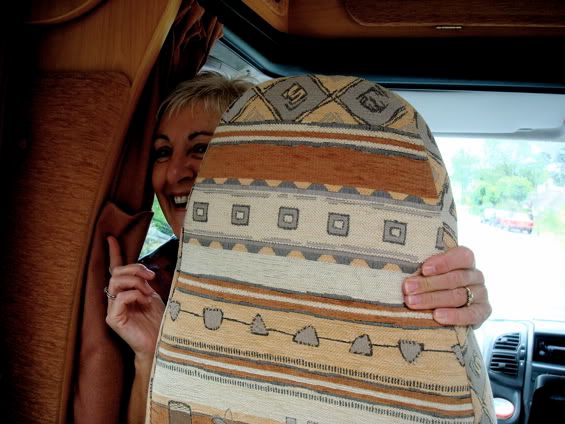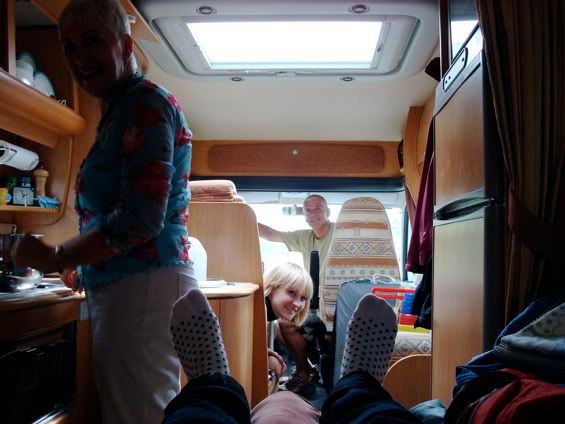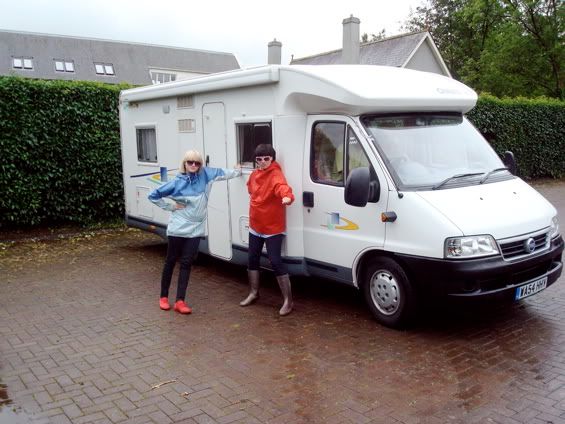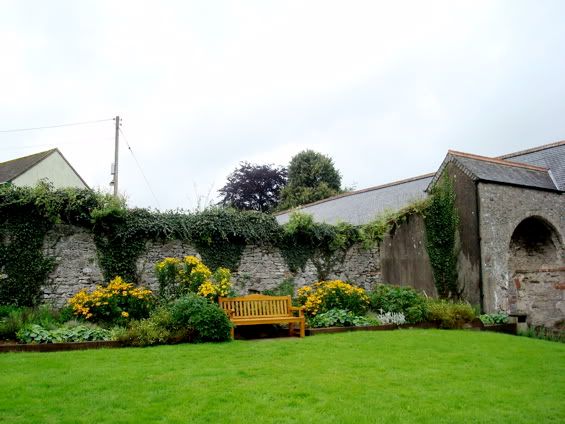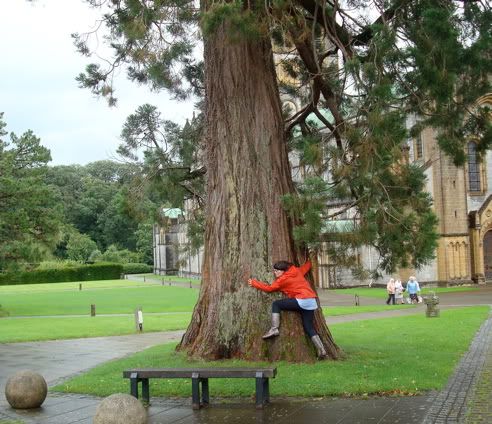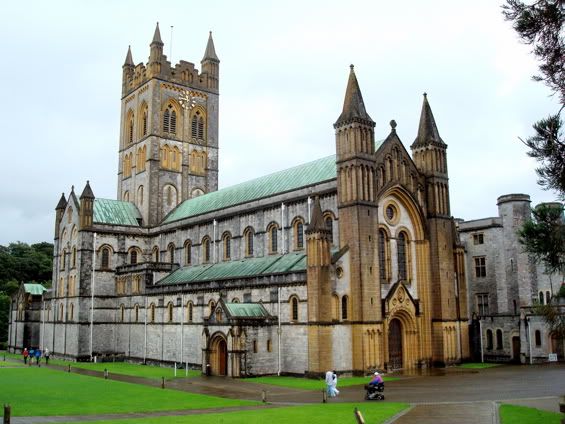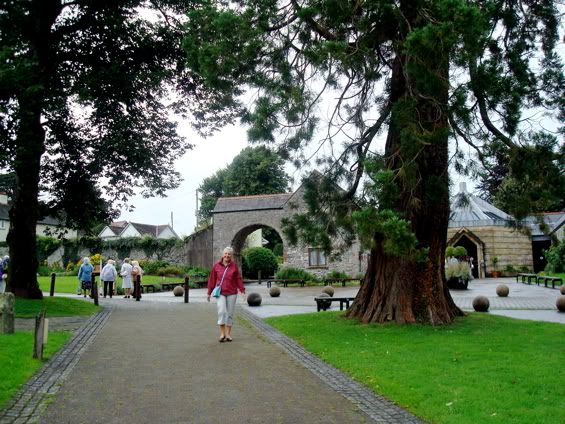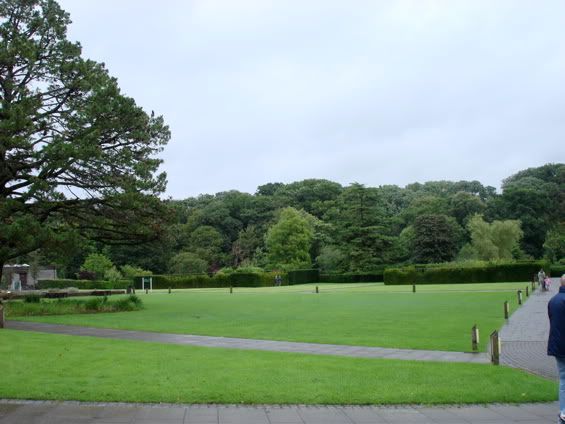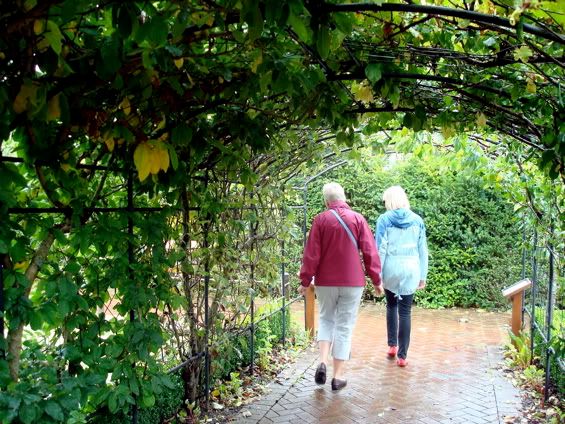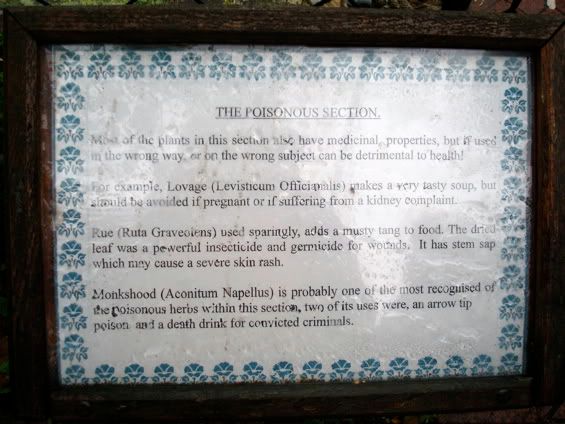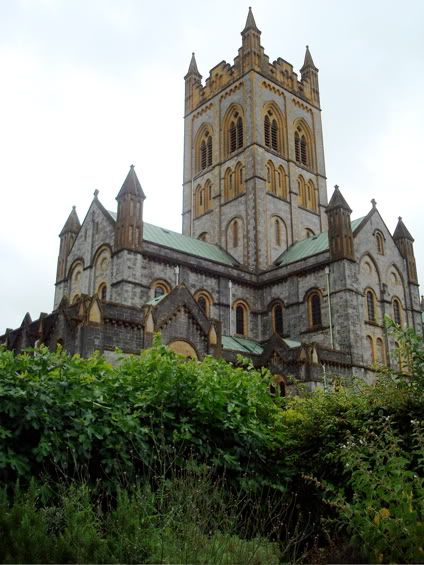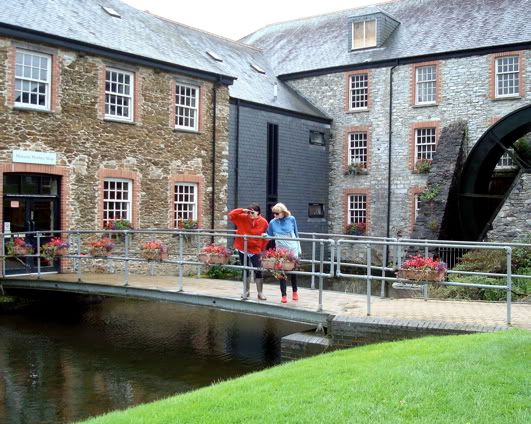 The weather was appalling. Torrential rain which is sort of in some ways perfect for camper van malarkey. We stopped just before Dartmouth to eat chicken soup I had made the night before. The rain outside and our steaming soup inside felt joyously cosy and we were having fun regardless.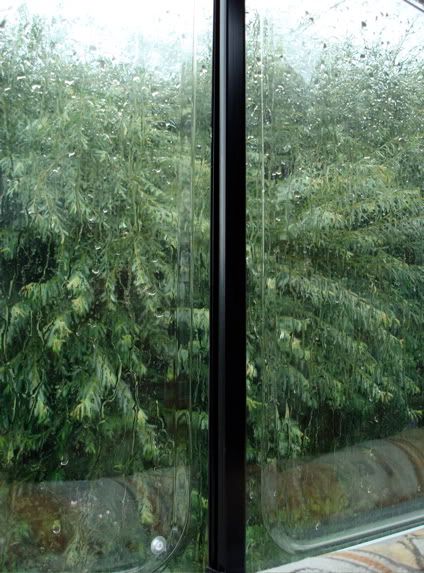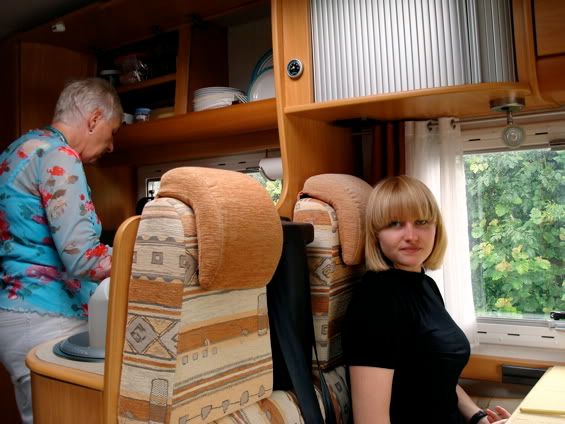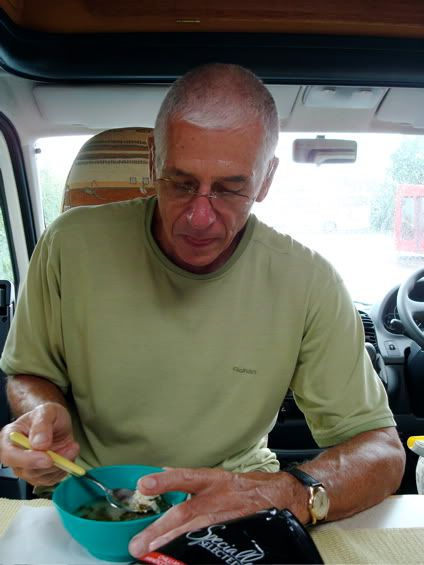 I demanded that they let us out at
Dartmouth
even if it was raining as I had told Magga I was taking her to a castle and by hell or high water it was going to happen. Mumsy and Mike left us at the harbour with waterproofs and a giant umbrella but as soon as they drove off, the clouds parted and the sun beat down. The walls of the gorgeous houses around reflected the sun onto the water of the harbour and the true beauty of Dartmouth come through. Its an incredibly pretty town and the chaotic order of the houses built into the hills give it such intimacy I felt a bit ashamed to be one of the many tourists taking the polish off its grandeur.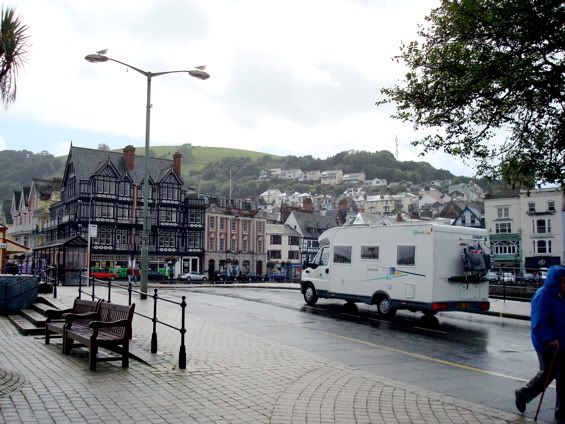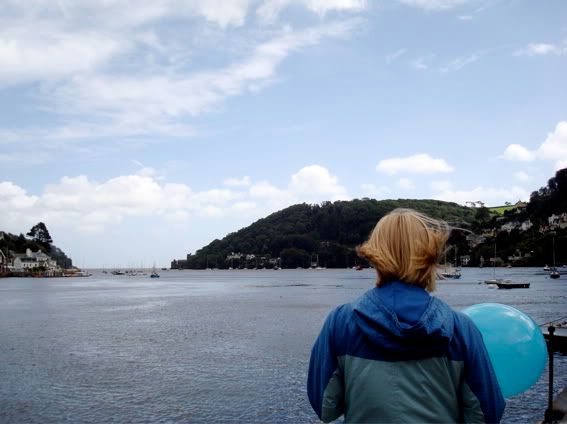 We hopped on to the little ferry boats to approach the castle by water. Do this. Its the only way to approach it in my opinion.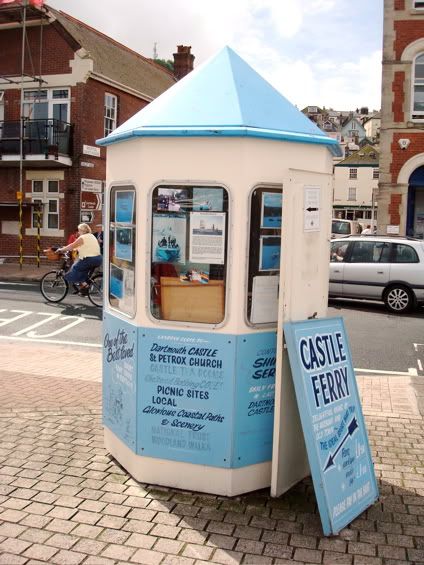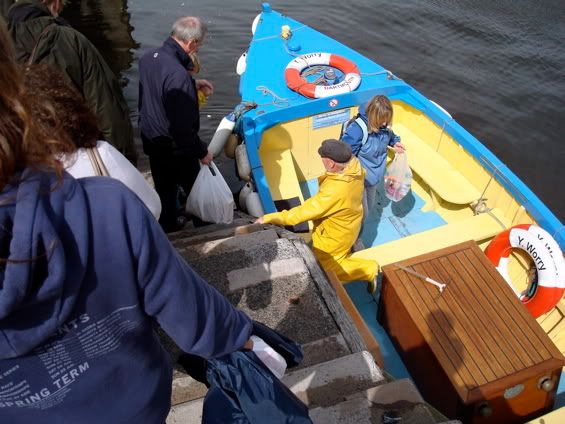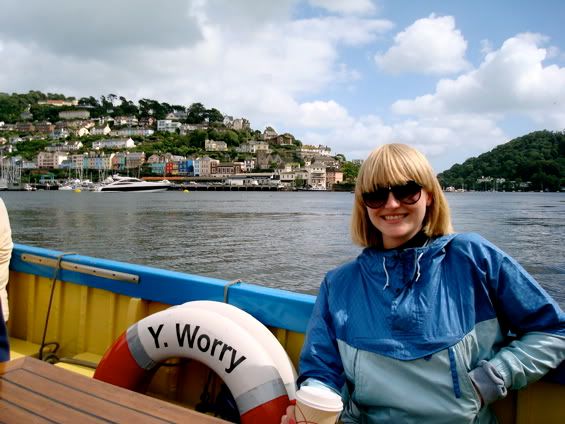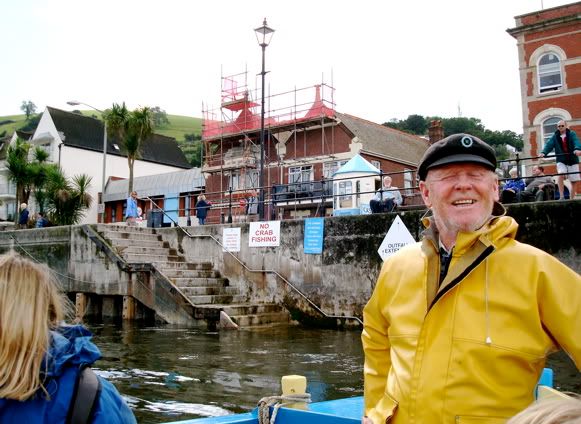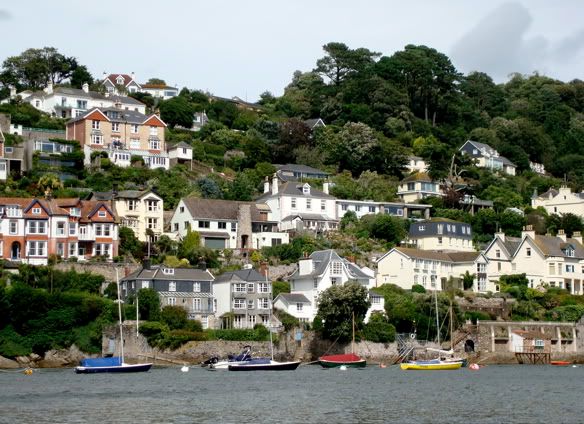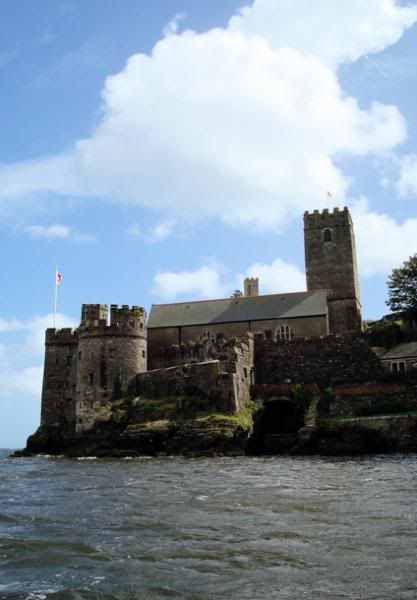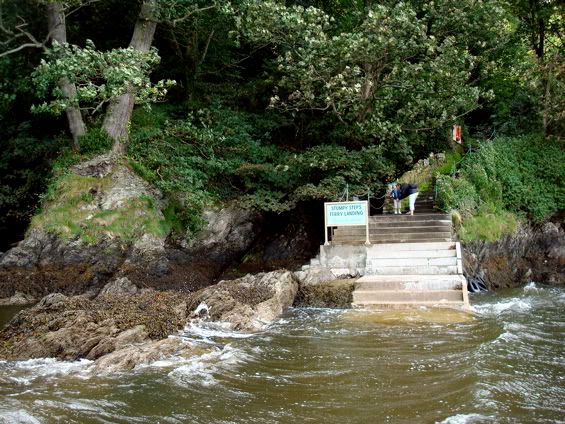 Dartmouth Castle
itself has been taken under the wing of English Heritage. This has the eternal struggle of all of our old buildings – get polished up enough to lose a bit of character so people will pay to get in and thusly pay for the upkeep or keep it untouched and watch it crumble. To be fair English Heritage have done a pretty good job.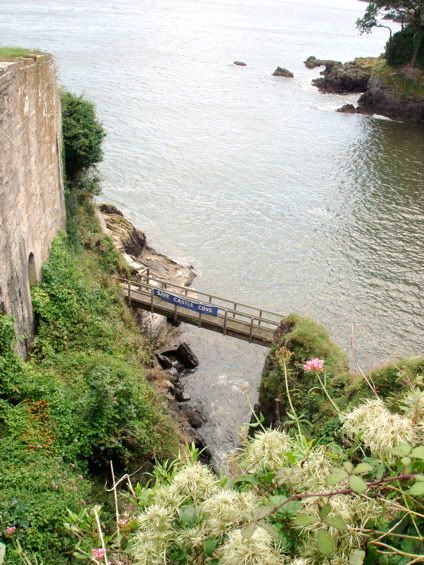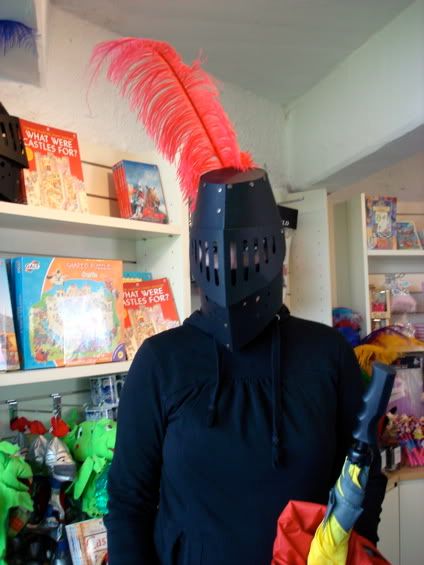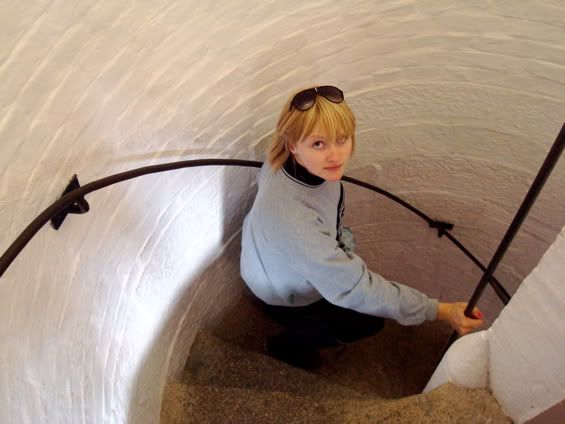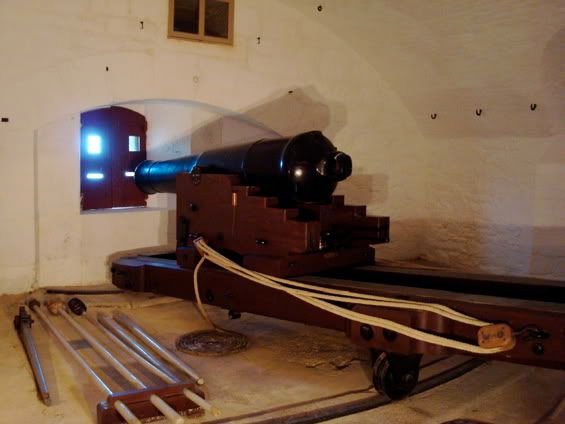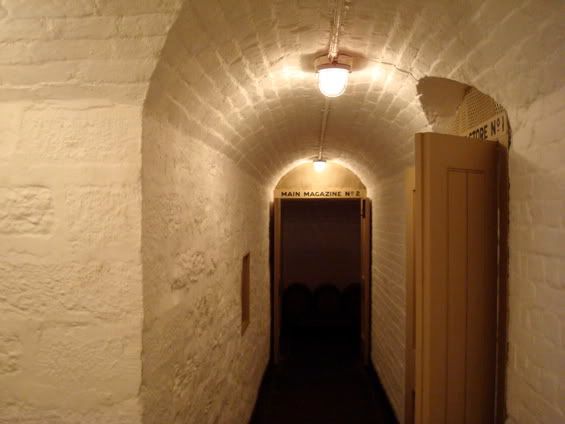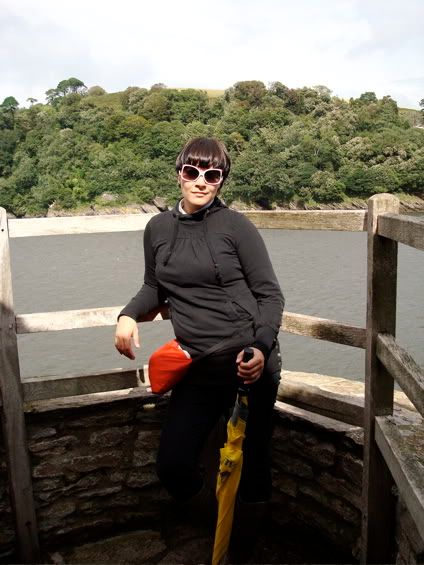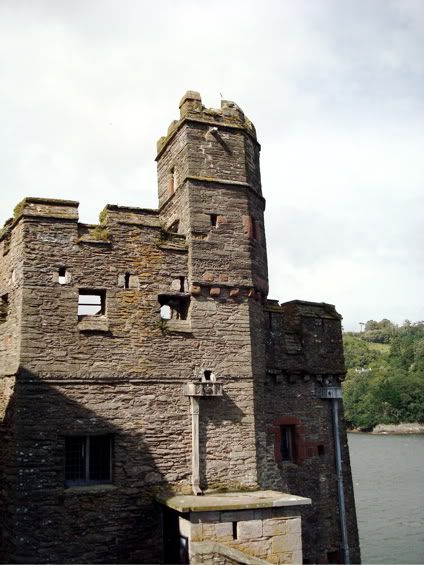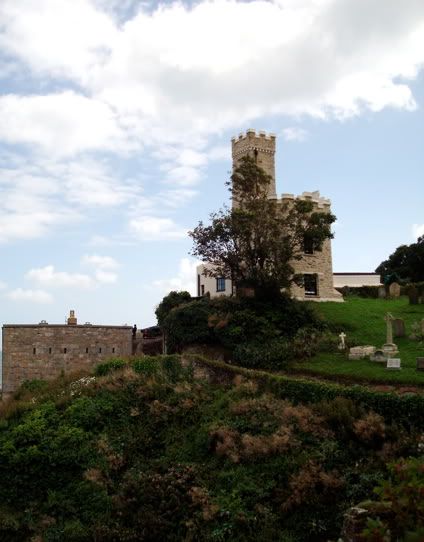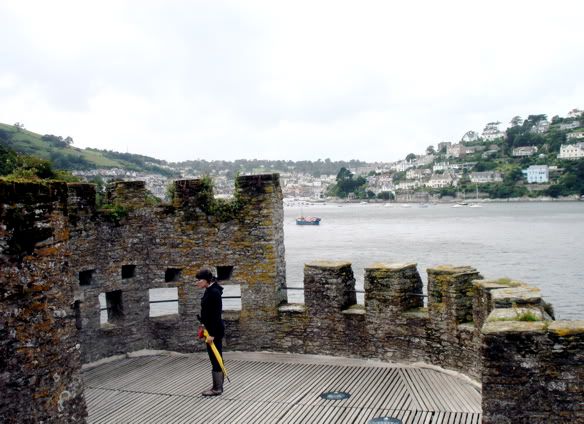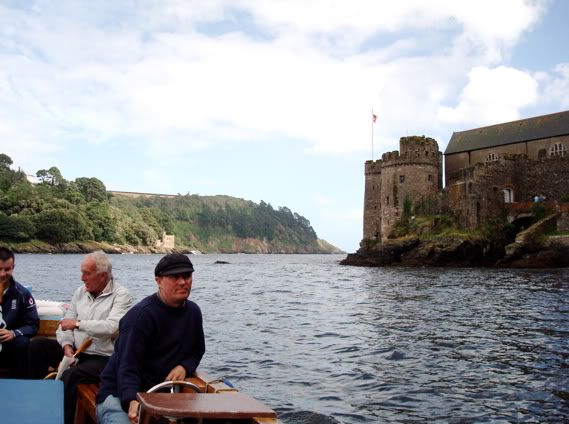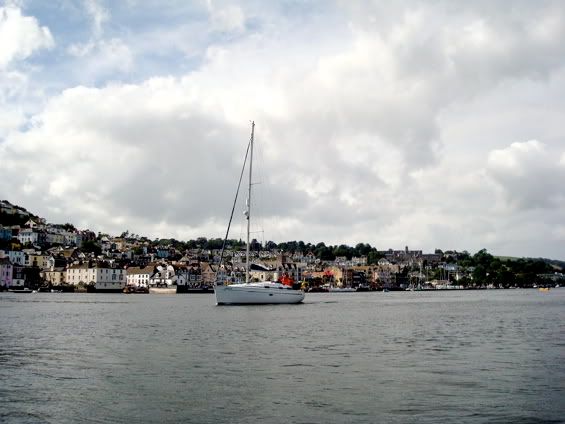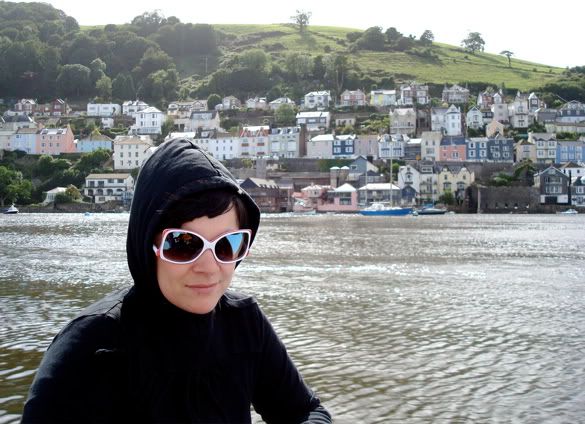 On the way back along the coast from Dartmouth to Exeter we stopped just outside of Torbay, at the most beautiful spot on Devon's Coast, according to my Grandad (RIP) - Thatcher Rock. Its lucky its so beautiful because that meant that as the end of the campervan was knocked off whilst turning, we didn't mind waiting there an extra hour whilst recovery services came and sorted it out.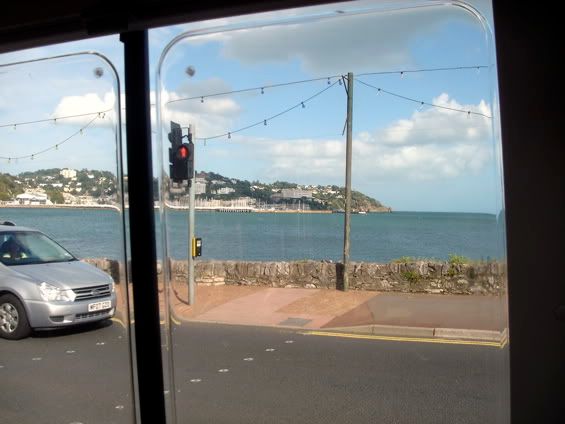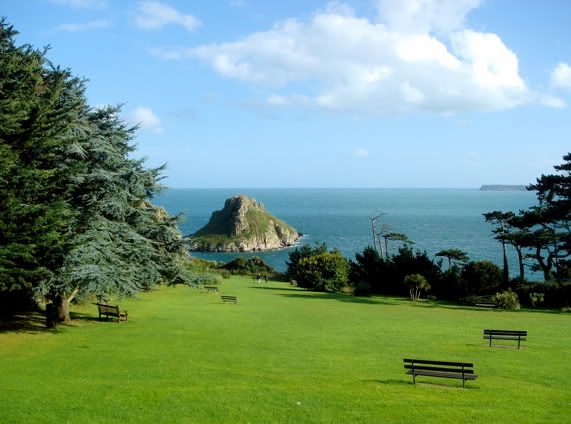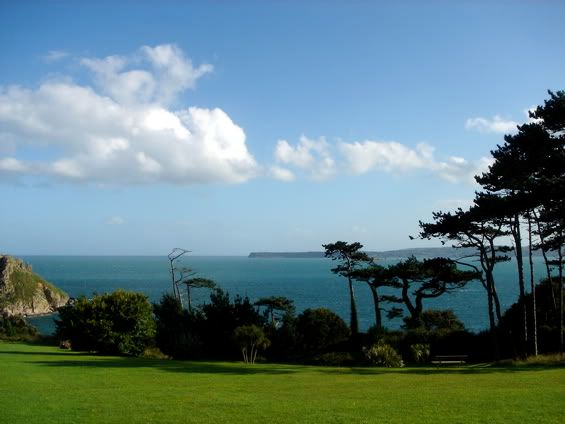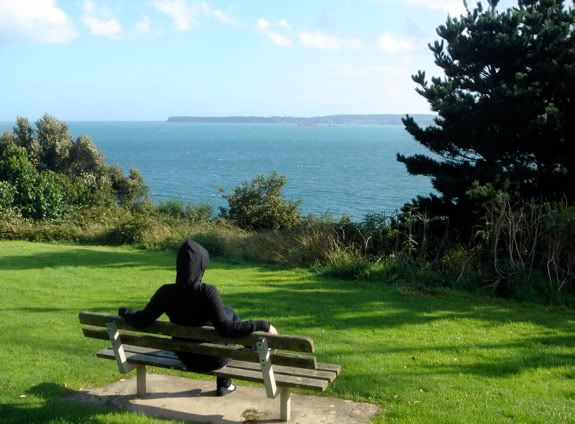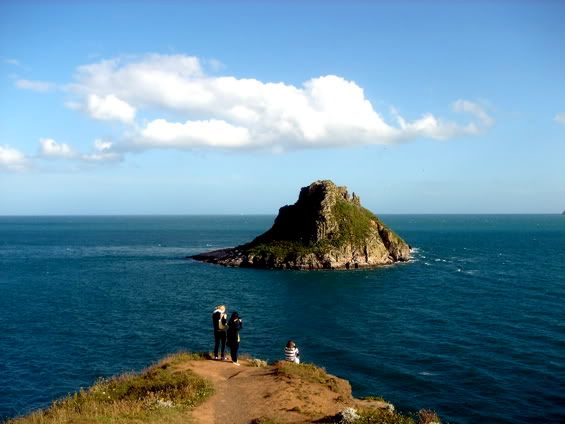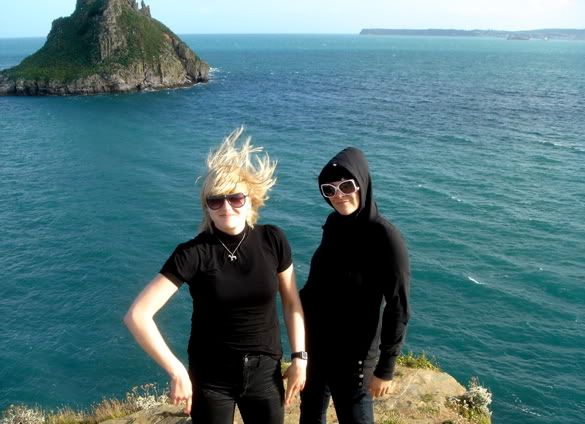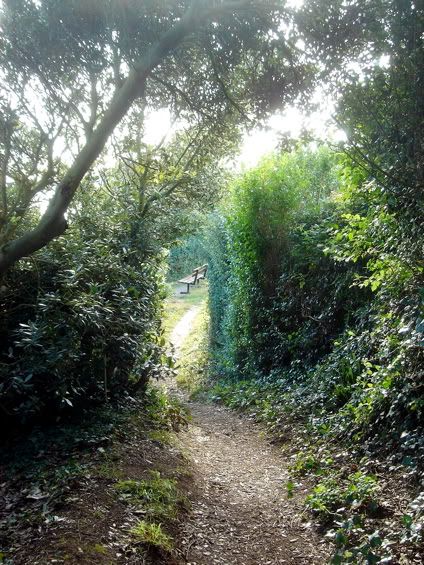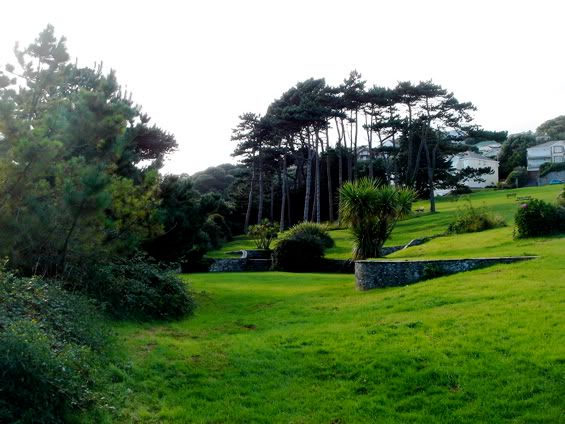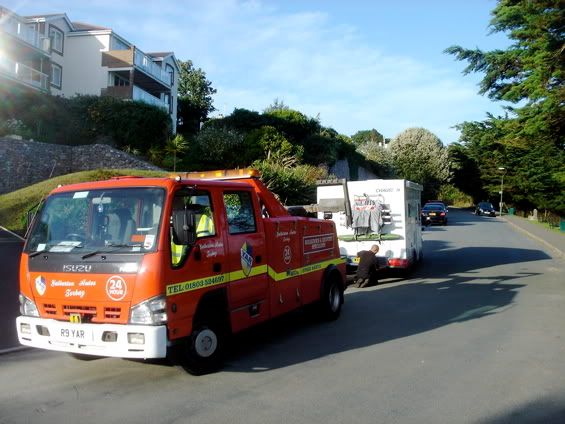 Magga disappeared the following day on her jaunt to France and then Spain, leaving me with the family and general pootling about. I went charity shopping and found a 1972 AGFA camera for 2.99GBP which had hardly been touched. Upon discovering it worked and that devloping films in the UK is about a third of what I pay in Iceland I went a bit overboard snap happy.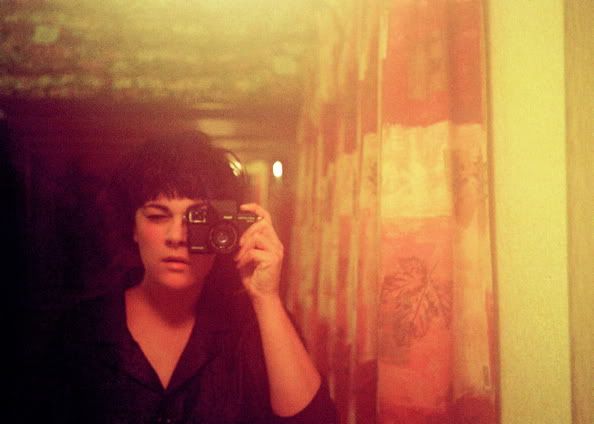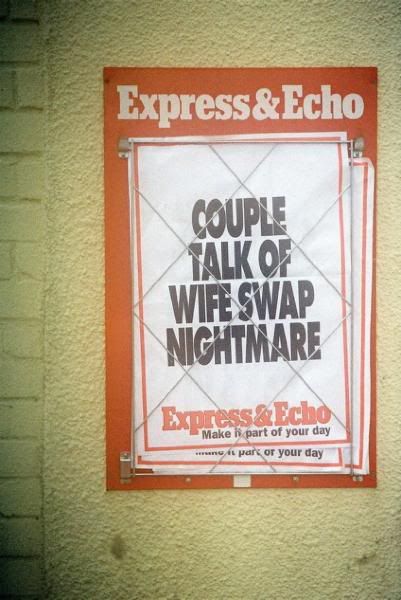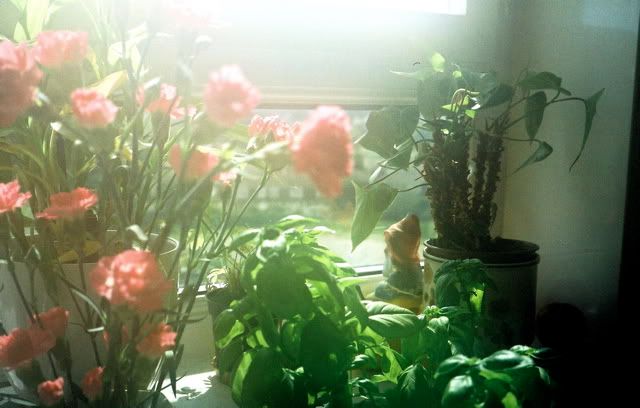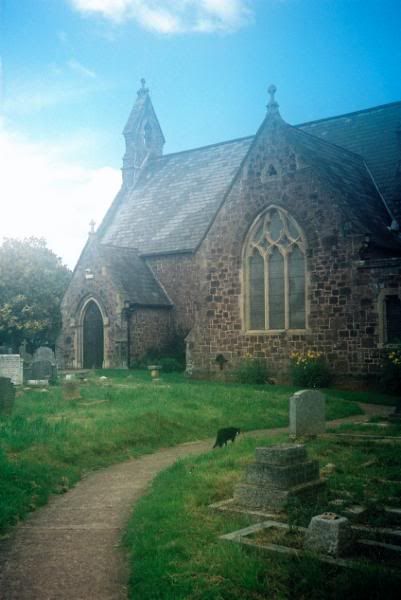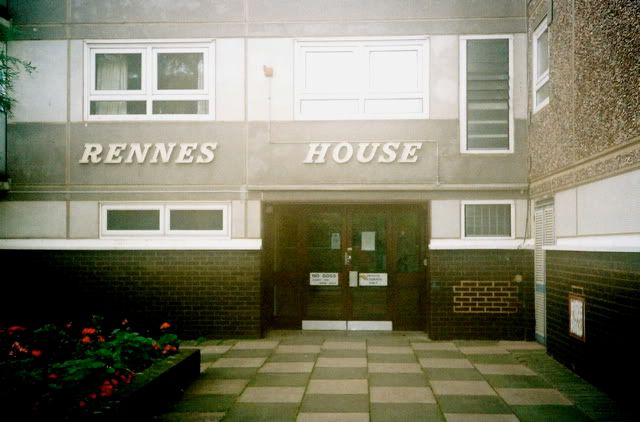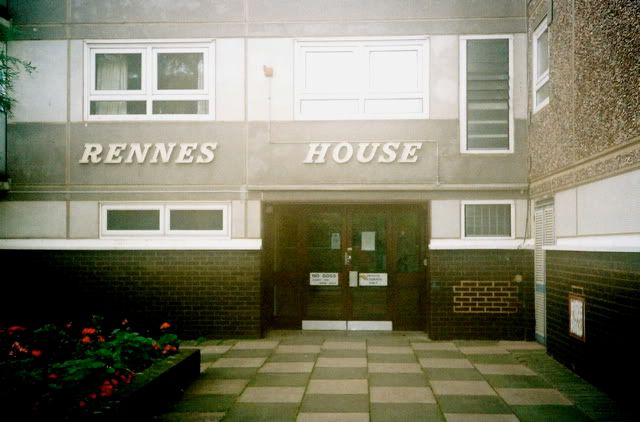 Friday night I went out to meet Jo and Rachel in Timepiece for old times sake and ended up staying out all night at the
Cavern club
gossiping and exchanging general updates.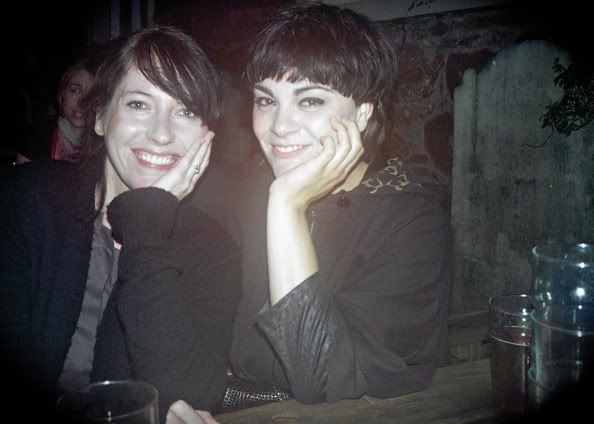 My new old 70s camera came in even more handy once the family weekend began.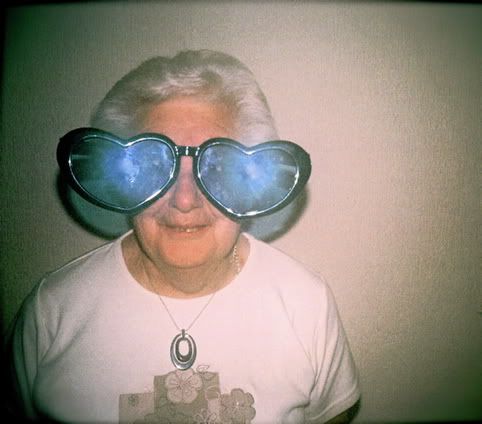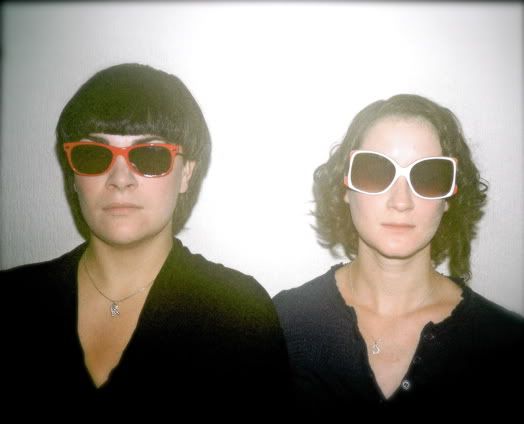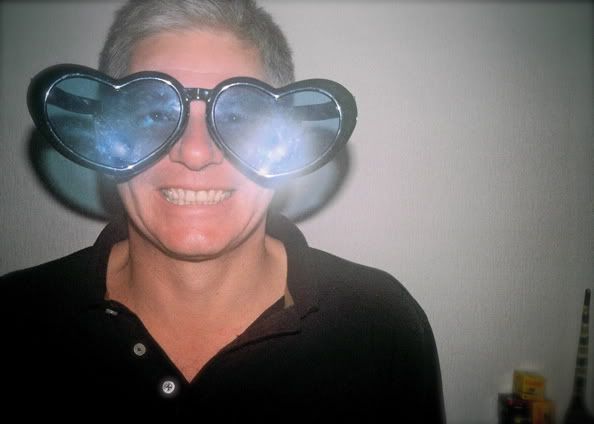 My newly pregnant sister Hannah, her partner Mark, Grandma Mary, Oldest Stepbrother Mike, his partner and girls came over for fun and food. It was brilliant. I do miss family times.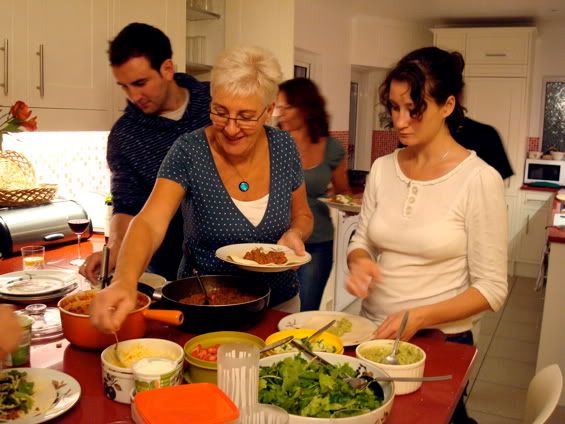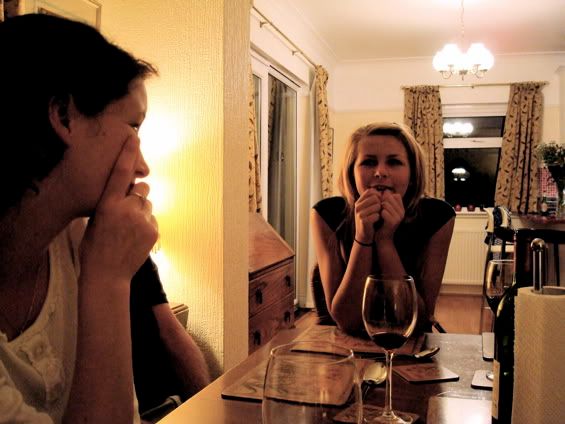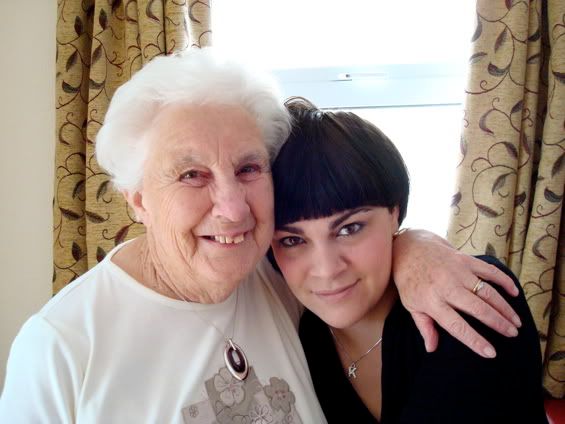 After all had disappeared back to their various places, I arranged an evening with Adi but not before I had called my old school,
Maynards
, and asked if I could have a walk around on my lunchbreak as it wasn't term time and take some photos. My word its weird going back to my old school 15 years after the case. Everything smelt the same which was very odd, and I still had the feeling I might get told off at any given moment but what was overwhelmingly obvious above these was the fact everything was smaller. It wasn't obviously, I was bigger.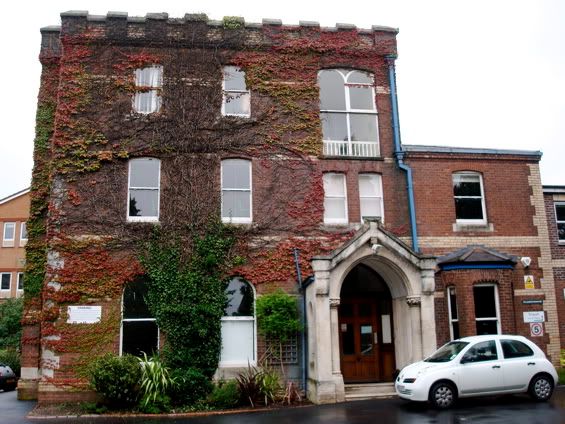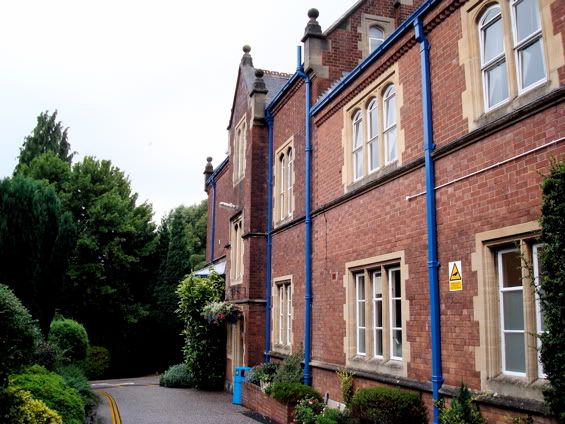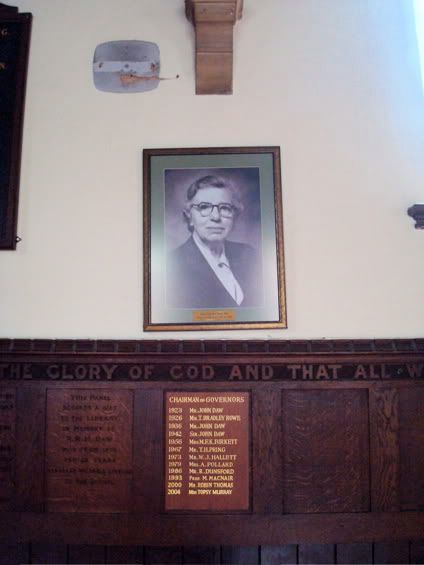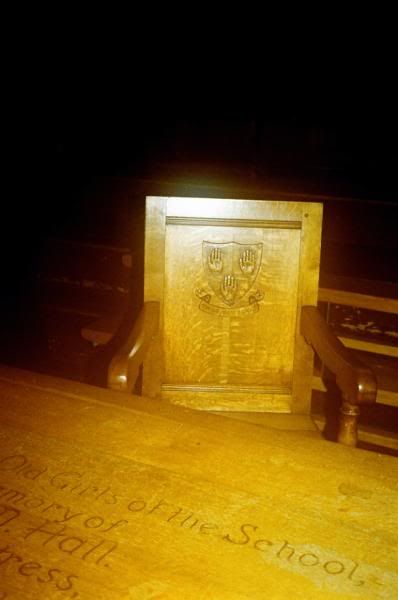 I was pleased to see the girls in my old form room had the same tastes as me in today's TV viewing.
The person showing me around explained that this was now the only single sex private school left I Devon. I didn't really know how to react as I have very mixed feelings about my schooling, it was a miserable time for me, but I have to admit I doubt I would have done anywhere near as well if I had been at the mixed state school.
When I got home I rooted through the remains of my belongings in the loft and found with glee not only my very old manual Petri GX but my old school certificates including my exit report. Shaking off shadows of my youth I headed out to meet Adi, have a few ciders then head back to his for malarkey and general talking rubbish until silly AM.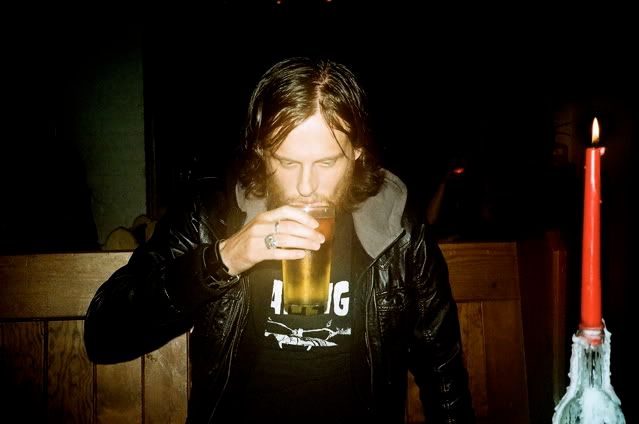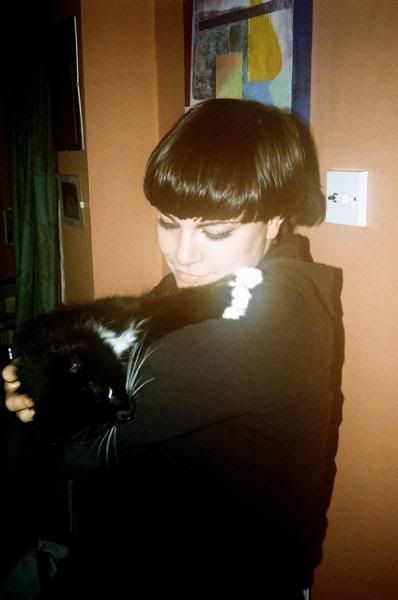 The next day I spent between working on my laptop and Mum and Mikes incredible garden with my Petri, snapping all manner of things. This garden is incredible, Mike trained as a landscape gardener and everything you see wasn't there when we moved in. The rain which had been a pain in the arse for my holiday had done wonders for the plants and I had never seen it so green. He grows almost every fruit and vegetable you can imagine, including chillies, artichokes, asparagus and roquette.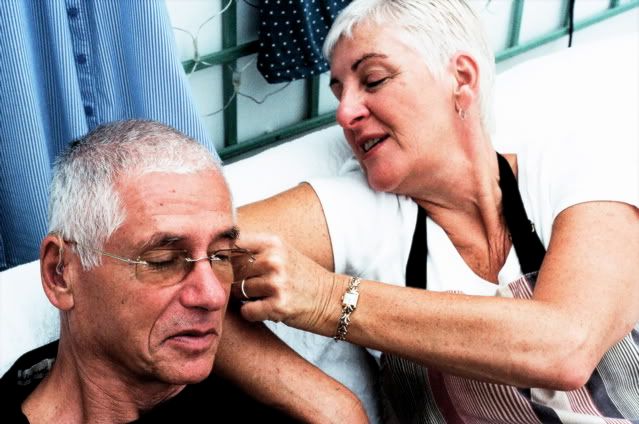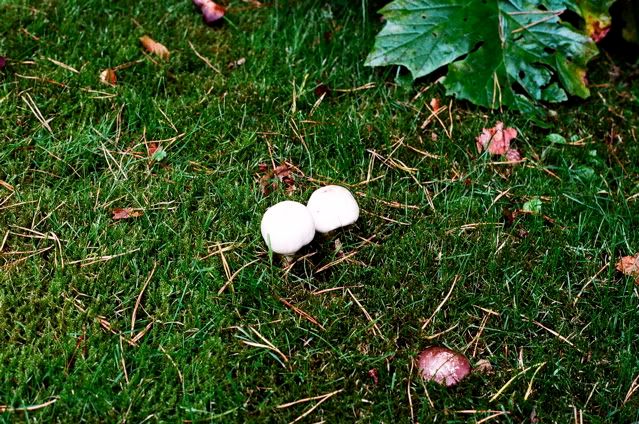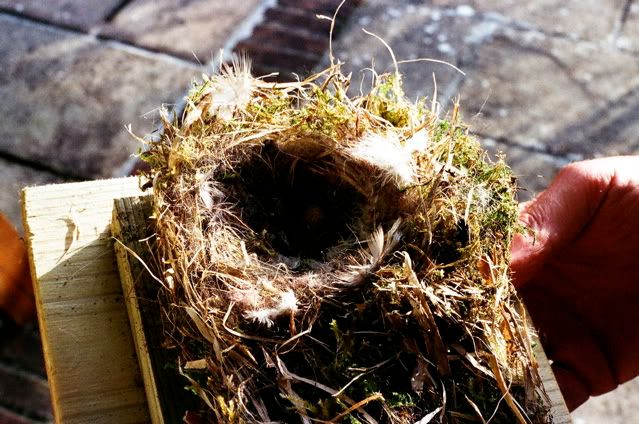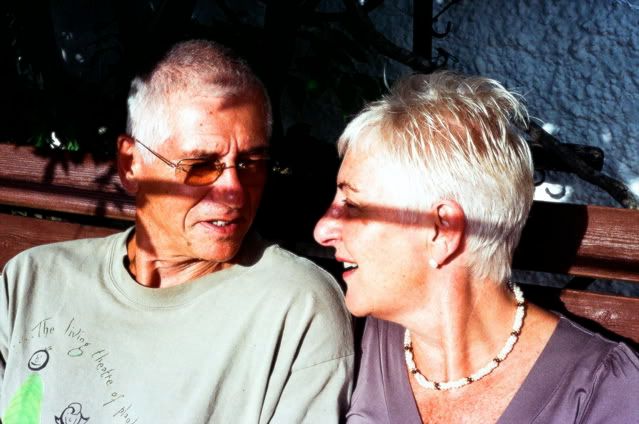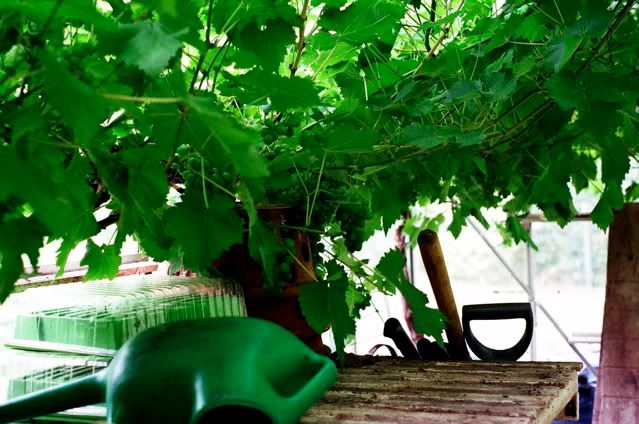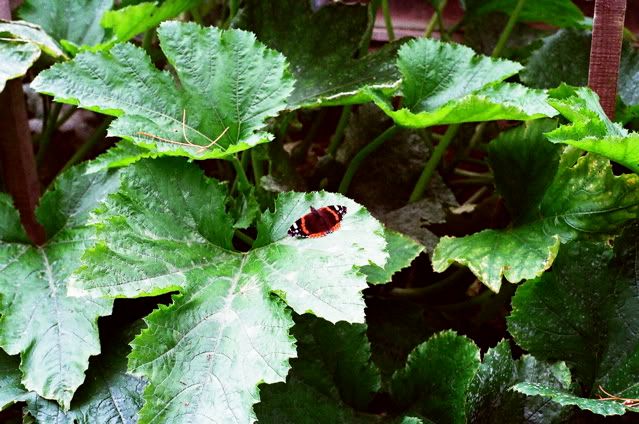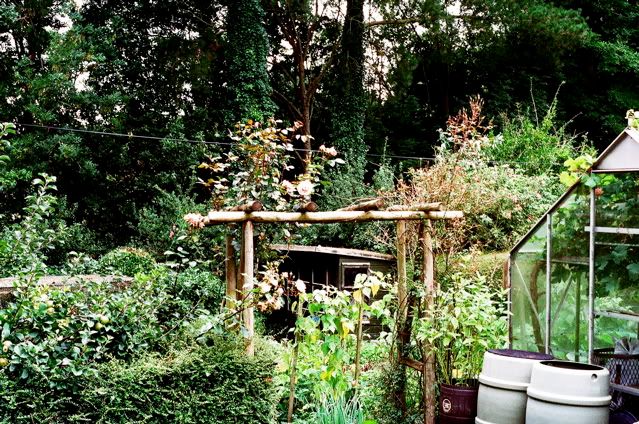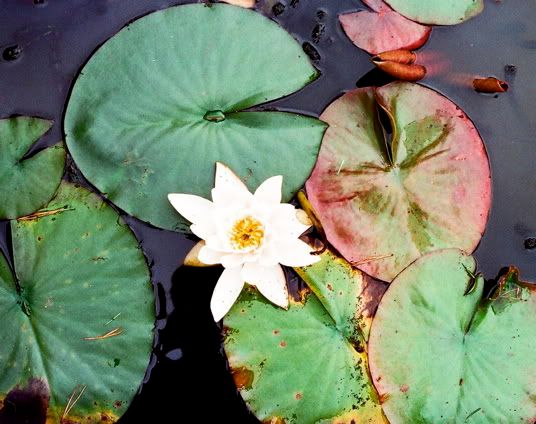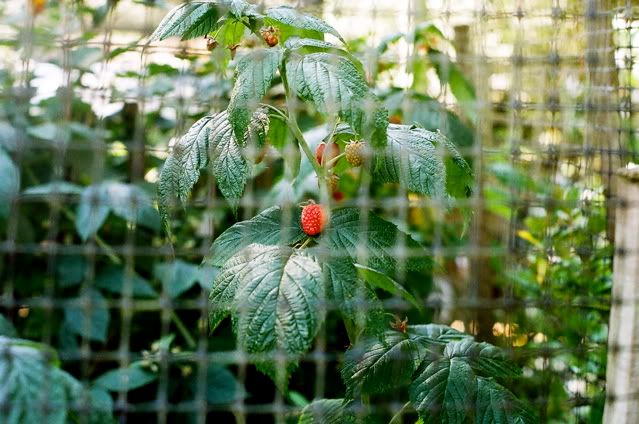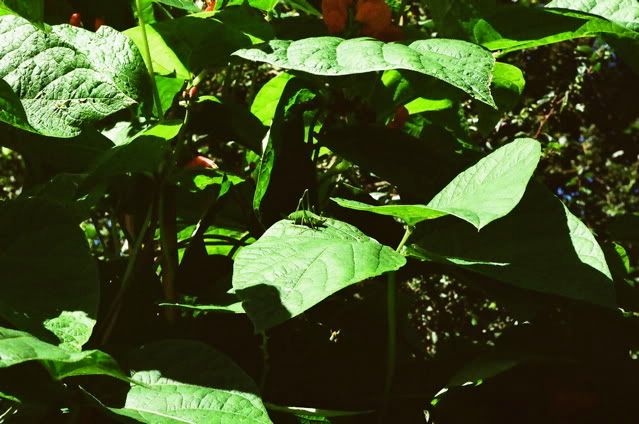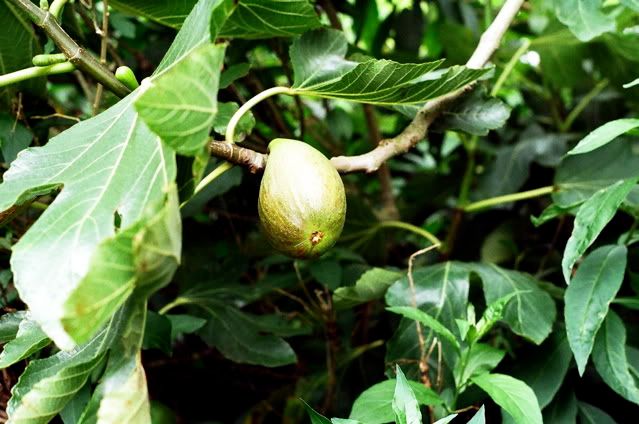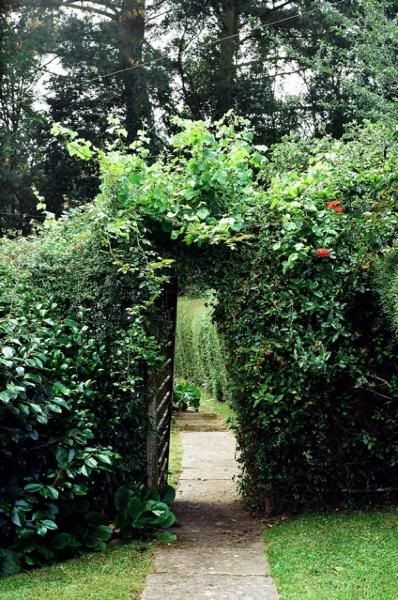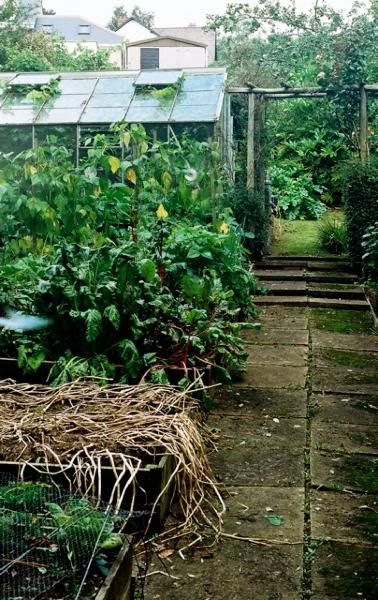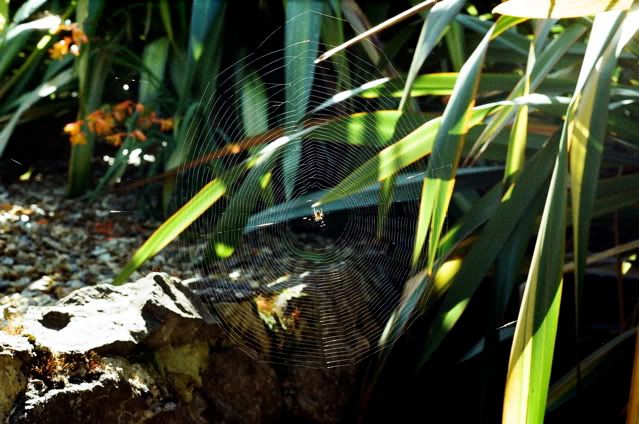 That evening I went to meet Craig and his little boy as I had yet to cross paths and then afterwards I went for my 4th Wagamama of the week with my dad, for whom it was his first. It is food I knew he would adore and it is one of the rare times we had to hang out one on one, until he comes over for another visit that is, which he is soon once he has had some surgery out the way.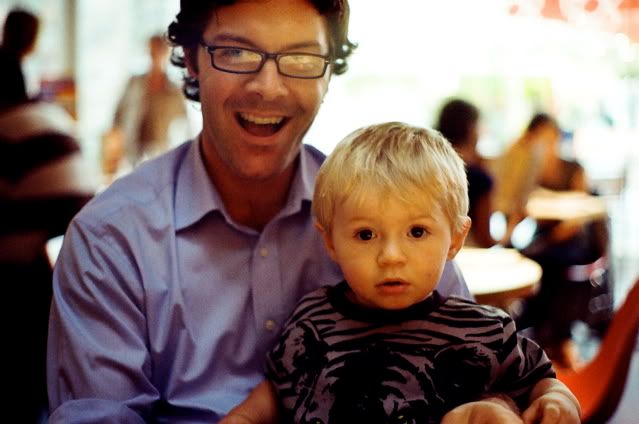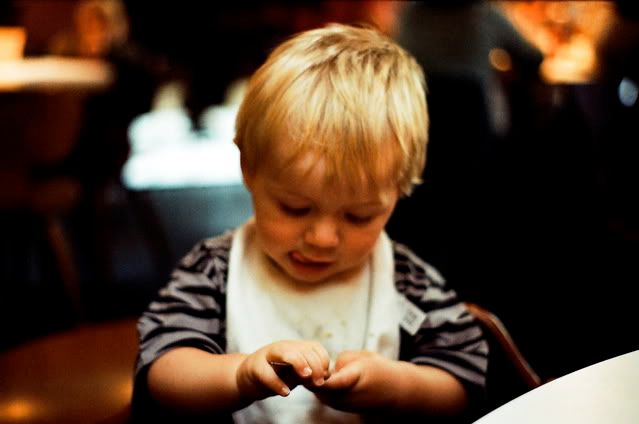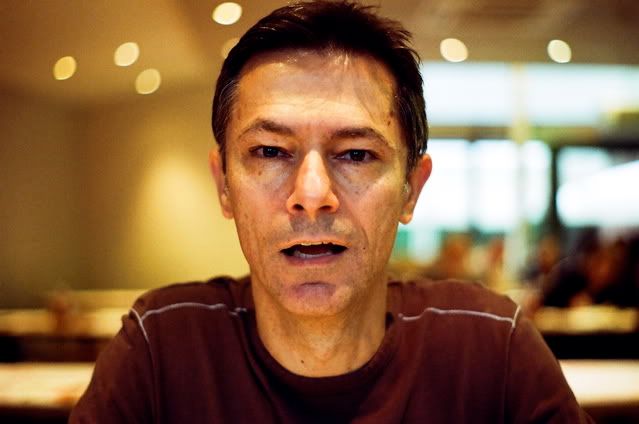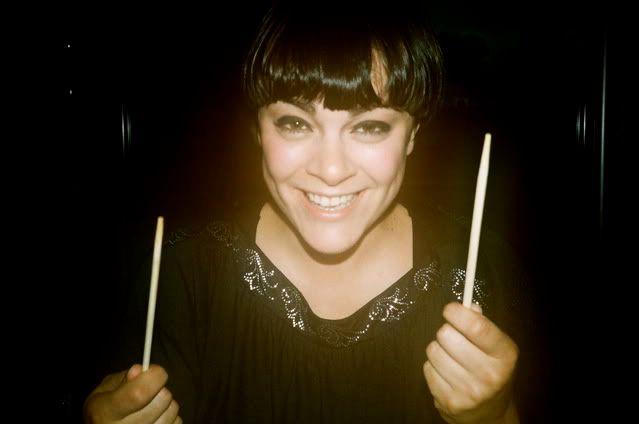 The next day was my last in Devon and after family duties I persuaded Mike to drive me and Sonam, who had popped down from London, to Trago Mills. The most white trash place in the UK. I cannot even begin to explain this place to its full extent. Its simply impossible to do its tackiness justice but its more trashy than Wall Mart, and yet has a zoo, a train, amusements, and roller coasters. Confused? You should be.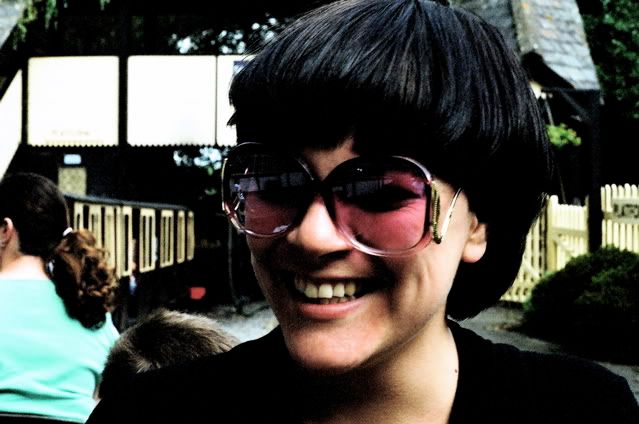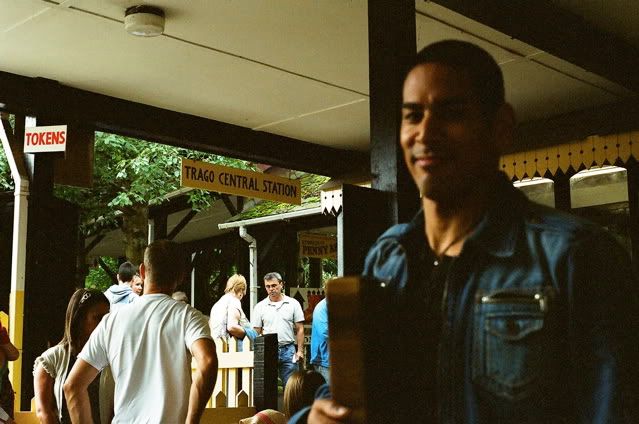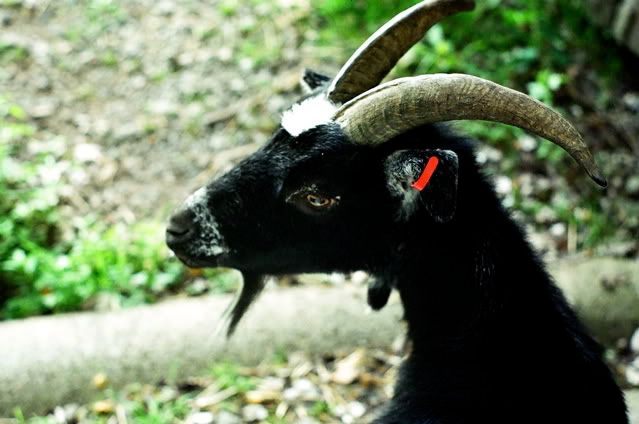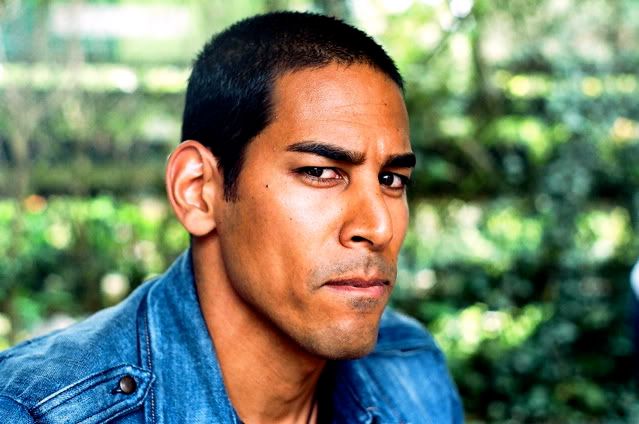 So that takes us to the end of my holiday. I started writing this on Friday and its now Sunday (Actually its now Tuesday thanks to uploading images, and I cannot believe how long its taken) and in between we have had Culture night here in Reykjavík but to be honest I think this is an overkill length of blog anyway so I will stop right there and collapse in a corner, as you will no doubt do also if you miraculously read the whole of this.