Aaaaargggh too much to write about. So much in fact that I sat down thinking 'fuck it i won't even write, I'll just post photos and be done with it'. But I know in my heart of hearts I can't really do quiet very well. Although saying that, I have done quiet moderately successfully for the last week, but I'll get to that later.
Instead there will be words, just not half as many as things such as a visit to China deserve. Partially due to laziness and partially exhaustion.
Waaaaaaaaaaaay back to Saturday 26th January there was a big art school party to celebrate the end of some project focusing on 'carnival'. Being a certain teacher's pet I gatecrashed which was convenient as most of the girls gatecrashed too, in addition some of the new Weird Girls were legitimately there also and dancing in the snow and drinking and chatting commenced. Lilja took this rather rad photo of me with a gorilla. As you do.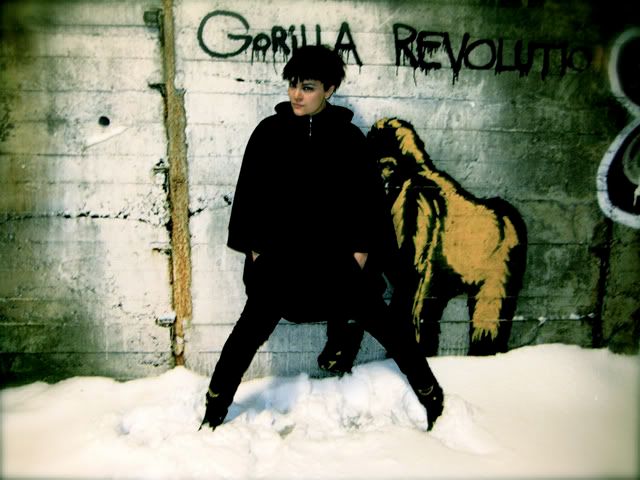 More partying in the week before China, albeit gently. Sirkus was on its last legs which brings up mixed feelings. Its been a landmark for so long, its pretty blergh its going, but on the other hand Reykjavik's nightlife has stayed very stagnant, helped in part by this little bar. I think it will do the 'scene', for want of a better less tossy word, good. Places like my favourite
Organ
are already thriving more since its closure but anyway...
There were several concerts held in the last week of Sirkus's existence. I avoided most of them because i cannot deal with maximum or over capacity crowds especially in a bar as small as this. But on the Sunday attendance was on because
Esja
were playing. I didn't actually last long enough to see them as Magga was happy to drive home and their 'stage' time kept getting later and later. It was however nice to say goodbye to the place.

(image by Sunna)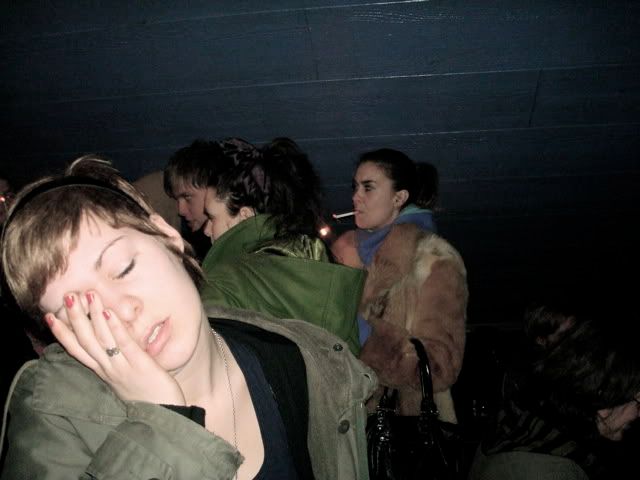 In between these there was yet more snow. I tried and failed to build an igloo with the help of Daníel litla, Friða, Sunna and Magga. The snow was too powdery for good building so we settled for a snow fort of sorts instead, following which, Friða, Daníel litla and I went sledging.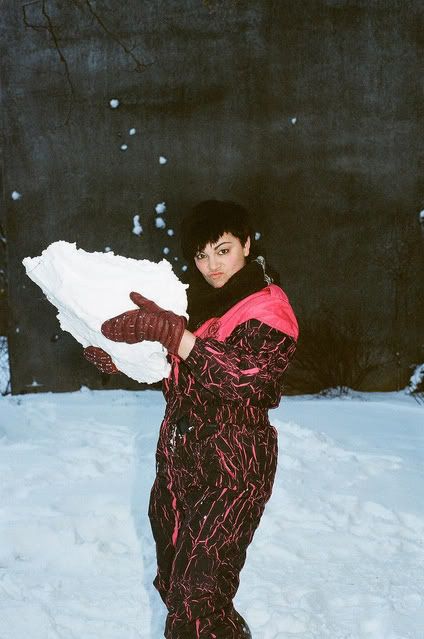 (images by Sunna)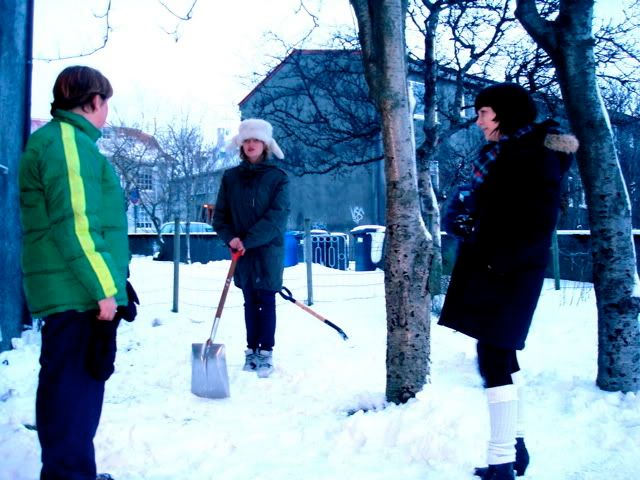 Sunna also took more posey shots for my ebay store. All items of which has merrily been sold and posted off to new homes. This successfully paid for my holiday in Portugal in May. Horrah for clearing out old clothes plus ebay.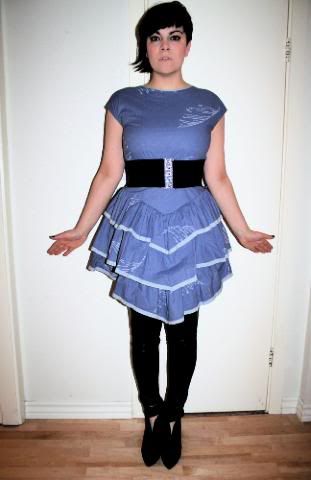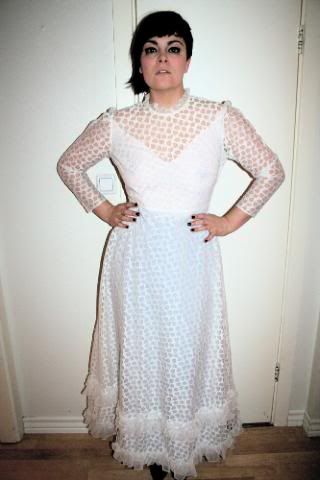 Then came China. Sadly my entrance to this wondrous place was not as it should have been. About 5 hours through the flight in the shittest economy seats ever on BA (just don't ever, ever, fly economy on such a long flight I say), I started to feel quite unwell, quite unwell indeed. Within half an hour there was high fever and crippling pain in my abdomen and within another hour vomiting commenced.
Vomiting in a toilet barely wide enough to kneel in which has been used by around 100 people for 6 or 7 hours already is, not to put too fine a point on it, fucking foul. Luckily the pain in my stomach was such that I could barely focus let alone give a shit where I was. This all continued until we hit Shanghai several hours later and even though I felt better in fresh air, and the nausea subsided, the pain didn't. We got to the hotel work had arranged for the first night which wasn't the most comfortable and the grasp of English translation was hilarious if you see the page from the welcome pack below, and to cut a long story short - on the Friday before I was due to go to a meeting with some Chinese software people I was taken to hospital by one of my CCP colleagues.
The fear of a Chinese hospital was pretty high until I was taken into some special ward for foreign, expat, business people. VIP to the max, roses on the tables and higher tech machines than I have seen in any British or Icelandic hospital. I was torn between being wrecked with guilt knowing that no average joe national would be getting anything like this treatment and utter gratitude that I was in medical civilisation.
The doctor, who spoke good English but with such a heavy accent I struggled to comprehend, announced he suspected appendix problems and I visualised being wheeled out of said VIP area and into the normal hospital to have my first ever operation far far away from home by staff I couldn't really understand and the bottom lip began to wobble.
Luckily after some tests they discovered my white blood cell count was normal and thusly canceled out the need for appendix removal, for then anyway. They gave me various medicines and sent me on my way with a swipe card with all my medical records on to carry with me in case I collapsed. Very impressive indeed.
We went straight from here to the meeting where I felt more and more like
the Matrix
. Partially due to being off my face and not having slept much or eaten for over 2 days and also because I was in what Time magazine call the highest security software operation in the world. I can't go into detail about them here but I was in a meeting, pasty as feck, with 8 or 9 of the top software peeps in the business. All men, all wearing black and all being very nice and impressing their security and knowledge to me for use in a project I am managing here in Iceland. My internal monologue was along the lines of 'how the hell did I end up here? I came to Iceland to work in a bar for a few months and now I am in the Matrix with a dodgy appendix'. Life is truly incredible.
The rest of the trip was grand, bizzare beyond belief and an experience I shall never forget. Sadly I was caught in jetlag cycle due to being sick as I had to sleep when I needed to sleep but this led to Daníel and I exploring areas at the crack of dawn we never would have otherwise. But it did mean we more or less missed the Shanghai nightlife which is what everyone said we should see. I am not that bothered, I didn't come to China to get shitfaced in clubs which could be in New York or London, and I djed on the one night I did go out so feel I did it in style.
Shanghai is very strange, nearly all of it is modern building, they tore down almost all the old town and have rebuilt it in almost science fictionesque style. Futurama even bases some of its city landscapes on
The Bund
- the finanical district.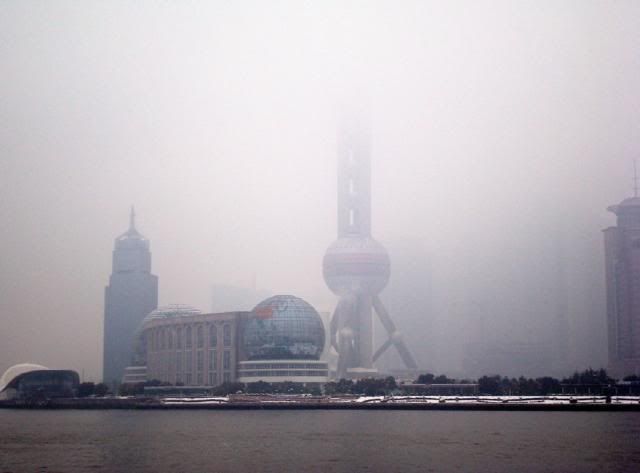 We moved to the apartment Kate had rented after the meeting and this was much more homey. The only thing is that it was minus 2 outside and snowing and the Chinese have no heating. I shit ye not. The closest is the air conditioning units which can be turned to hot which is the equivalent of someone blowing warm breath on you. I countered this by buying some quilted jimjams which I
love
and have continued to wear since coming back to Iceland even though the heating systems here are such I have to open windows to justify wearing it.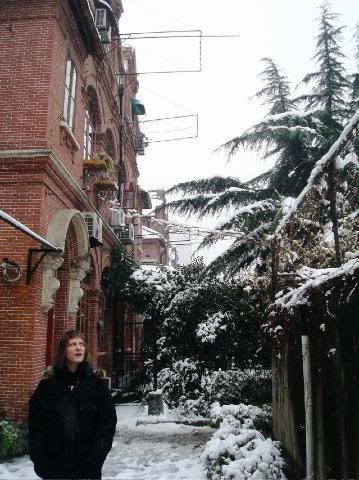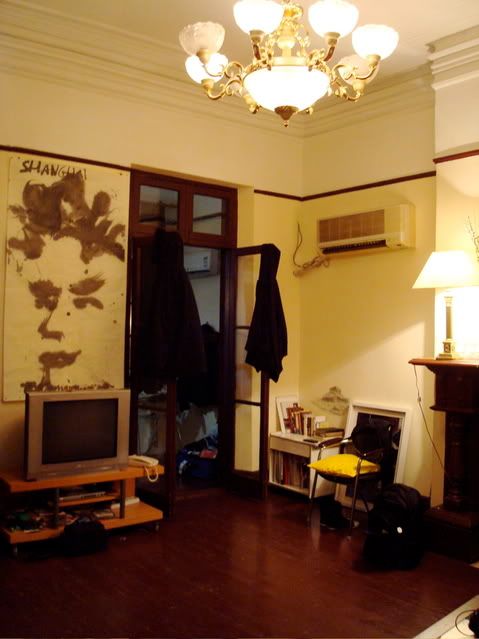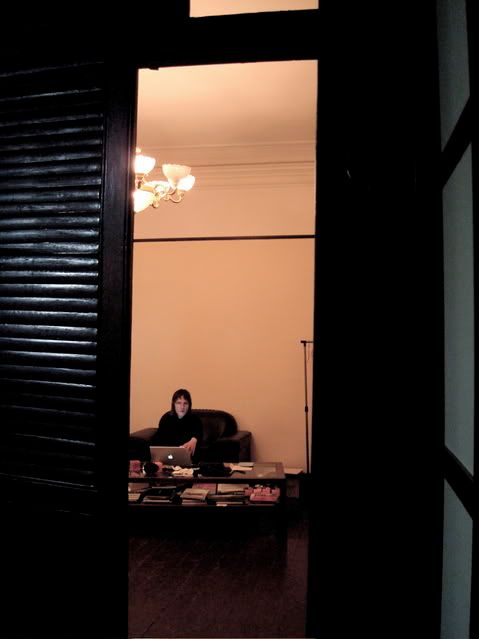 We did lots of city exploring and then on the Sunday before Kate's wedding we decided to follow the guidebook and other's advice and get out of town to visit the small town of
Suzhou
140km away as the ancient gardens were supposed to be amazing.
To be honest we thought we were going from 30million peopled Shanghai to the countryside, but as we headed out of town in our posh chauffeur driven estate (costing only 7,000isk for the trip and petrol) we realised there was no countryside between these places. Miles and miles and miles of suburbs and to be honest, somewhat depressing industrial scenery.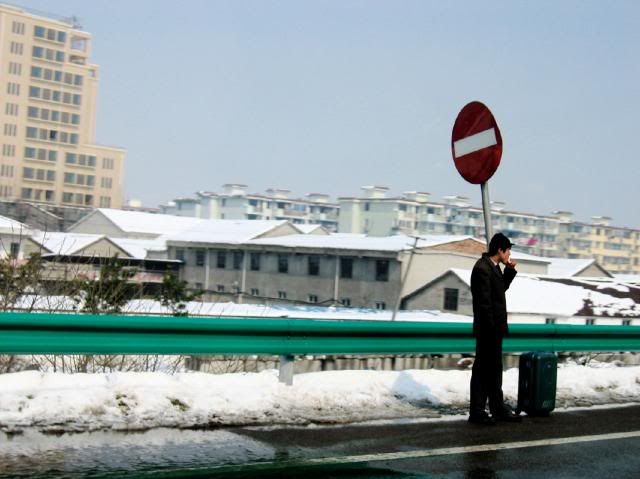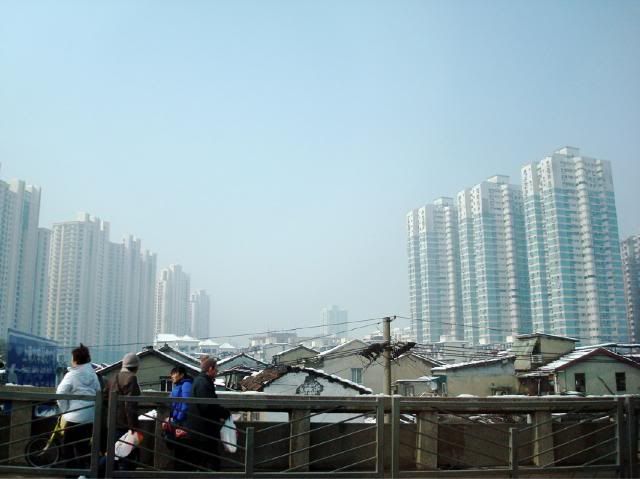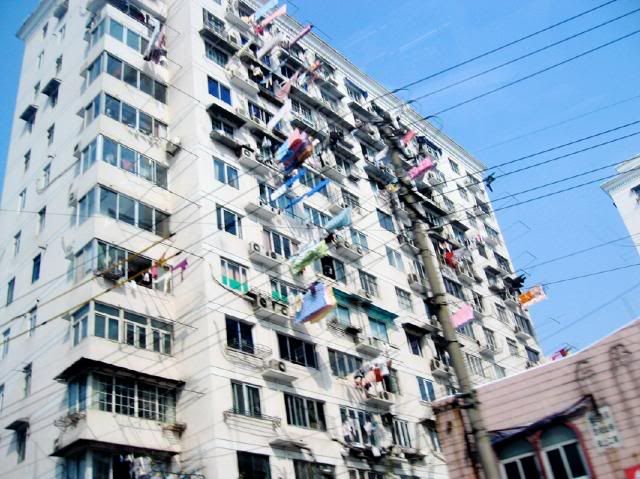 We hit Suzhou and I had booked us in a suite at the Sheraton, craving some luxury in my still somewhat feeble state. The suite had two whole bathrooms, the reason for which escapes me but upon reading the 8 different types of massage available and the a la carte menu I was more than happy and insisted that Daníel and I head out into town to see the aforementioned gardens.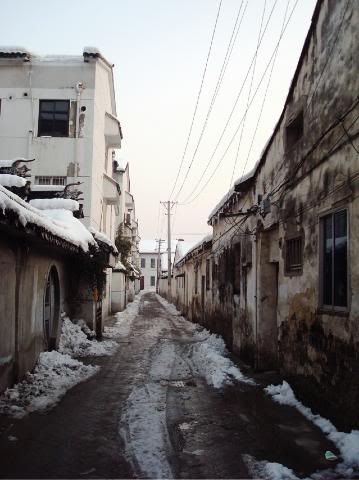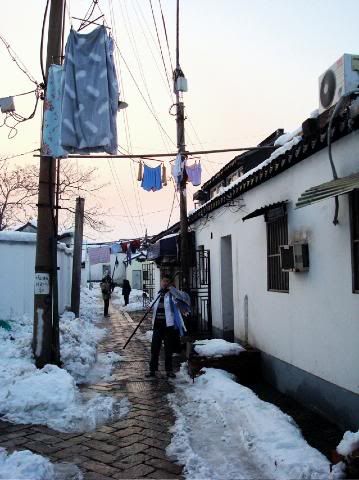 This town was aggressive. Car horns beeped continually, the salespeople who in Shanghai were already forceful - here were close to abusive. We trekked through the half melted snow in the bitter cold and found the most famous of the gardens which was closed. Apparently they forgot to mention that in the guidebook. We wandered the streets for a while and stopped off for a hot tea but decided to cut our losses and spend the evening in the warm and welcoming Sheraton and decided to look around the grounds it was based in the next morning.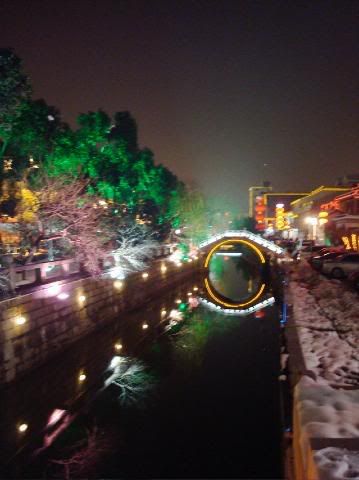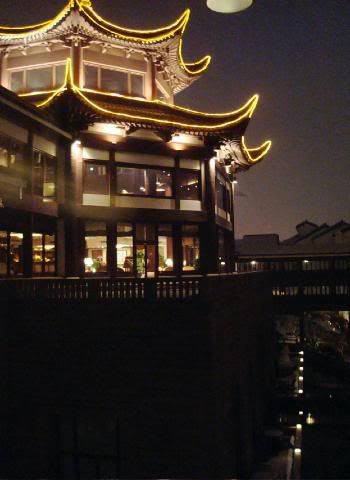 Whilst Daníel gave in to jetlag, I decided to take a boiling hot bath, in non brown water (as existed everywhere else) as they filtered it, and booked a massage. Heaven is the only word to describe that hour. The most incredible hour ever. However if you are a man and order a massage after midnight (they are open until 3am) don't expect a massage as Daníel did. It seems they like to provide what they think businessmen would want from a Chinese girl in the evening, even at the Sheraton. I have been resisting filling out their customer feedback form they have sent me twice as the comedy I could have is too much to process.
Before heading back to Shanghai we had a look around the gardens the hotel was built in. Mostly imitation of the ancient traditional gardens it was still decidedly attractive.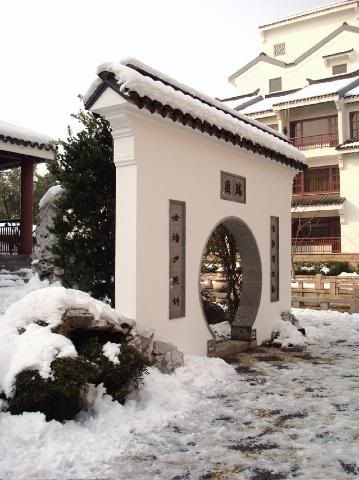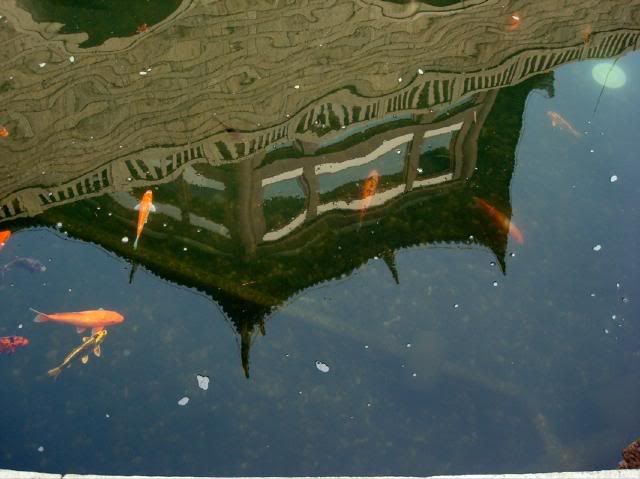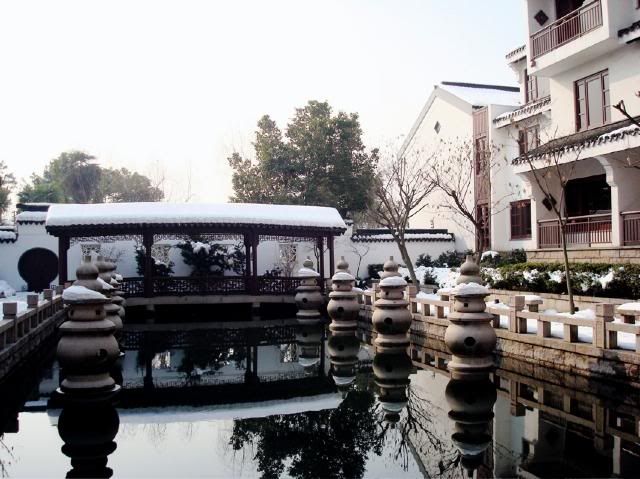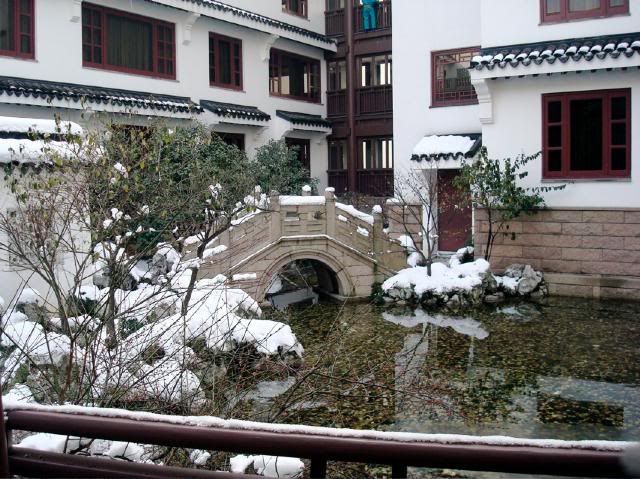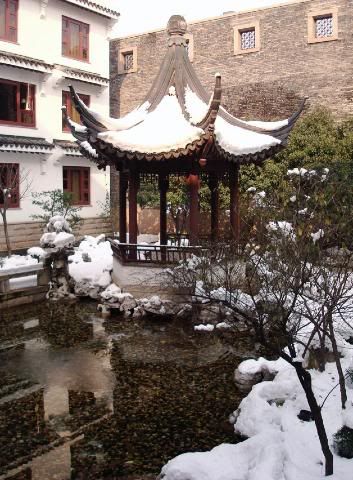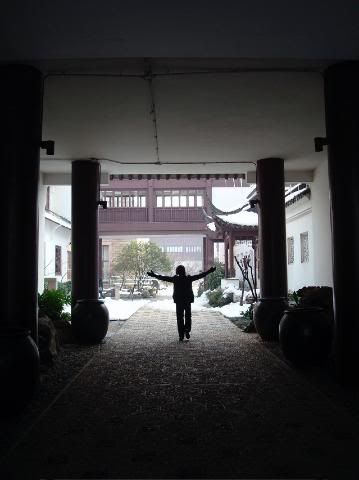 The next day was Kate's wedding. The official ceremony itself requires only the bride and groom themselves so the celebration is held over a long many coursed dinner with music and family and friends. We met them all at the house Kate was borrowing in a small back street out of another world.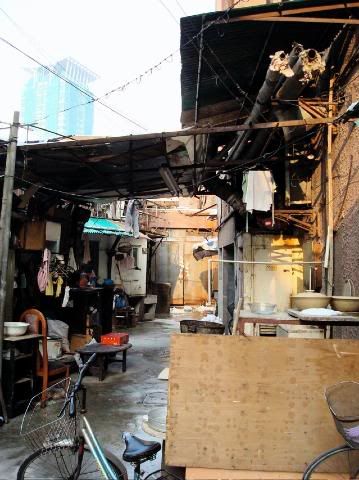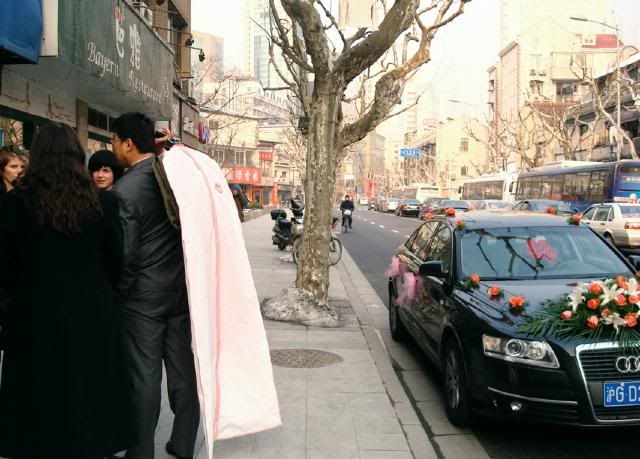 Whilst the couple went for tea at the Chinese parents, the western guests - Kate's sister and boyfriend, brother, mother, stepdad and her friend Tom, who had come were driven through the financial district to the Grand Hyatt Hotel in the
Jin Mao Tower
to have a drink in the atrium bar on the 53rd floor. From here you can look up the remaining 33 floors.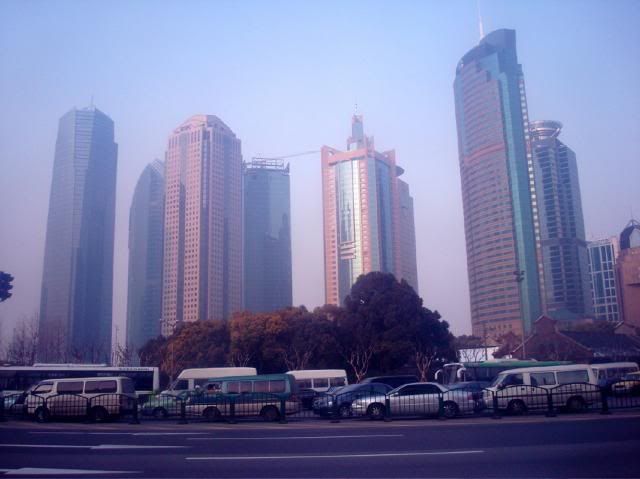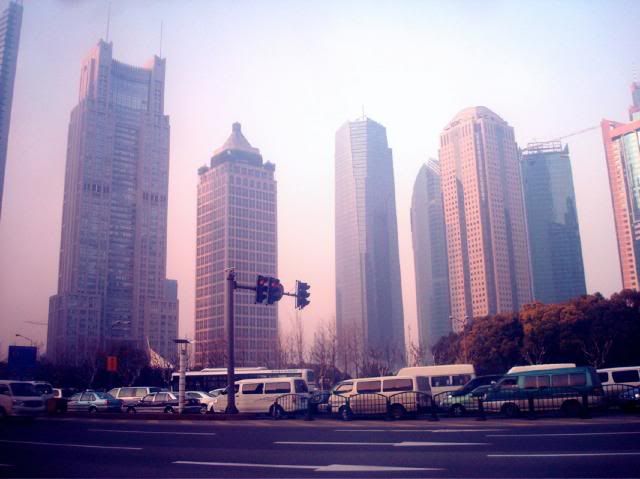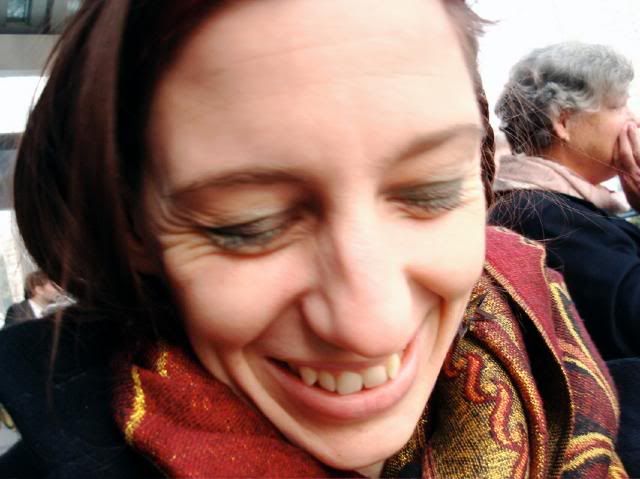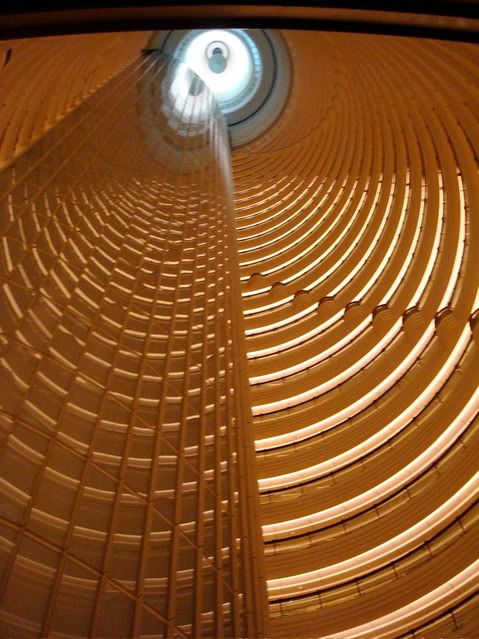 This was previously the tallest building in China and the 5th in the world until its neighbour took over -
The Shanghai World Financial Center
. I have to admit, maybe due to my western viewpoint, but there is nothing that would make me build a world financial trade centre in a landmark tall building these days... depressing but true. It was impressive none the less.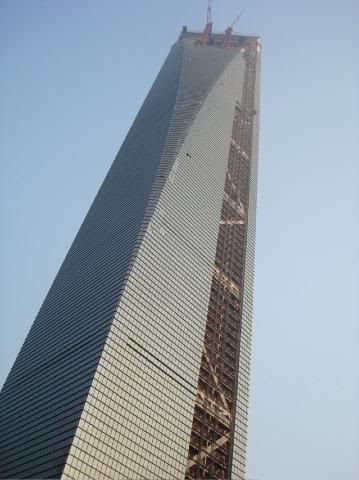 Deciding that before getting collected again, we weren't really high enough, we traveled up to the 87th floor and the bar Cloud Nine to get a look at the view. Fuck me its high up. At that particular moment we were actually higher than the sun and it made me feel quite odd to stand up against the glass and look down.
Once we had our thrills we moved on to the wedding celebration at the Celebrity Garden Hotel. Various levels of strange food were wheeled out and wine was drunk, love and laughter flowed as did some tears.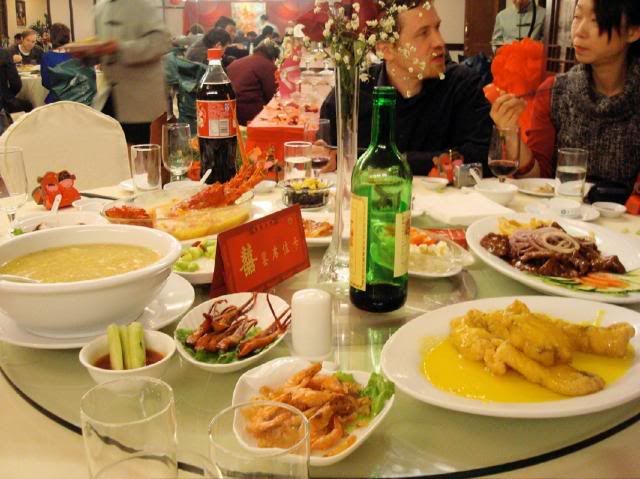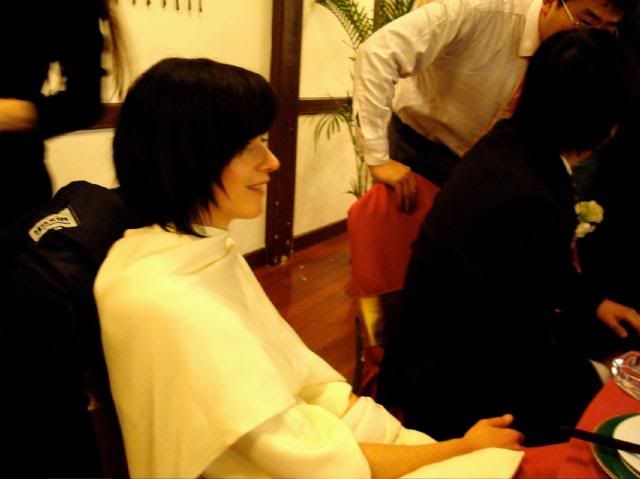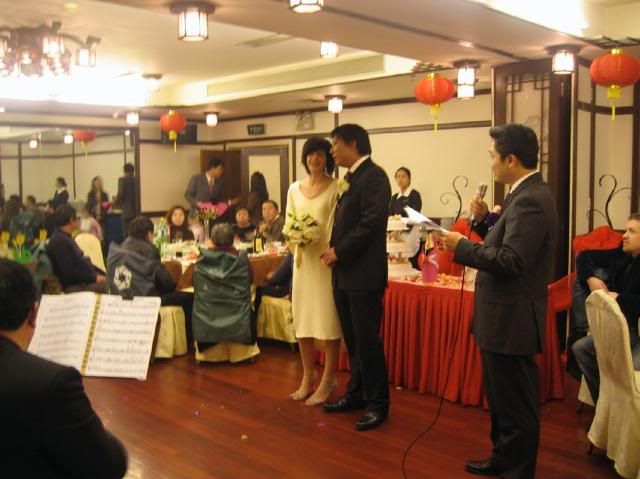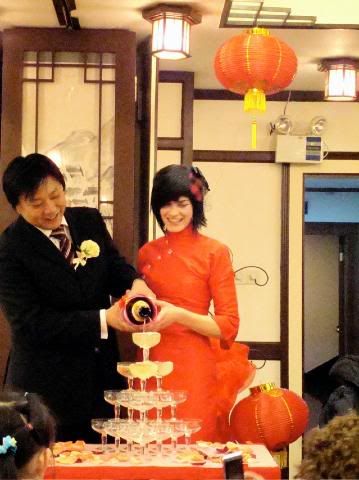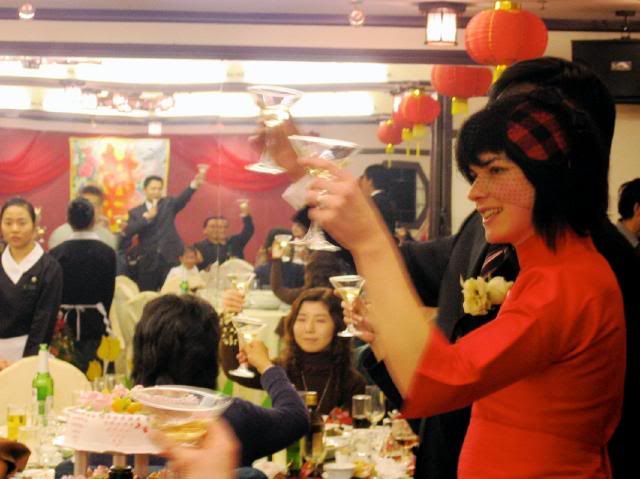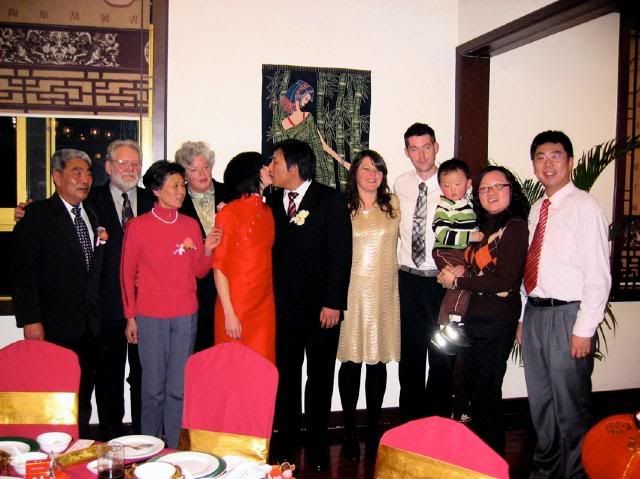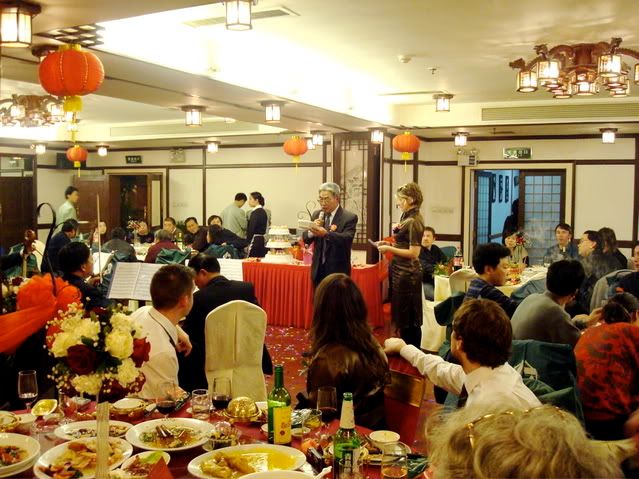 Daníel and I were driven on ahead of the guests to the Logo bar which Kate had part hired for the after party. Daníel performed as did a local guitar player who looked bizzarely like an oriental Bob Dylan. I djed afterwards much to the local guy who ran Monday nights annoyance but to the crowd's pleasure. I had many people ask if I would be coming back which was very nice to hear indeed.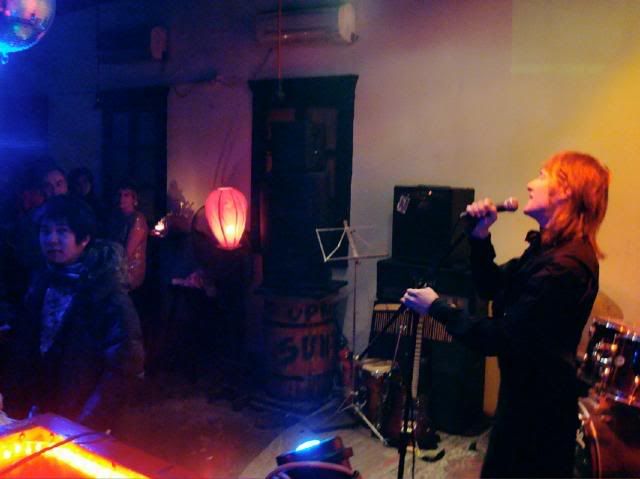 The following day we were up as early as ever and pootled off to the old town in Shanghai to shop before everything closed for Chinese new year. The sales pitches were once again a bit much to deal with and I heavily recommend ear plugs and or a surly look to keep your sanity if you want to be there longer than 10 minutes.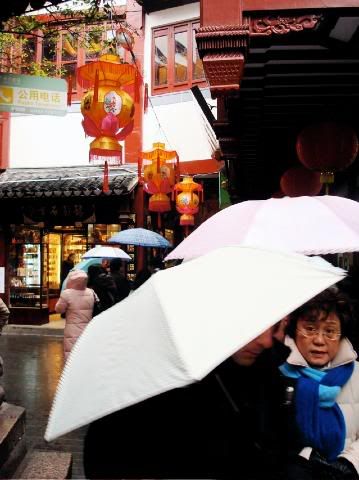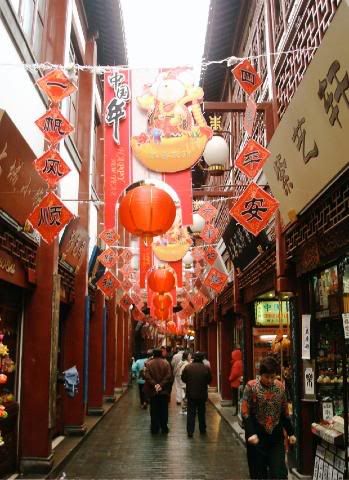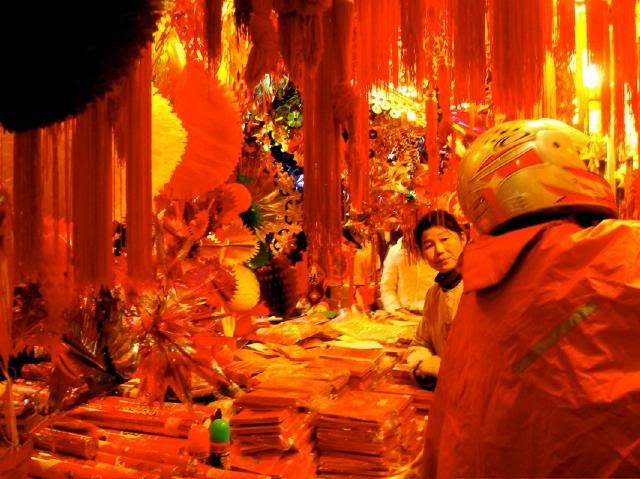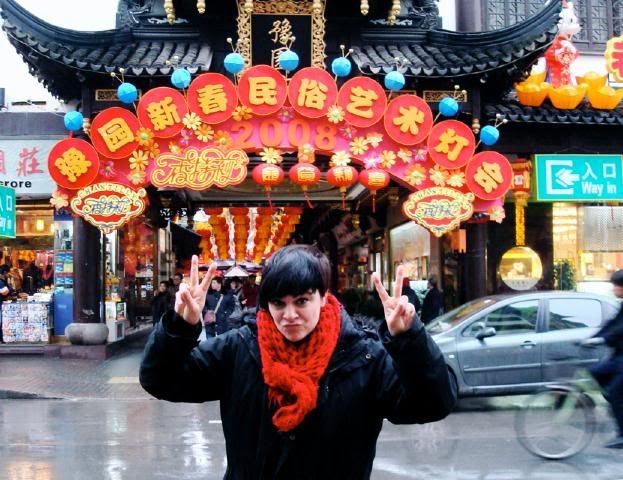 To completely contrast the bright hustle and bustle of the market place we nipped into the YuYang garden as I couldn't bear the thought of not seeing one of these amazing places even though the weather wasn't the best for outdoor sightseeing.
It was more than worth it though. This was by far my most favourite part of the visit. It was stunning and almost impossible to comprehend the age of the place. I kept imagining small Emporer's children running around through the grounds and how incredibly exciting and enchanting it must have been even then.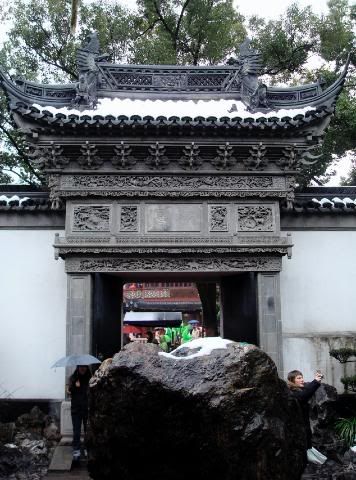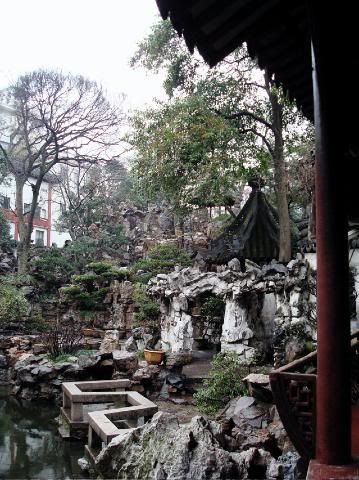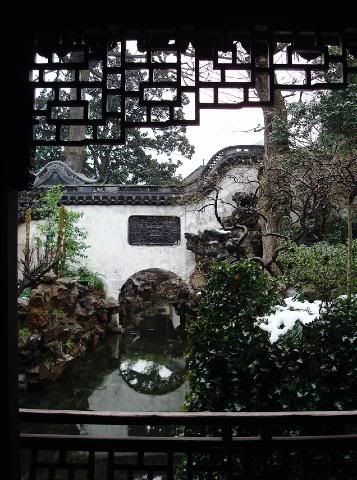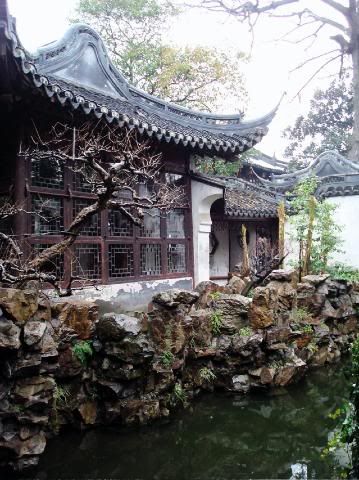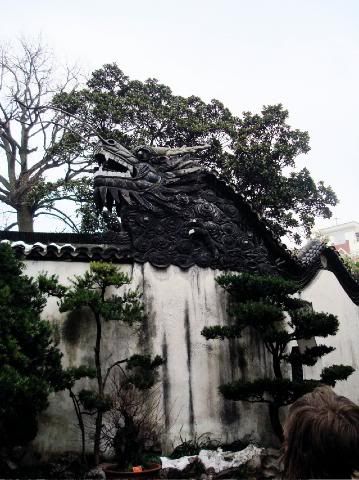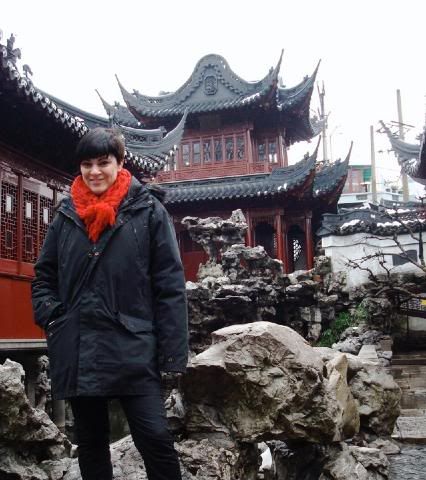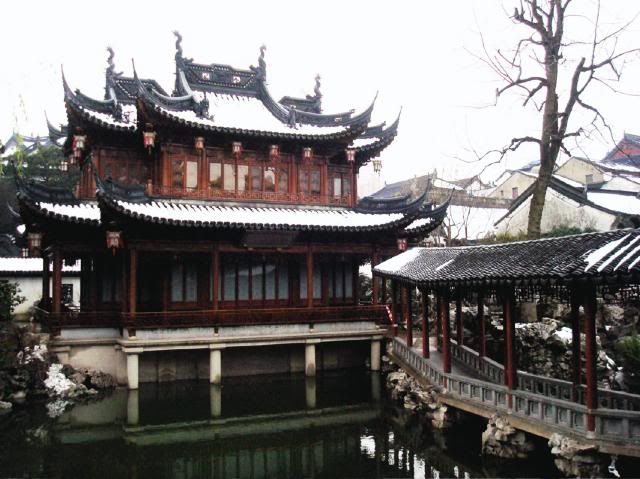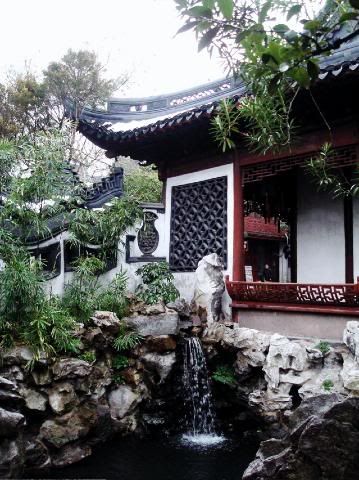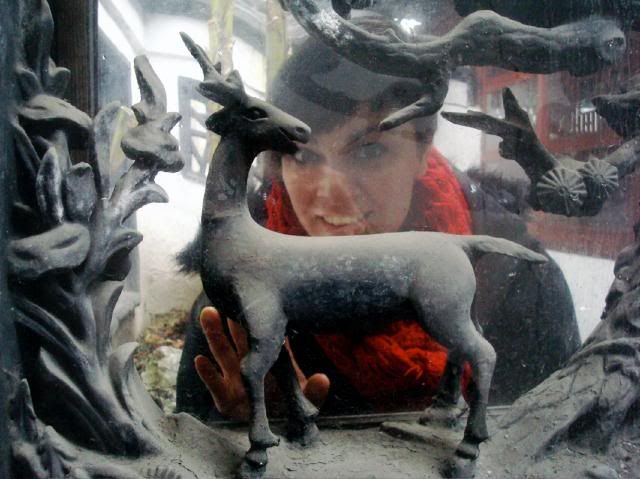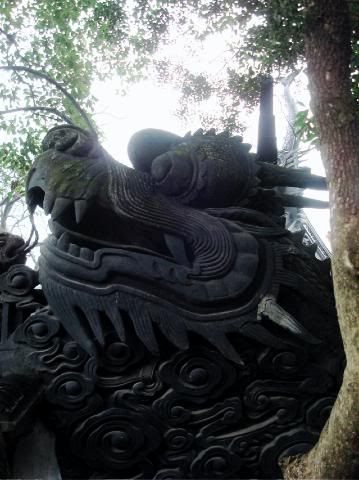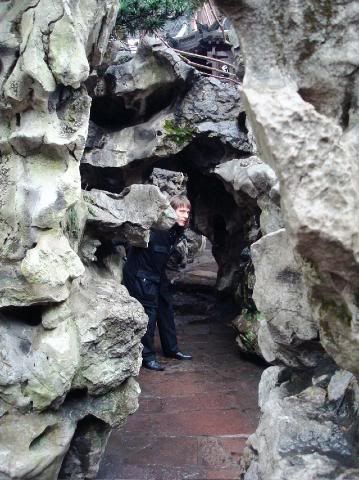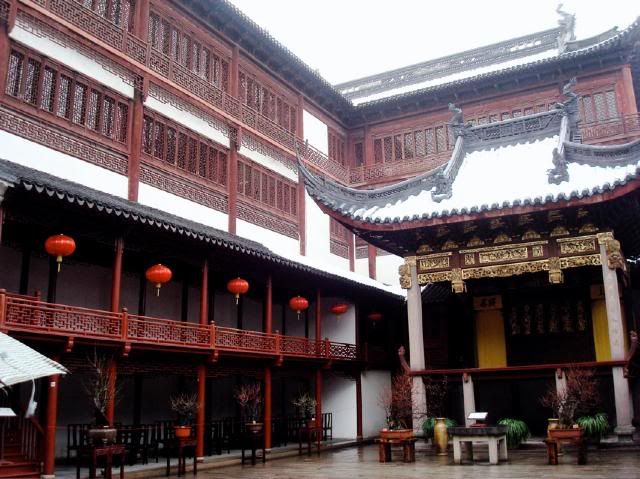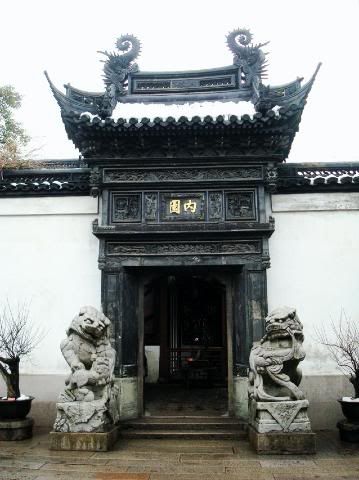 That evening we called upon Atli, one of the CCP people who had moved from Reykjavik to Shanghai and whom Daníel met whilst I was in hospital, to take us out to somewhere gorgeous to eat. We hadn't done very well with food before this, I couldn't eat much anyway, but we had found
Shanghainese food, well, absolutely terrible
. Everything, but everything had been swimming in sugar and fat. I had resorted to eating in Starbucks as even when we had been to a Thai or Japanese style restaurant it had obviously been catered towards the Shanghai taste.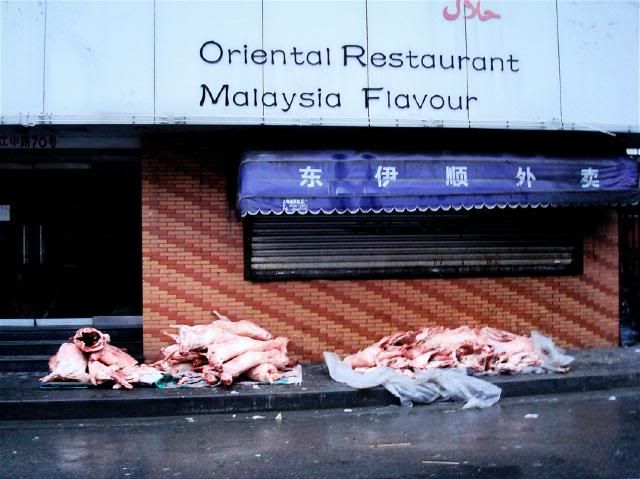 At one point I was positively overjoyed when we found McDonald's and anyone knowing me knows this is completely against my usual.
I was disheartened to feel this way as I can eat the weird and wonderful, adore raging hot spices and have a sense for culinary adventure. I asked many locals and ex pats if i was being odd and they told me that Shanghai food is just not very good. They use sugar more than salt and pepper no matter how savory a dish is supposed to be.
Utter joy filled me when Atli led us to an extremely trendy restaurant called
People's
and loved the food, not to mention the margaritas. Their menu was a blend of Chinese and other Asian styles and it was gorgeous.
Stuffed, we moved onto Bar 18 on The Bund and enjoyed yet more stylish surrounding and delicious cocktails before heading home.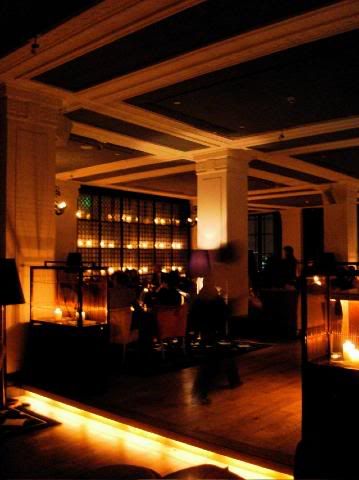 The Wednesday was our last day, and that evening New Year started. We made a last bid at shopping as I still hadn't found anywhere that sold film cameras even if the 'biggest mall in the world' (I never found any incidentally, in no less than 9 giant super malls like the spherical one below), and we had to buy a new suitcase to put all the presents we had purchased in.
In the evening Larry, another CCPer, had invited us to watch the new year fireworks from his 33rd floor apartment which was fantastic. We ate some home cooked food, the men sang karaoke after too much bourbon and we watched the new year in with more than a bang. I thought the Icelanders did fireworks crazy. The Chinese are a whole world apart. There seems to be little to no regard for safety. Huge cardboard boxes full of fireworks are taken into the middle of the street and set off, regardless if cars, like our taxi are passing by. Crazy to the max.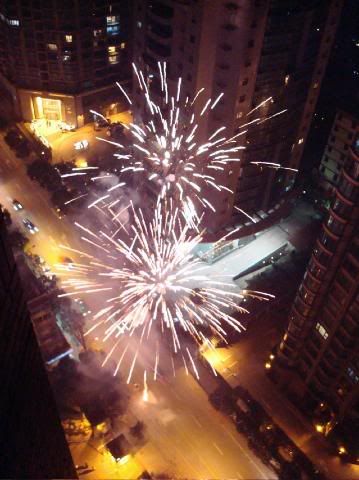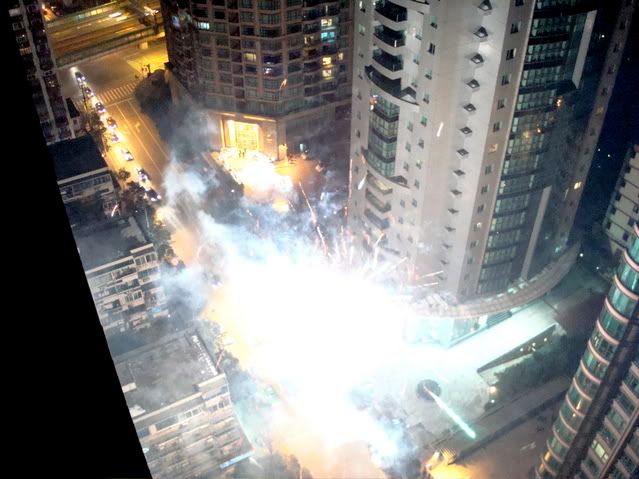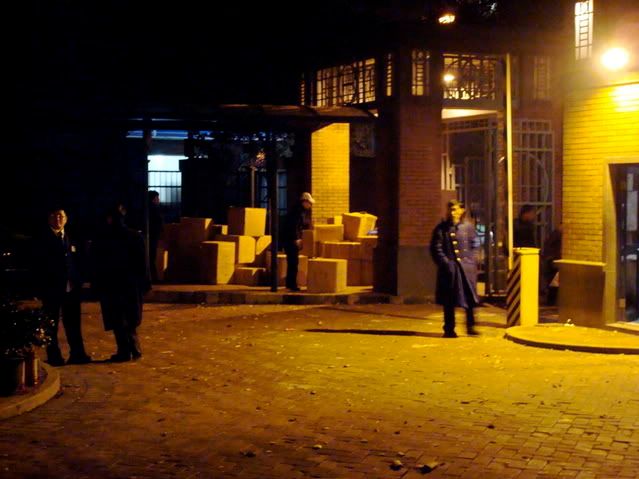 At the end of the trip I was glad I had been but I was also very glad to be going home. Icelandic heating and water and quiet has spoilt me, I am no longer made for big cities I think, but my what an experience it was.
Our flight was delayed from London to Reykjavik due to the crazy snow storms we had been hearing about, but I didn't care, when we hit the airport it seemed we were one of very few planes who made it at all. The entire next day's flights were screwed up and out drive home went past multiple abandoned cars from the midst of the snow storms and our timing seemed perfect.
Back home not much has happened as I continued to not feel too good. On tuesday I went up to the emergency room and was finally seen by someone after booking various doctors appointments way too far in the future.
My appendix was not the issue. It was to do with a sideways connection to a hormone imbalance which I have. This meant being upside down in one of those delightful stirrup chairs with 3 men looking at a screen whilst I had ultrasound in places I didn't particularly think possible. They found out what the dealio was and for that I am very grateful. Negative has been I have continued to be tired a lot, and in pain often, meaning I missed Djing with EDMX on Friday but its nothing too serious and I don't need my appendix cut out and hopefully won't need anything else hacked about either. Yay that. I should it seems be back to normalish by the middle of this week.
That's lucky really as Curver is coming back and I have a private gig with him on Friday night and then Saturday sees the commencement of
KRAFTWERK ORANGE
. This is the new monthly club night Davo and I are starting. It shall be britpop, new wave, rock and roll and electroclash and it shall be uber amazing.
More info to be found
here
. Come it shall rule.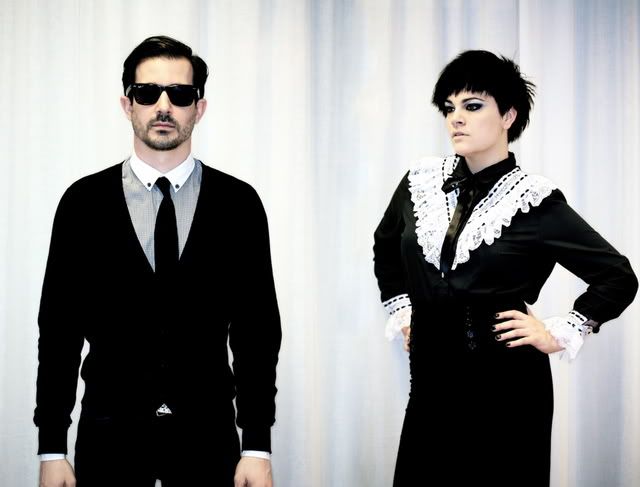 The week after that is
WEIRD GIRLS
Episode 4, organisation for which is at nazi level. We cannot wait. Wooooop.