I have endeavored not to leave it so long between posts, I nearly always spend the opening few sentences of my entries discussing how busy I am. Thusly avoidance of saying so this time is forefront, especially as the reason for being so busy is nearly always my own doing.
For one I cannot stand boredom. For another, I do like taking matters/events/situations into my own hands i.e. being more than a touch controlling. One has to make sure one isn't too controlling, something I am continuously working on which is quite difficult for someone with a certain level of OCD. Saying that, I would rather be a little too much this way than be waiting upon external forces to drive my life whichever direction they decide.
I have as yet never seen nor read
The Secret
, but I have been told by multiple friends and associates that this is the way Kitty Von-Sometime operates. Due to my lack of first hand experience of this phenomenon I don't know if that is the case, but I certainly like to push towards my own destiny so to speak. This will of course, never prevent me being hit by a bus, or getting some sort of hideous illness but I am very much for the taking of the moment. Grabbing life by the short and curlies and making sure every opportunity and corner is exercised, providing foreseen harm to self and others is avoided.
But my! What a rant to start this entry on. There was a clothes swap at my place on Sunday you see, and it developed into deep conversations between women in an almost coven-esque style. Past experiences and current hang ups, fears and excitements, obsessions and bygones. My thought pattern has had a philosophical hangover from this and I have noticed how much people lead themselves downwards when all they have to do is look sideways, upwards, even on occasion backwards and they would rectify their personal nosedives of varying levels.
Oh do shut up Kitty. Quite. I, like the rest of mankind, have twelfty guzillion issues and faults and hiccups in my genetic makeup. The point is I am just very much in favour of slapping someone when they aren't taking advantage of this wondrous thing called life.
Moving on and away from deep discussion, one of my more favourite forms of weather hit the country hard a week ago. Snow. Nothing like the stuff back in the UK, this means it. In one car journey to the mall, several forms of the stuff came belting down - giant floaty flakes, round balls like polystyrene and tiny little specks in dense flurries. It covered the ground and everything else extremely rapidly just around 4pm when the sun was sinking and the amazing different coloured winter skies were interchanging.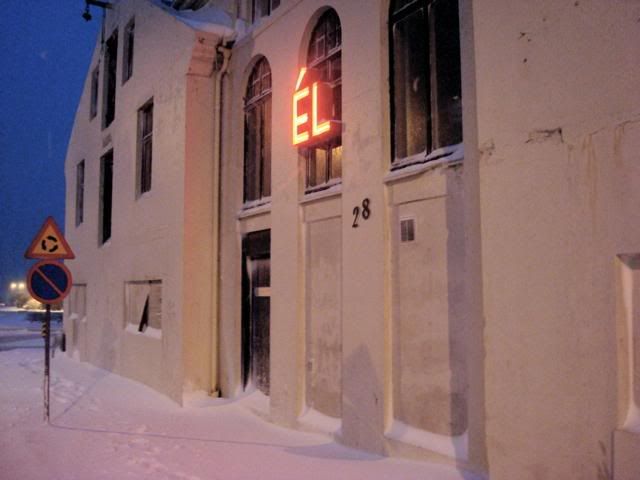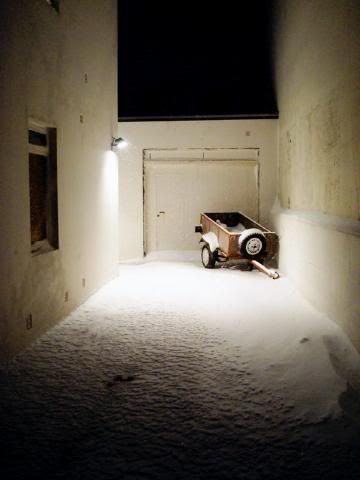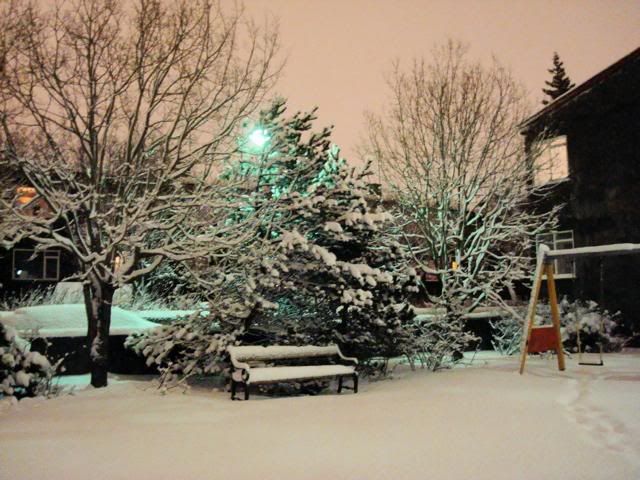 Lilja had come over for dinner after several weeks recovering from some nasty virus and she, along with Daníel and little Daníel from next door joined me in the garden creating snowmen and having snowball fights (which I am terrible at and now know not to challenge the handball champion of his school year to).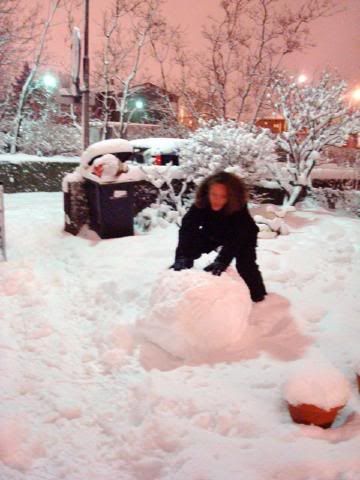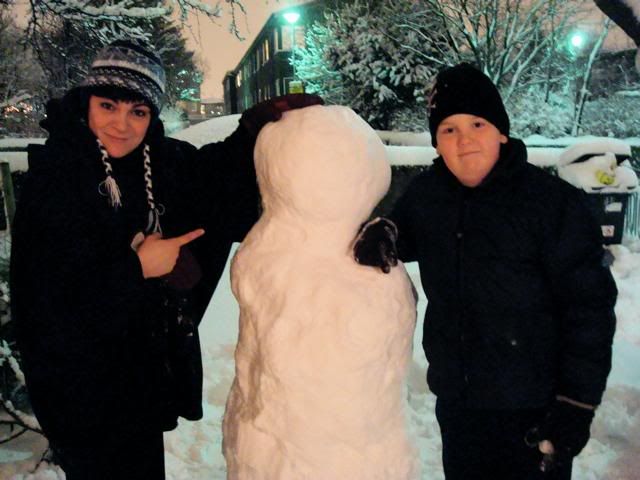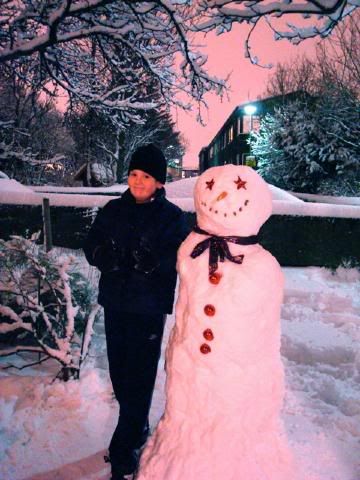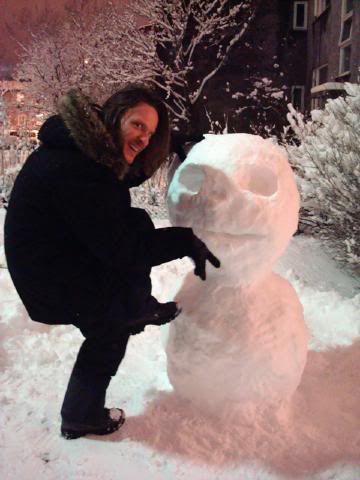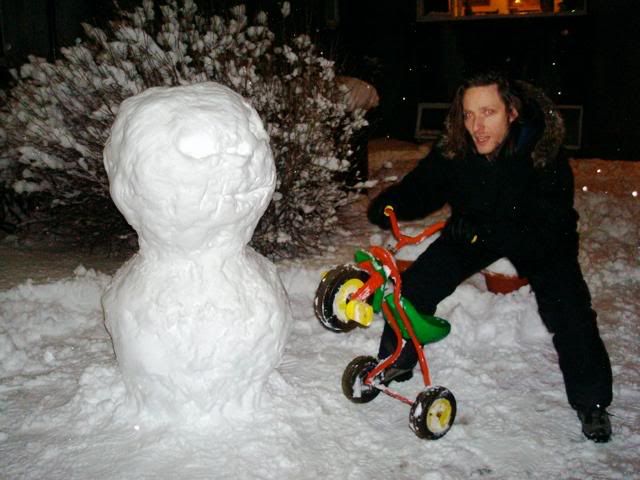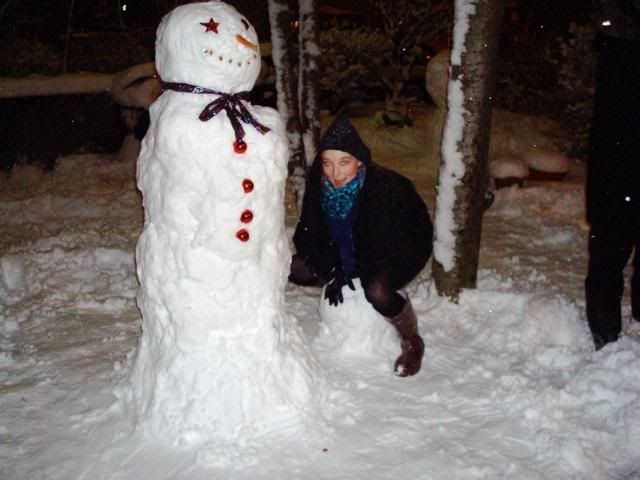 Snow has been around and topped up every day since then until now. Today, you who envy the snow will be pleased to know, is disgusting. Sideways rain and vicious wind and the rain has saturated the considerable amount of snow left into grey sludge. Ergh. But I don't care i am off to China in a week. WOOOOOOOOOOOOOOOooooo! I am actually unbearably excited about this but will waste no more time talking about it until I am there.
On Friday my neighbour Friða asked me if I fancied going to something utterly hideous and completely random. I answered yes before she even explained the wheres or whys, I just cannot resist that kind of invitation. Her friend Kolbrún had won tickets to see some 1960s Icelandic pop band in one of the worst bars in town - Kringlukráin, based inside the mall.
I messaged Sunna and asked her if she wanted to come to something utterly hideous and completely random without telling her what until she had come to my place. 5 of us ladies drank some at home and then I opened the Absinthe, which in retrospect was a bad idea for at least 2 of the 5.
Once we were appropriately sozzled we got to the bar and I was absolutely delighted by the number of older people dancing their socks off to covers of The Stones and The kinks et al. Within 10 minutes I was asked to dance and dance I did.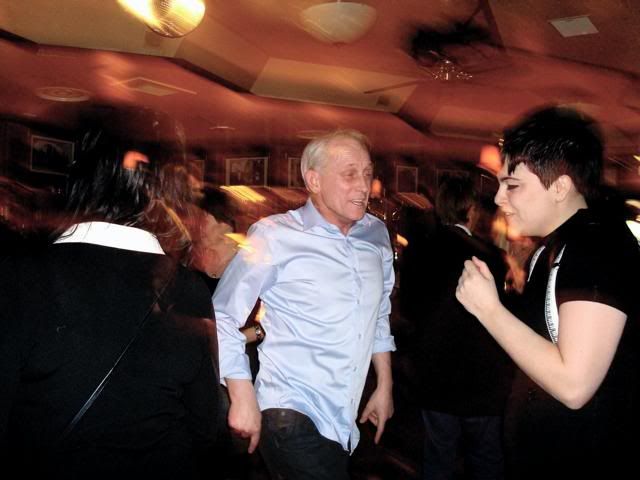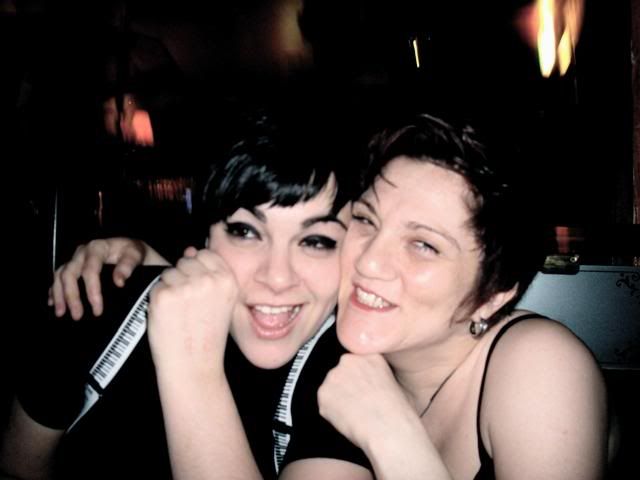 After a few drinks Sunna and Margrét had to be taken home as the Absinthe had hit a little sideways, Kolbrún went home but Friða point blank insisted that we were going to Sirkus to dance to Techno and generally have a good time.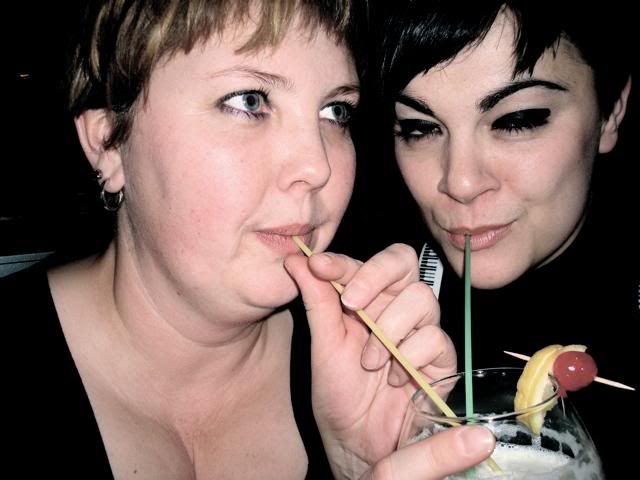 CCP's board had organised a free bar for the staff that night to celebrate the successful year of 2007, as if we aren't spoilt enough already that is. So we drank and danced and danced and danced. At around 3.30 Friða went home and I continued dancing until almost closing.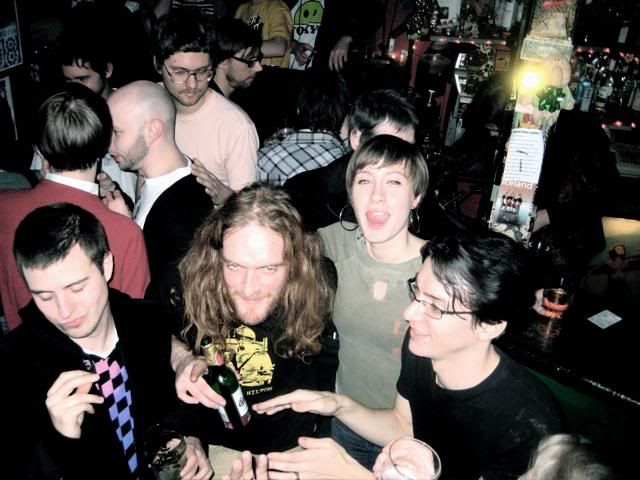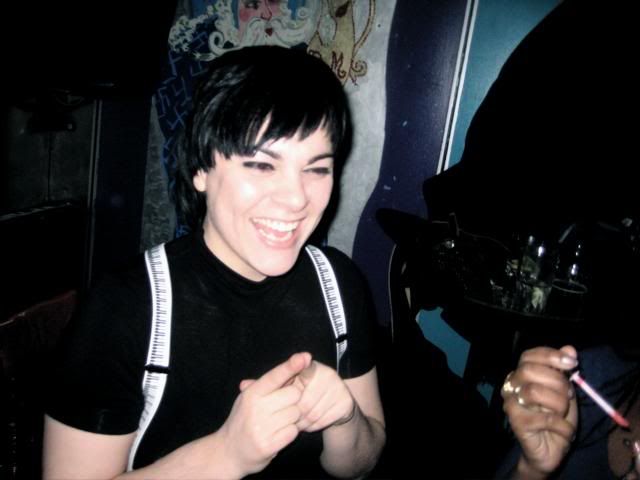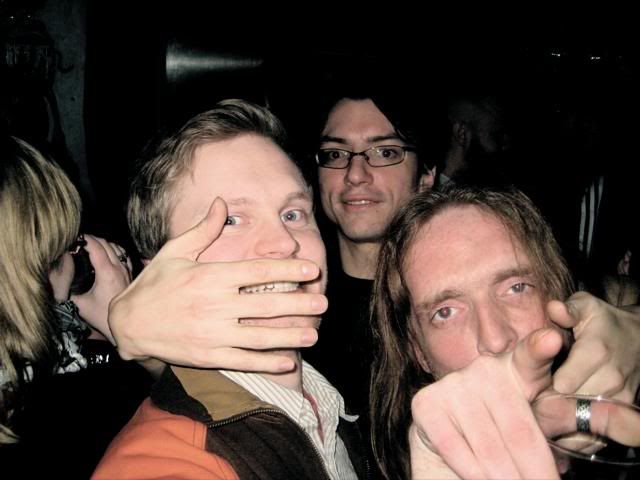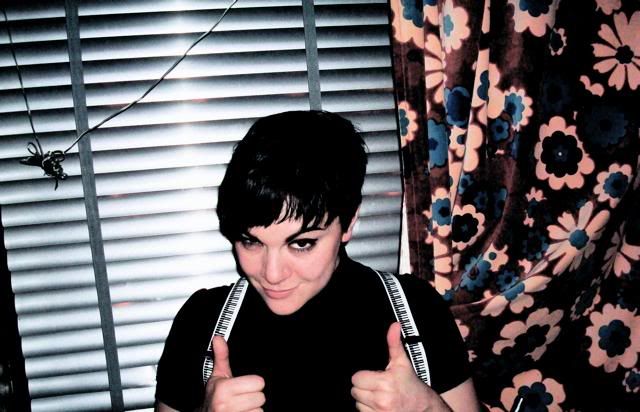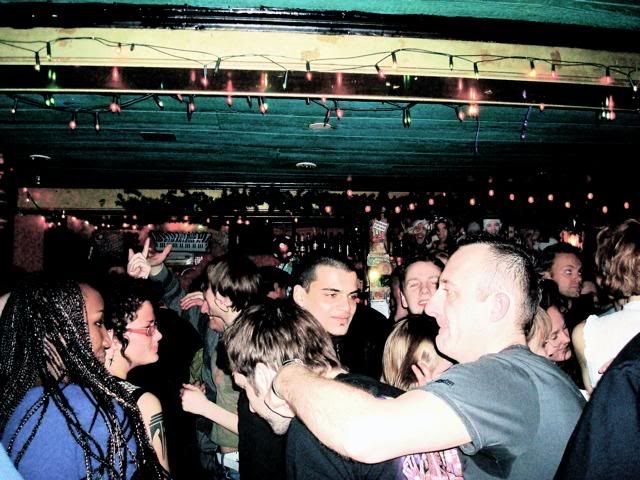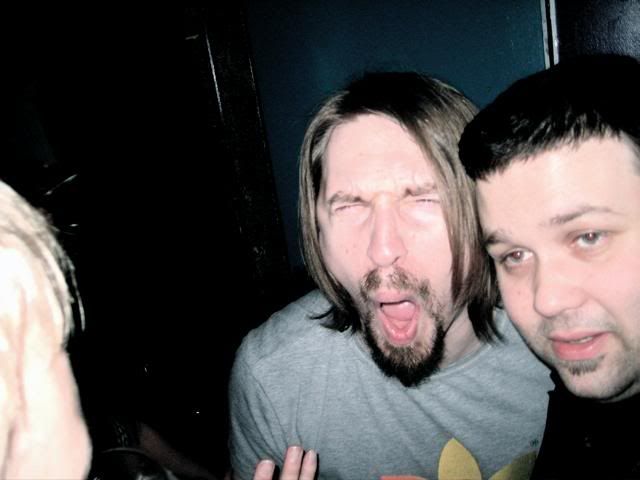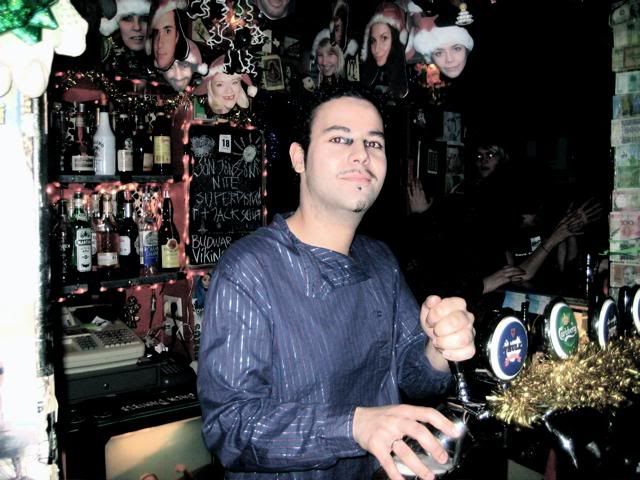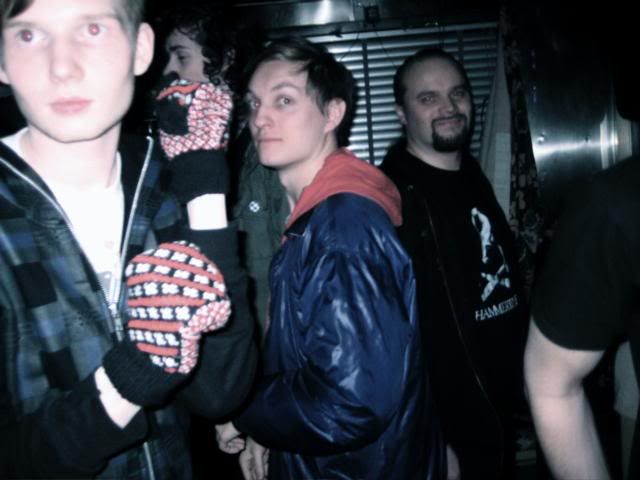 Much to Daníel's annoyance and Friða's Absinthe hangover astonishment I was up at 10.30am armed with a vacuum cleaner, slippers and no clothes cleaning my flat. I am one of those irritating people who doesn't sleep in when they have gone out. Usually an afternoon nap is allowed but I like to feel like I haven't wasted the day due to getting drunk for a night of lunacism.
Daniel and I popped to BT to spend my Christmas bonus voucher on untold electrical equipment and then onto Kolaportið again to buy yet more vinyl and a leopard print scarf to go with his new Rod Stewart hairdo (courtesy of Jón Atli).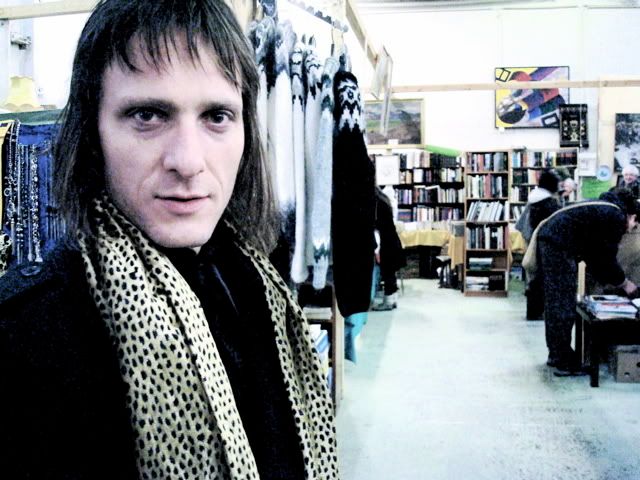 Once again clothes were also purchased. I HAVE NO ROOM why oh why. Due to the lack of wardrobe space I have thrown loads of gear on ebay as mentioned in the entry afore this and held yet another Mighty Clothes Swap round my gaff on the Sunday. Too much greatness.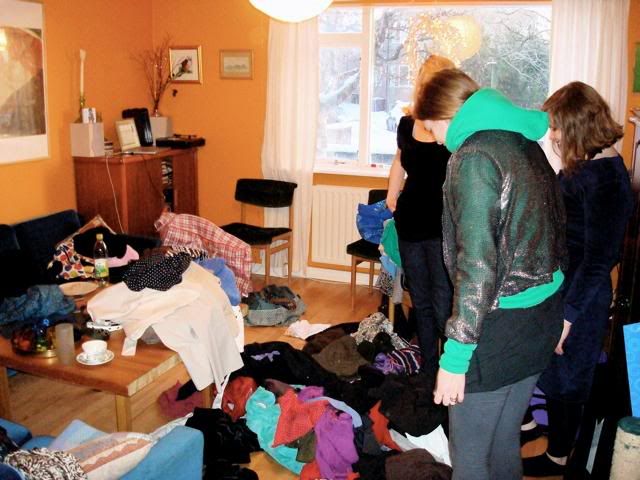 After all the swapping had been completed the remains were used for a 'dress as bad as possible slash like edina from abfab slash eastern block 90s fashion'. Karolina and I were best at this, we feel its due to our our Polish blood and age, I mean experience.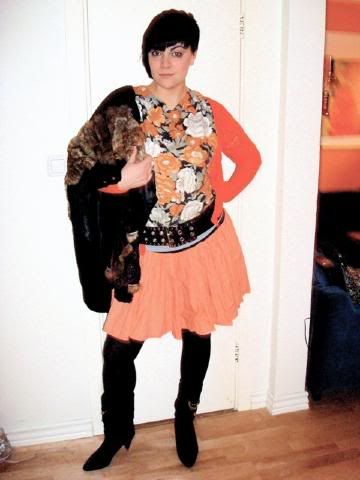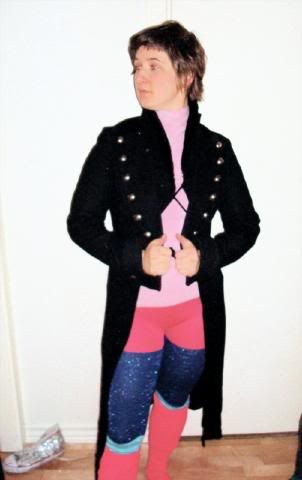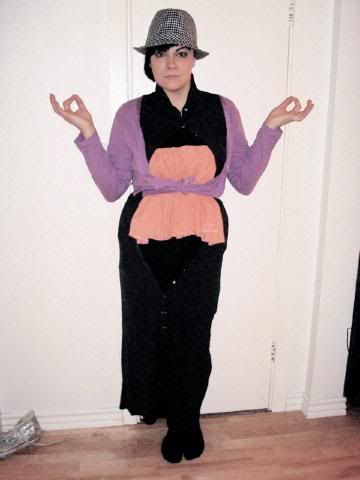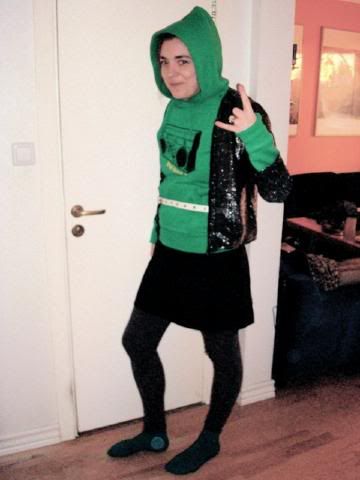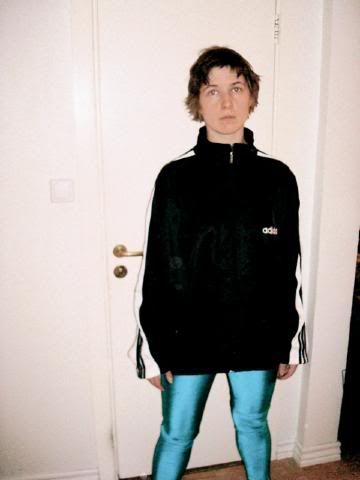 Just to ensure we had the most fun possible from the old rags before they headed to the Salvation Army stock, we also put as many clothes on as possible at once. I nearly passed out underneath 17 tops and we all needed help undressing after considerable body slamming.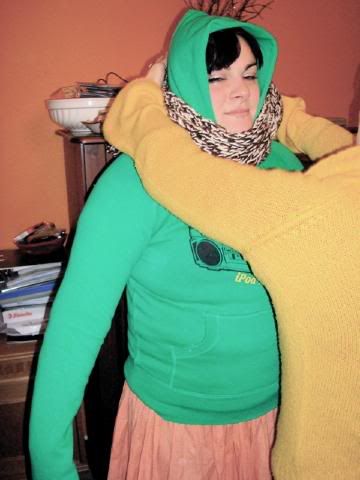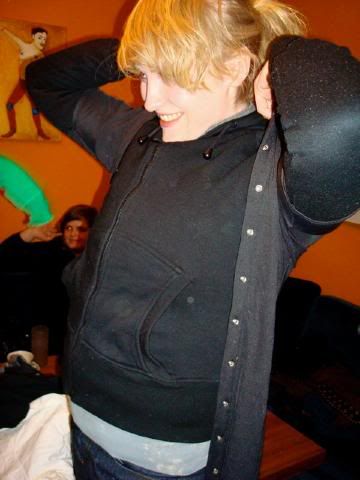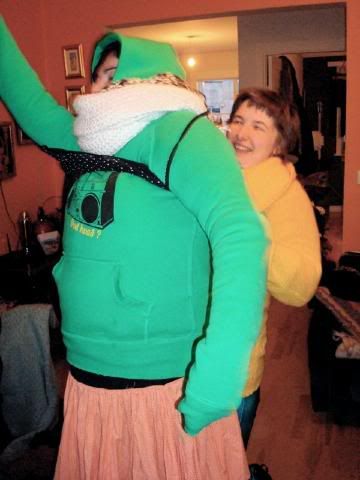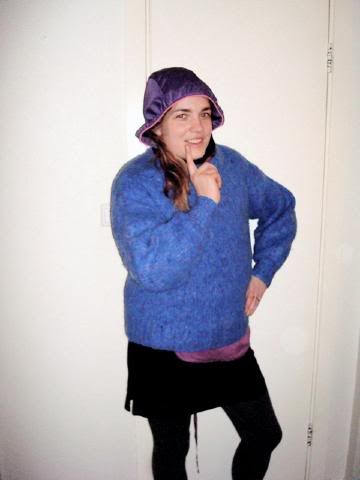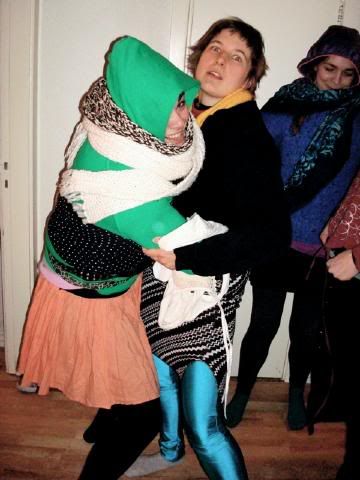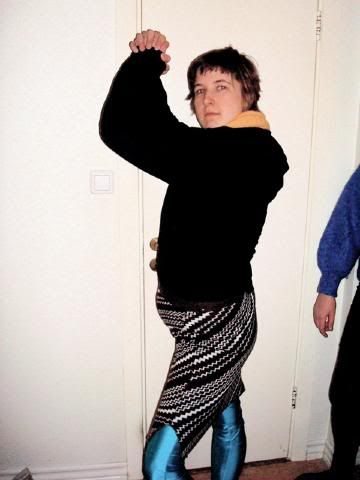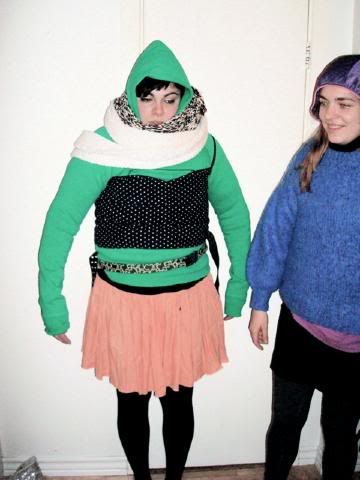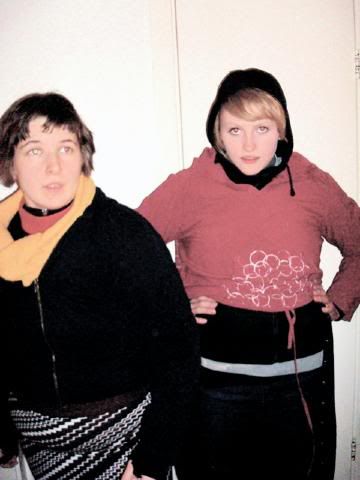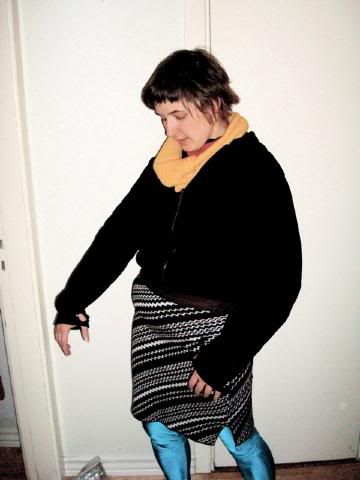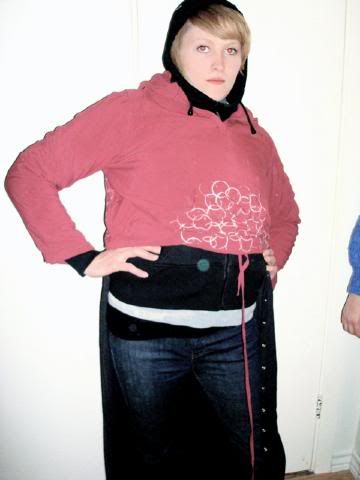 Funfunfun. Now it is a mere 7 days until China and most of my time will be spent organising more details for the next
Weird Girls
episode and
Combat Conditioning
. I have to shift a wedge of weight. Something I am none too keen on doing in all honesty as I rather like my tits and ass and frankly don't stop checking them out in every reflective surface I see but due to my weird hormone condition I have to lose a substantial sum or risk turning into a man or somesuch and I foolishly decided Combat Conditioning was the way to go. Three times a week. I have never hurt as much as this before, but equally I have never worked this hard before. Its perversely masochistic.
Now, I must dash for I have to check on my ebay sales toodlepip, I shall leave you with a clip from The Mighty Boosh series 3 for no reason other than if you haven't seen this show yet, you should. Let the Mighty be spread through the land of Ice.