Its snoooooooooowing! Woop! I am such a child when it starts to snow here. I love it love it love it for not only does it make the light brighter and the day feel longer at a time when its length is disappearing at a rapid speed, but I also like to imagine I am the only foreigner who dresses appropriately.
In actual fact I enjoy it so much I opt to walk where I would normally take taxis. I love the feeling of my 80s pink ski suit and how snug I am in it, and my moonboots mean i don't skid like in any other shoes and justify the amount of money I paid for them on ebay several years ago. New ones are needed imminently and not appearing very quickly, there is a hole in my current ones an inch up, so they suffice for now but when the white stuff comes in properly the tootsies will get wet.
Last night I went to see Nýdönsk (or Ný dönsk I have no idea which as its different everywhere I look) at their 20 year anniversary concert. I took my neighbour Friða with me and her 11 year old son Daníel who announced this week I was his best girl friend and neighbour ever. Yay me. I was a little worried that the hour and a half show might bore him, but he did very well indeed and clapped until his hands hurt.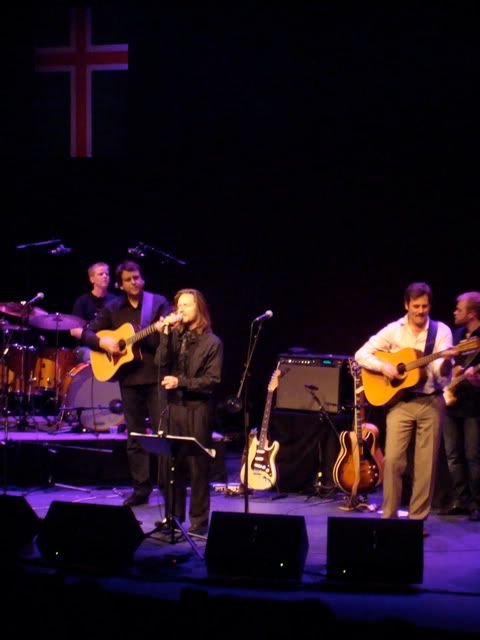 It was a little odd for me to watch as I do not have the connected history most Icelanders do with this band, but had spent a week obsessively listening to the greatest hits album someone at work gave me. I did enjoy it, although reasons being no doubt different to most of those around me cheering and clapping.
On saturday it was Weird Girls the Dark Side and it went fantastically. I have a huge amount of video editing to do - not to mention I only just managed to rescue the tapes from the last one so patience will have to be exerted. Similar with the photos, I have the official behind the scenes shots from Ben Mathis already but do not want to put them online until I get the official posed shots from Skari because I do not want to give the full costume away. I might pee I am so excited to see what they look like. As we walked into the set one of the camera guys looked at everyone then addressed me with 'You are actually a genius, you know that'. Woop.
The makeup started at 3pm and went on until just gone 7, with Elisabet and Birnasif doing a fantastic job. We headed to Organ's basement and ran the shoot until around 10.30pm with Skari bossing us around and taking full advantage to get a shot or two of his own which I cannot wait to see.
Mokki and I began Djing shortly after that and by 1am I was incredibly pleased to see how many people came down, and on top of which, how many dressed Halloweenish. Katherine and her axe-in-the-head won in my view. Hoorah.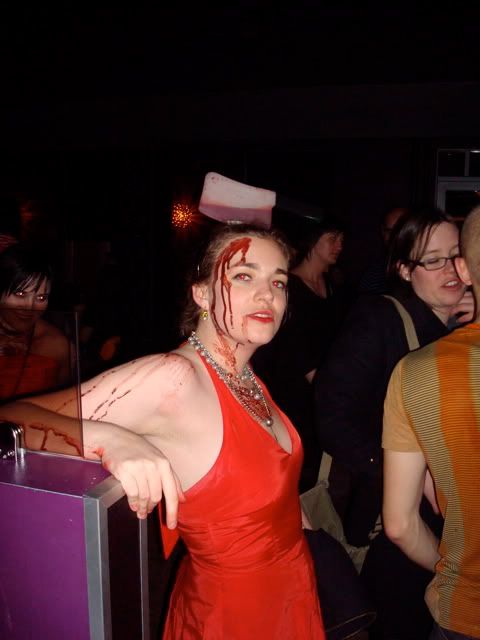 The girls took off part of their outfits and ran around with fake blood generally terrorising the masses, much to my glee. These are the click snaps from me and some of the girls, you are allowed to see these as they don't give the costumes away....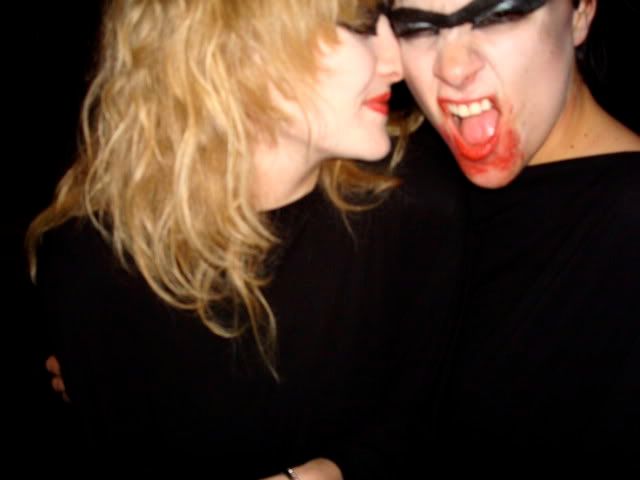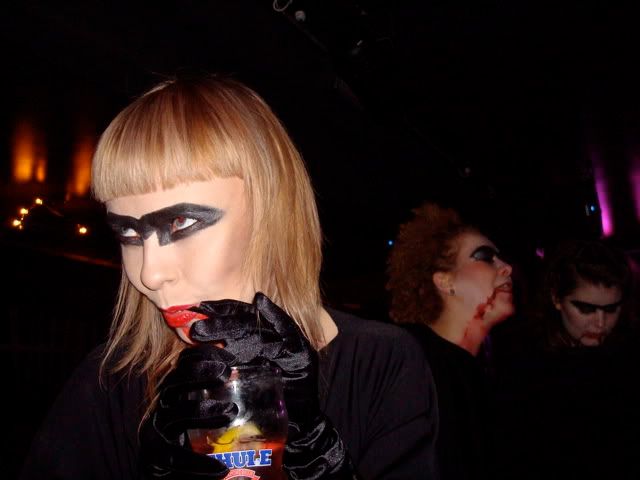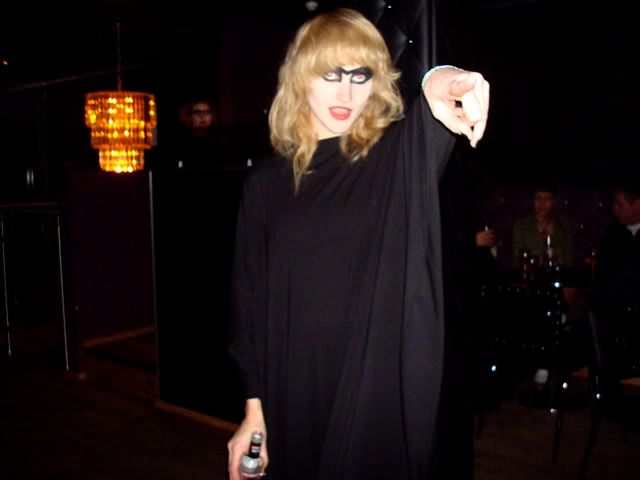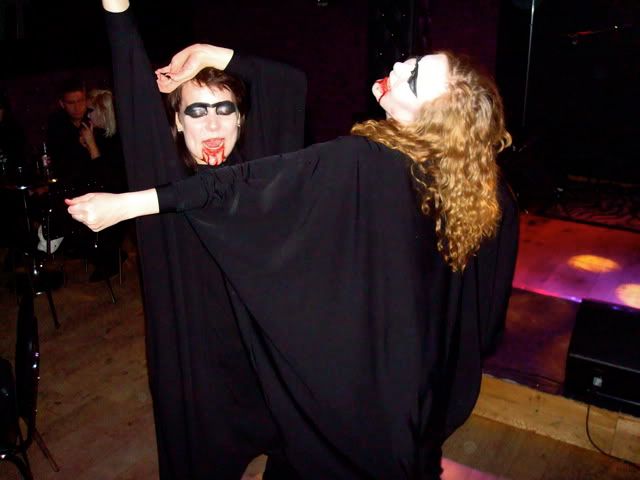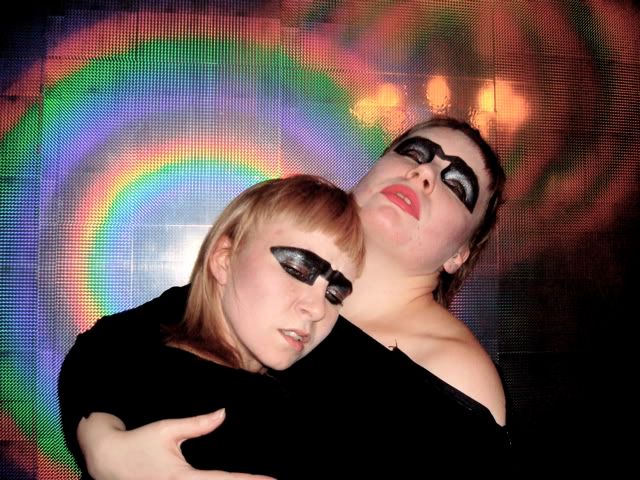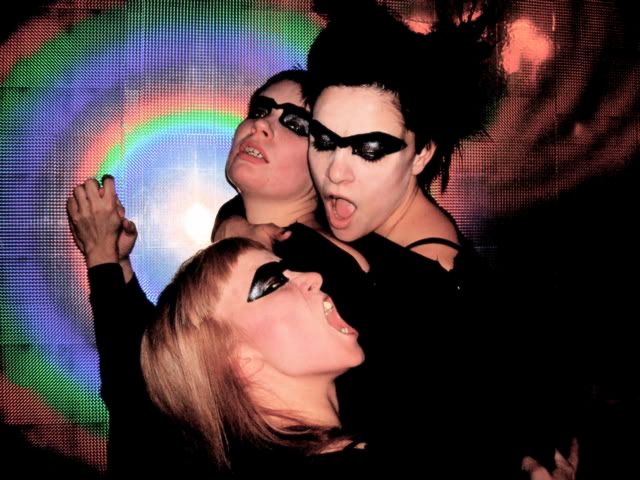 Much fun all round yes yes, Mokki even got the crowd going, moves 'n' all to Saturday Night much to my amusement.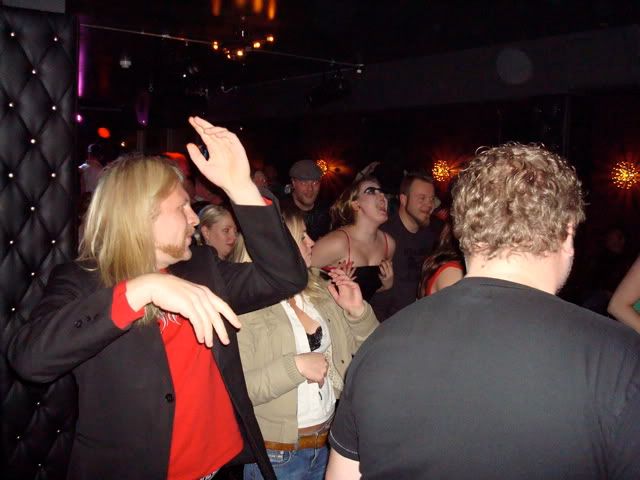 Keep posted for photo release when they are done....
Talking of photos, I have had several albums on yahoo for years, which I update but usually only send the url round to a few friends. Recently yahoo was bought by flickr, nei, the other way around. Anyhoos, the upshot is that they transferred all my photos onto one account and I was somewhat gob smacked to discover there are almost 8,000 of them. GOOD LORD. Obsessive over documenting or what and that doesn't contain the other 8,000 I have in my mum's loft in hard copy I haven't scanned. Let's put a little perspective however, these in total cover 1998 to the present day, so its almost a decade's worth.
A good friend of mine here tells me I am but the droplet of my existence, all my internoding is the ripples and they will go on longer than my 3D lifespan and that I will thusly be immortal. He says this with a wry look on his face but if that is the case it doesn't sound too bad, as long as my existence is associated with upbeat times.
I will eventually go through and delete the dull ones at some point, when I have time, but if you were drunk and in my path over the last 6 years you are no doubt on there somewhere...
MY FLICKR
Next up on the personal agenda is me getting old, or maybe an adult at least. I feel a touch Peter Pan these days, especially looking at aforementioned flickr, in my own not so humble opinion I believe I look better these days than I did 3 years ago... I certainly feel snappy. Iceland hasn't hurt in this - good water, clean air, less stress and daily tube/bus hassle has done me proud.... Nevertheless one cannot stop the clock and in 3 weeks I will enter my 4th decade and a party shalt be had unlike any other a few days later. It will rule the school.