Well I sit here on a sunny sunday at 3pm smug in the knowledge i have survived my first week at work, and what's more, survived my first
CCP
kick off. Only just however. My dear lord this company can drink - they weren't joking.
Before I delve into the depths of depravity recalling friday i must first swiftly run through the general experience, or more to the point, my general experience of being a new employee there.
Its not, repeat not, a usual company. Anyone here in Reykjavik more or less know this anyway. Its a fairly young company which has grown massively in the last couple of years. What seems apparent as a new employee is that the management have a very strong drive not to lose the family and friend feeling of a smaller company and fall into being some corporate monster with employees feeling more like minions than actual people. I have entered a few business who claim to strive to keep things personal but the bottom line is that they haven't succeeded. CCP it seems so far, have.
My first introduction to the game EVE-online was on my first day at work. Its massive, they do not kid, it seriously is an alternate universe. I am concerned about growing an addiction as I don't have enough time as it is mixing my internet obsession with a very hectic life.
Anyway Friday was for want of better words a team building company party day and I cannot imagine my joining being better timed. It meant I got to interact with members of staff I might not have spoken directly to in the office for several weeks and whats more, I got to see the management (and everyone else) utterly shitfaced.
We started the day with one of three outdoor activities - paintball, golf or horseback riding. The prospect of being bruised beyond belief by a hoard of people that spend a good deal of time shooting spacecraft in game meant I ended up going for golf. Not that I had ever played golf before but I always wondered what the appeal is and decided to give it a whirl.
So at 9ish am we headed off already supping on neat whiskey. My mum sent me a text wishing me a fun day and appealing that i not drink too much. I didn't think replying with 'everyone has CCP logoed hip flasks' would do much to settle her concern.
Golf, well, for a first timer i was assured that i didn't do too badly but I am not sure I am cut out for the game. I get very impatient with something that it takes too long to grasp. Regardless my golfing partner Jörundur and I came third in quite a number of teams. I am fairly certain this had little to do with my skills but i am relieved I didn't ruin his end result too badly.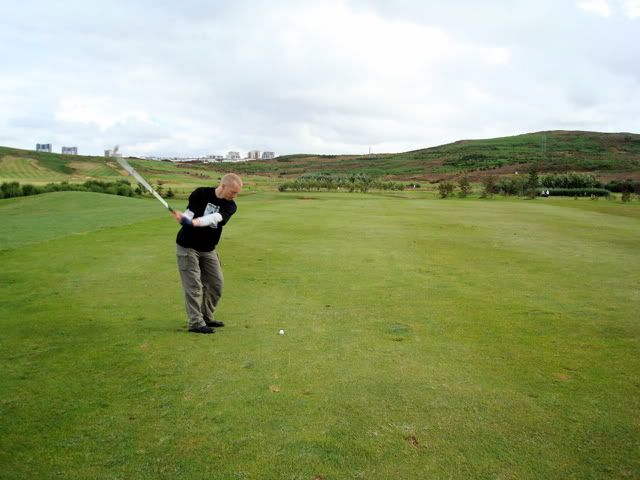 After the Golf we met with the rest of the peeps for some talks on how the company has grown, the successes and where it needs to go next. Again, perfectly timed for me to get more of an understanding.
Next we strolled, or slightly staggered to the whale watching deep sea fishing boat. To be honest the staff didn't know what hit them when 150ish on the way to drunk CCP staff boarded. As soon as the boat left shore several people's expressions reflected Palli and my thought s - who's bright idea was it to put alcohol, not much food and a moving swaying venue together?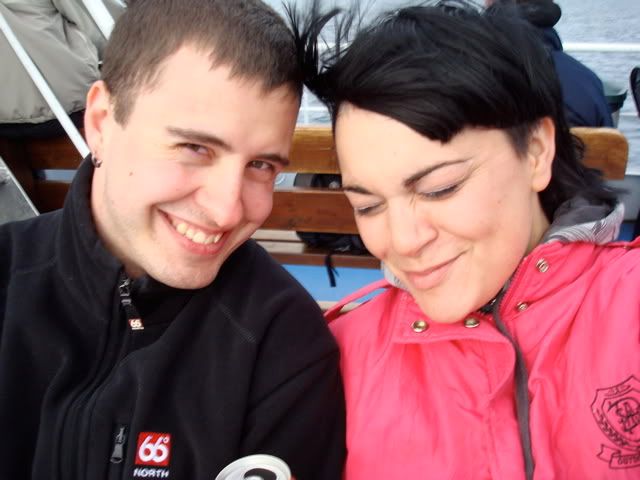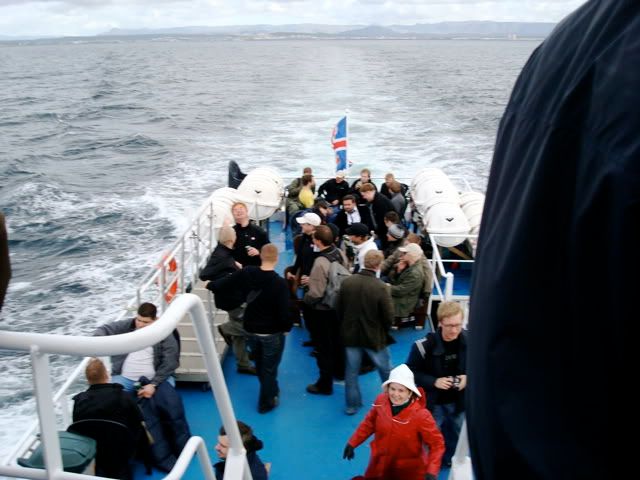 The only way to get through this was to drink yet more alcohol. It was at least the method everyone around me seemed to adopt and thusly I followed suit. We watched some whales and then we fished some fish. I caught a cod and very pleased i was too. Ívar however wasn't so pleased at the fish drowning in air and so with all the goodness of his heart took the said fish when I went for a beer and bashed its head - spraying blood all over himself including in his emo fringe.
I refused to throw the fish back in to the water as a) several which had been thrown back were floating and being pecked by gulls and b) i had every intention of eating the thing the next day. Anyway I grabbed a wetwipe and cleaned the blood off his coat whilst he blamed me for the fact he had just killed his first living thing.
We moored at Viðey where there was to be more booze and a fantastic BBQ. We ate drank, sang, play fought, ran around and generally misbehaved.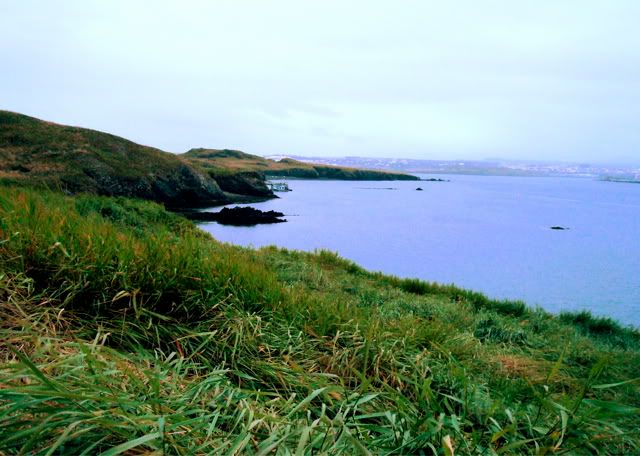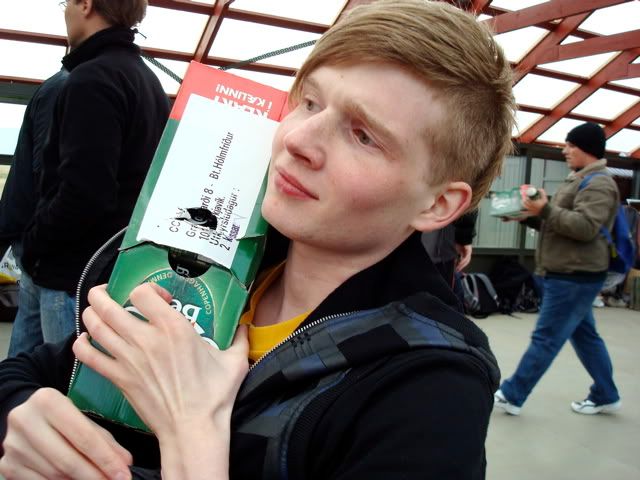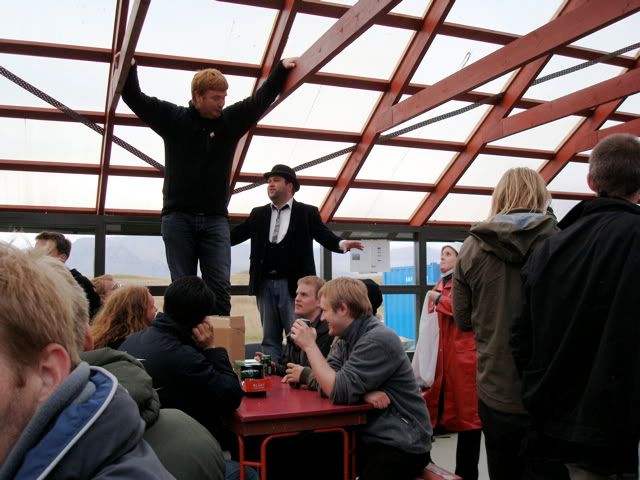 I have deducted one ongoing theme from this evening - The men at CCP like to touch each other alot. That or they mostly like touching Palli.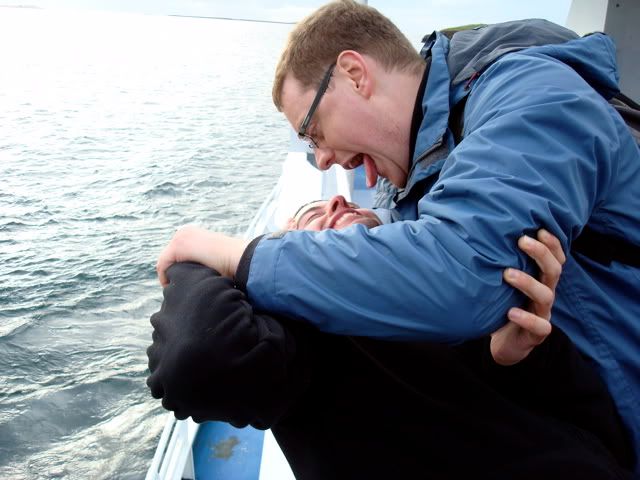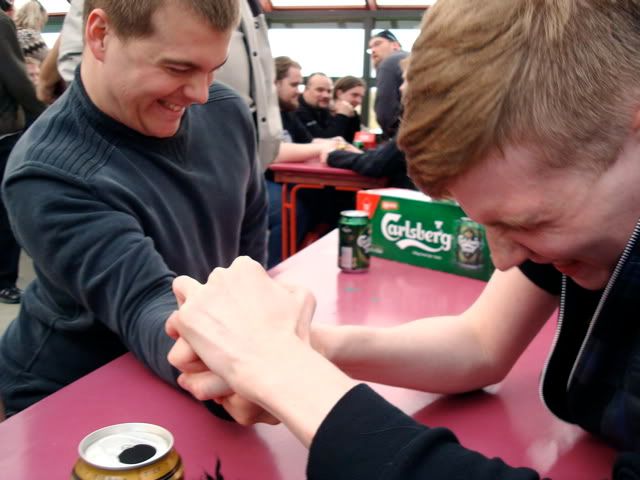 I took the first available boat home around 9.30pm as i was ruined. Others who have obviously had more training than I in these evenings, went out until 6am. I, on the other hand awoke at 5am fully clothed on my bed with a dead fish next to me. I'll let you in on a little secret, a full hangover and the smell of fish do not a good mix make. I threw the cod in the fridge, took some painkillers and brushed my teeth before passing out again.
I got up at 9 and felt ok-ish. I examined my catch and guiltily took it out to the bin as the cats had taken a few nips of it and it smelt baaaaaad. My hangover and I walked to Begga's for about 10am and had breakfast and chit chats and discussed going to the Mundi fashion show in the evening.
Mundi
were showing their first collection and quite an event it was too. A phenomenal number of people showed up. Mundi is the collaborative work between my friend
Sruli Recht
and Gummi.
The show was over quick smart and then Kalli, or rather Johnny Sexual played.
After this I decided to head home and get into bed at the punk rock hour of 10.30 and was more or less hurled abuse for being so lame by Nathan my 'druuuunk asssh a sssshhhkunk' manager who called me at gone 1am demanding to know why i wasn't with he and Palli in kaffebarinn.
Next time Dangermouse... next time. Now i must away as I have to speak to Wendy James apparently, or so I have been told. Randomness....
Oh yes final words are COME TO THIS. yes.