Now now now, it seems that the page views on this blog of mine have more than quadrupled on a daily basis since news regarding my private life has become semi-public knowledge (I state that someone hearing about it from their hair salon is public enough). For those of you visiting here to gain some salacious gossip, I apologise profusely but as it currently stands I do not find it necessary to regale the nosey with details of such.
How terribly disappointing I know, but besides the fact that people's feelings are involved, listening to the hilarious rumours people fabricate in place of hard facts is one of the things lifting me on a daily basis.
So onto the catch up. The gap since my last entry is a long one this has been partially due to the situations i shalt not divulge and also because i have been popping in and out of Reykjavik at a rate of knots. I shall start with the most recent and move backwards.
Today I finally, finally, finally got my taxes in order. Paid what I needed to pay and registered all bits of paper requiring registering. Its taken me 7 months and 3 different accountants, no less than 17 visits to the tax office and many many frustrated words and tears. If you are also a foreigner and have had hellish treatment by the tax office when you simply want to give them money please write to me using the MAIL ME tab on the right. I am putting together an open letter to the papers about it and have had many shared stories but the more the merrier.
The weekend just past Curver and I went North to spread the 90s disease and hold a No Limits night there. I had never been to Akureyri before so we stayed 2 nights to go have a look around. I must admit I wasn't too eager about the 5 hour drive in Curver's CD playerless car but it went past soon enough and we got to have a 5 hour in depth chat about, well, more or less everything.
Curver is moving to New York next month and I am going to miss him terribly. He will be flying back for our September and December gigs and i will be popping to NYC in Octoberish anyway but this aside, he has been a constant in my life here and one I shall seriously notice the absence of.
We left Reykjavik around 10pm and drove in the weird non-night through mountains and valleys until we hit Akureyri at 3ish.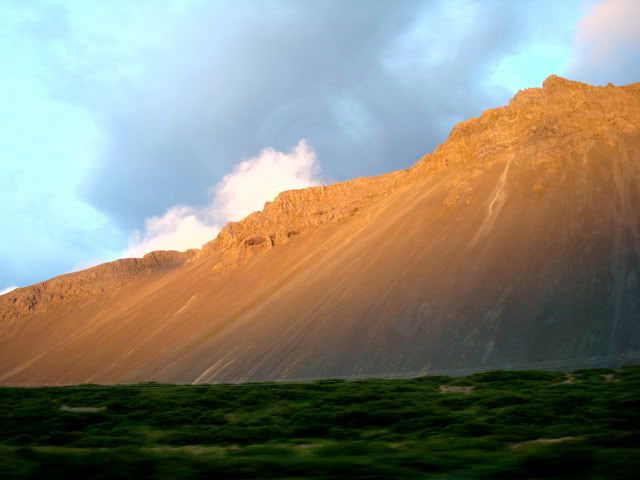 Saturday was spent by driving even further out to the north's mini version of the Blue Lagoon - Jarð böð. Curver and I lazed around in the sunshine drinking a beer whilst the warm water lapped around us. I have to admit that the view there outdoes the Blue Lagoon's but the smell was way worse.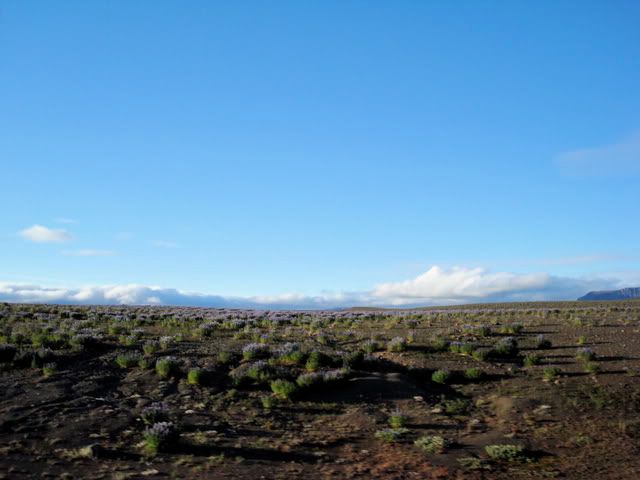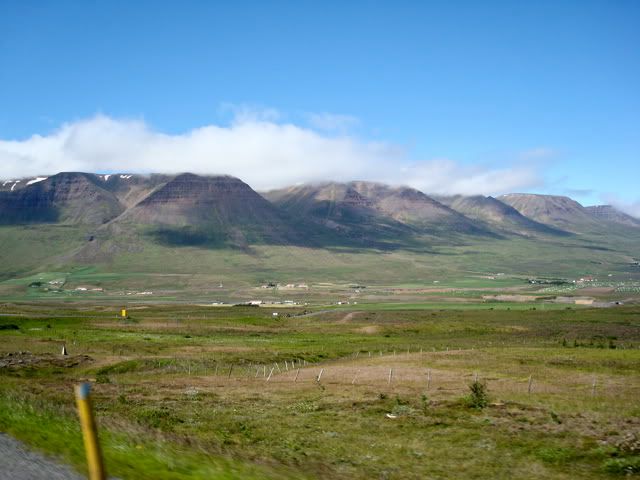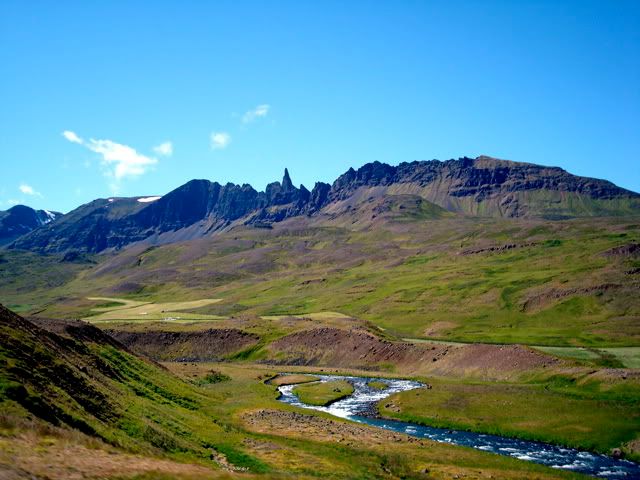 On the way back to Akureryi Curver stopped to show me Dimmuborgir (Dark Cities/Fortress) which is a lava field with some of the most haunting shapes rising up and out of the ground. Near the pathway leading to this is an information board that basically says 'We have no fucking idea how these came to be, here's a picture of one theory'.
You gotta love it when science is baffled.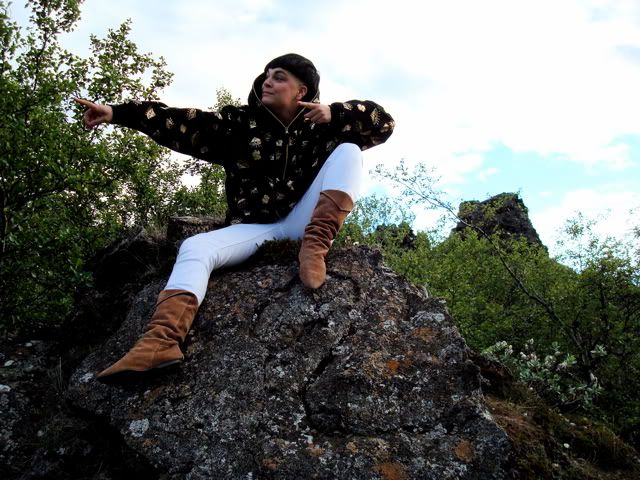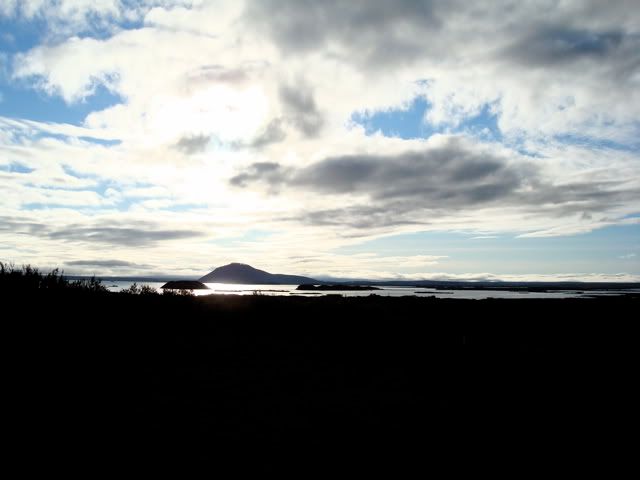 Anyway the night itself was possibly one of the most enjoyable 90s gigs we have held so far. I was having so much fun in my new spandex I hardly wanted to share the decks. It was full and everyone seemed to be having much fun indeed. I do love it when the crowd go insane when you are told to stop by the venue owners. We'll be doing another one of those later in the year when Curver is over.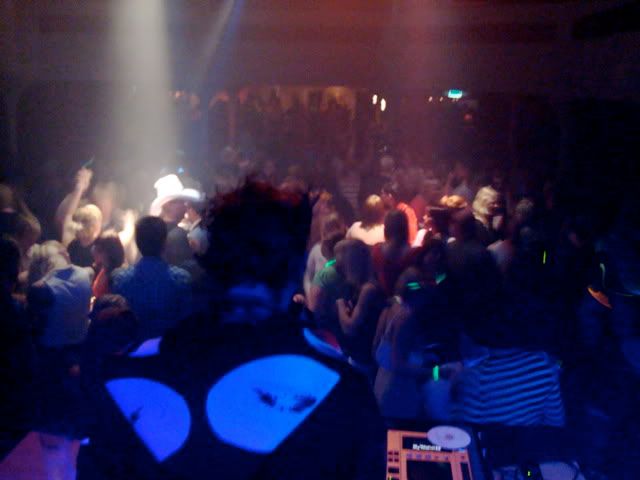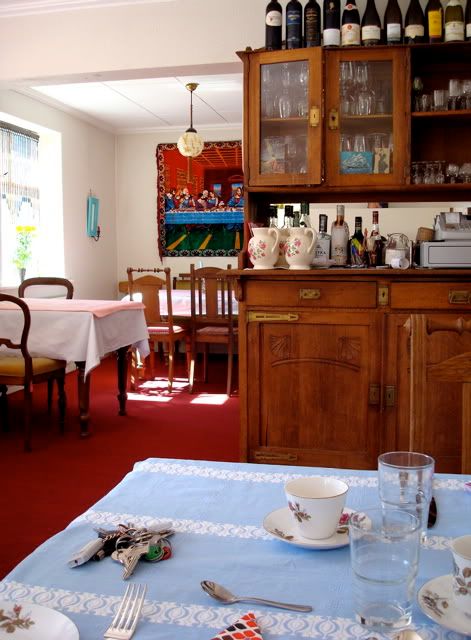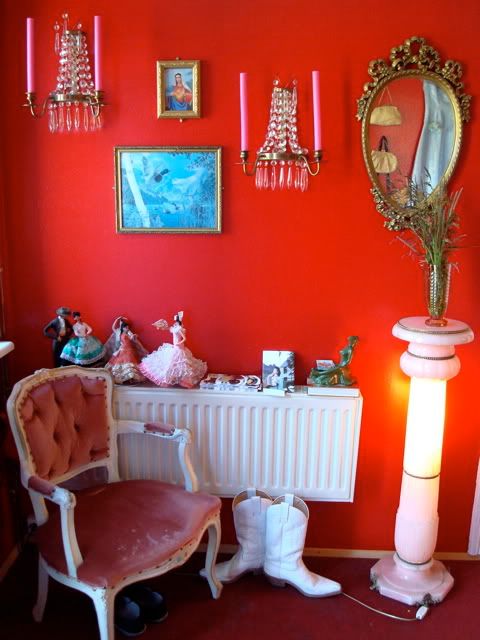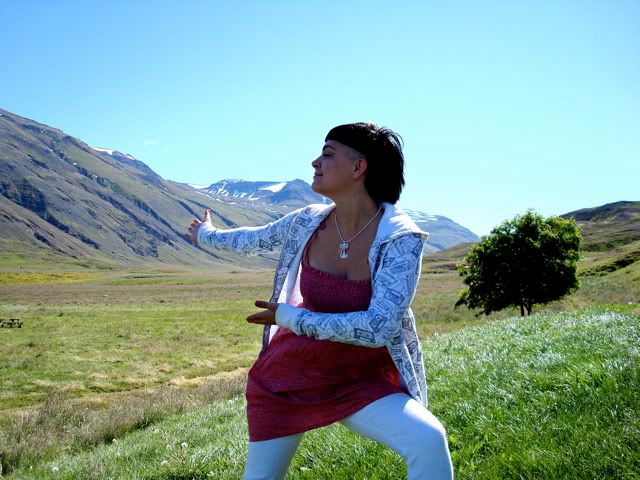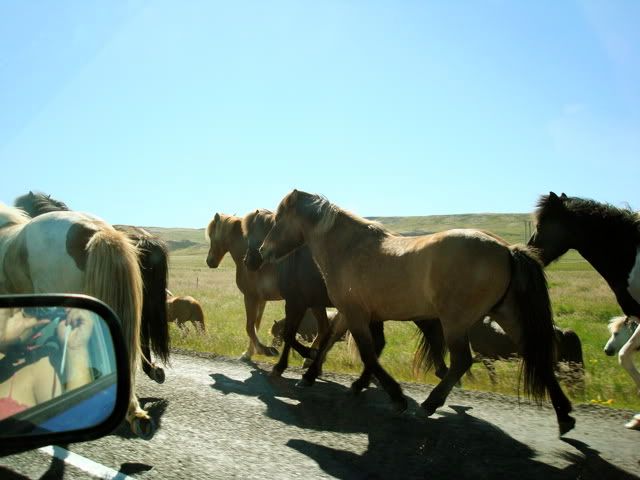 Before my trip to Akureyri I decided to do something utterly random and last minute, which is very un-me. I am the kind of girl who packs her bag 2 days in advance of going anywhere, its the OCD, anyway I was finally paid some money I had been owed for a long time and booked myself a ticket to New York for a week a mere 30 minutes before having to leave for the airport.
I had never been to the states before, let alone the big apple and sat at the airport looking through myspace and realised I had quite a few friends there. I stayed the majority of the time with Mokki and then the last few days I was with Lauren, both of whom live in Williamsburg. I shopped. As in I S:H:O:P:P:E:D: - just bought everything i wanted in the vintage stores because even with so much i couldn't carry it - it always came to about the same price as a single item in Reykjavik. AMAZING. I needed to buy an extra suitcase to bring it all back.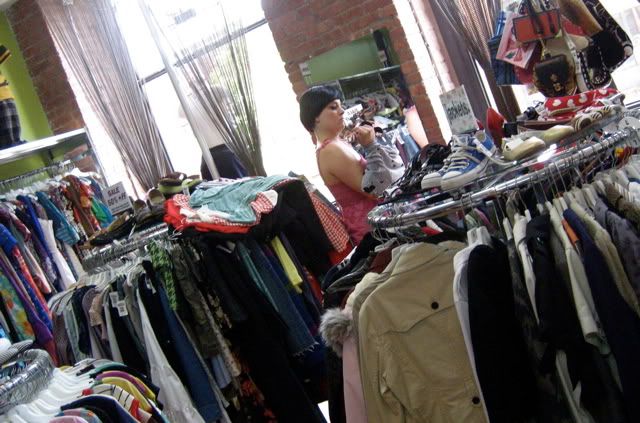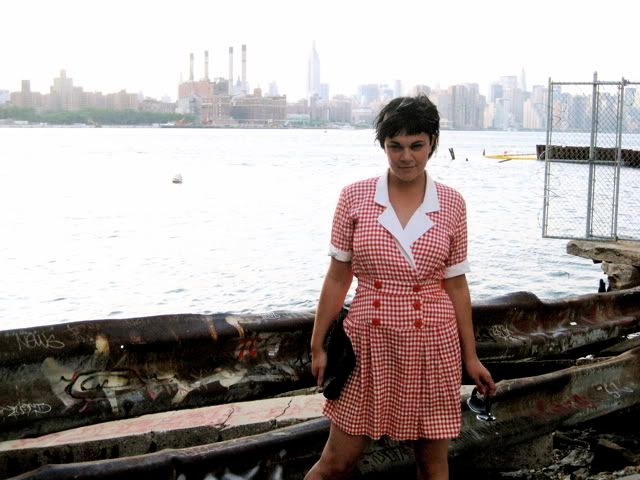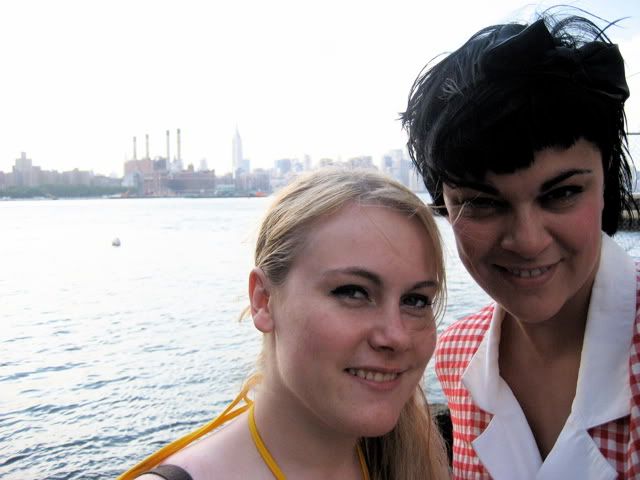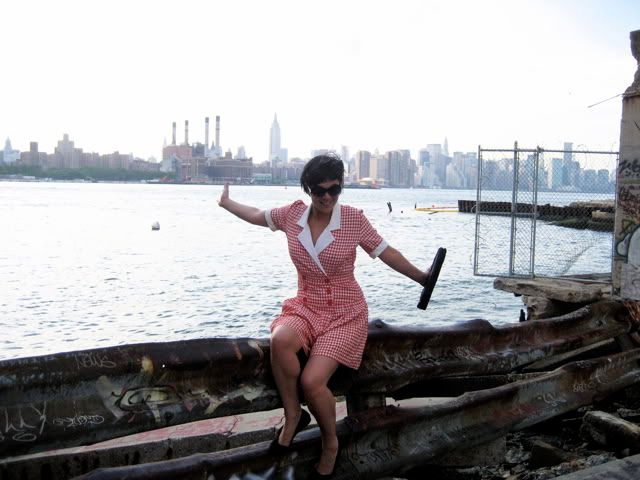 Aside from the shopping there was also eating, of which i did much of, again due to the low price of everything but also because I have to say the availability and the quality of the food in New York has actually outdone anywhere I have ever been before. It is incredible, as is the service which goes with it. I was astounded with which the courtesy and manners every single waiter/ess greeted me.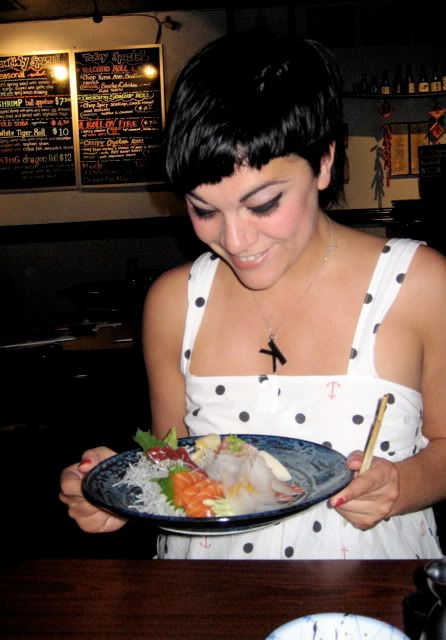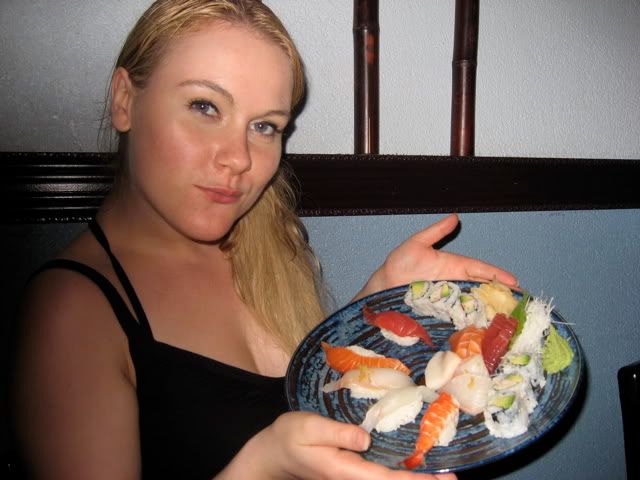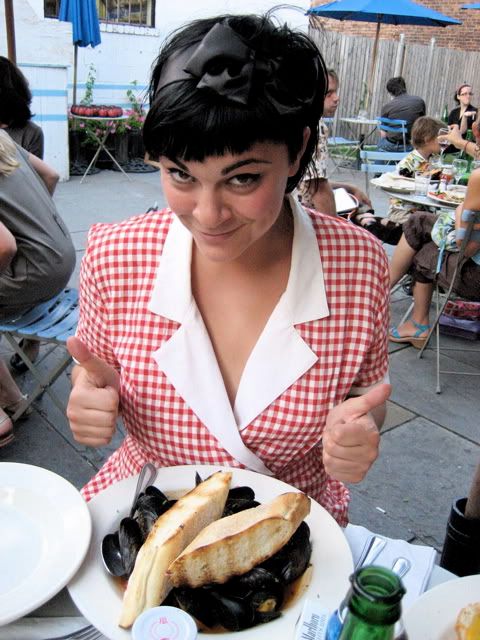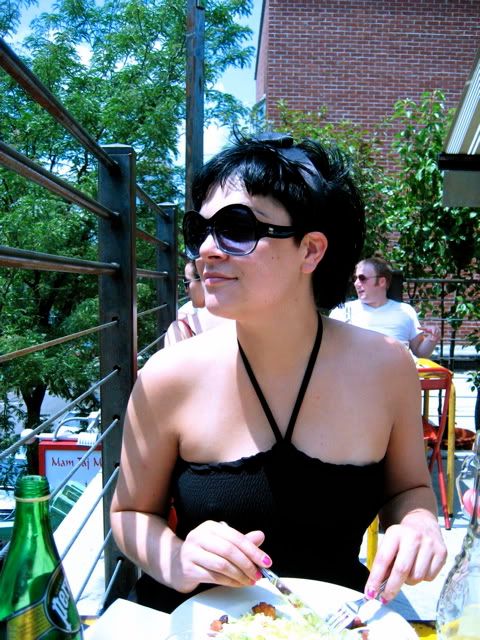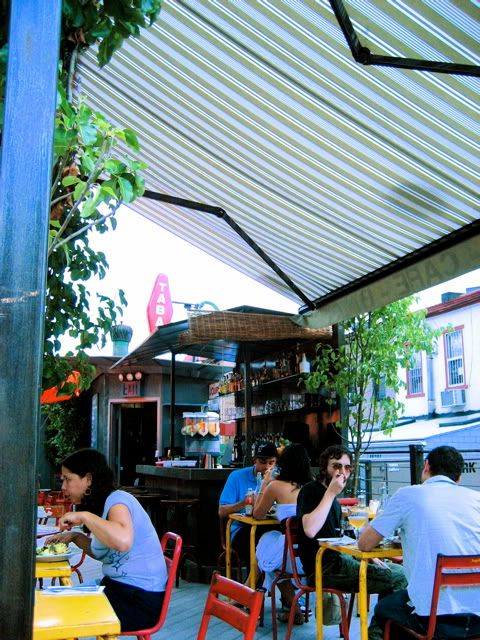 Places I attended socially were:
The Mercury Lounge for the Benni Hemm Hemm gig. Icelanders in New York. Amusement all round.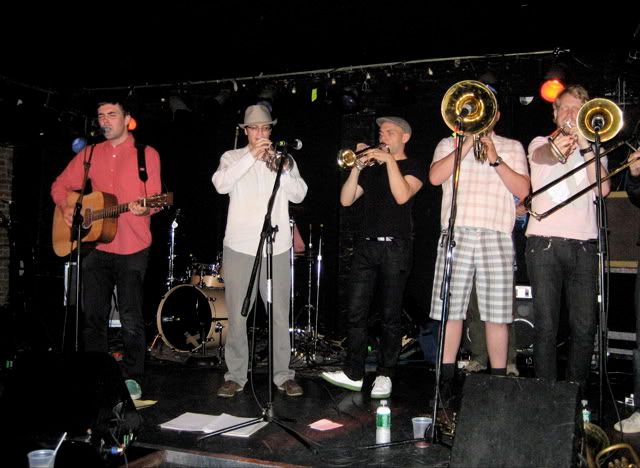 Barcade - A bar which serves very good beer and has loads of old school video game machines all over. I couldn't help but think how much Kalli would have freaked out in there.
The Charleston for a party Lauren was DJing at. There David came to meet me. I have been speaking to him online for 4 years but we had as yet never met. It was odd, mostly because it just felt like we were old friends who hadn't seen each other for a while.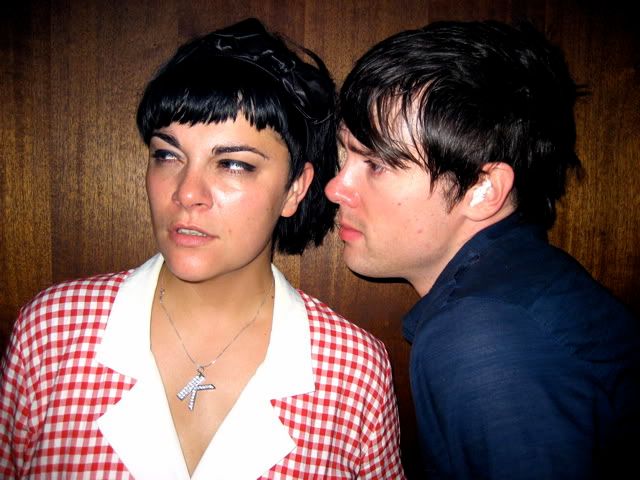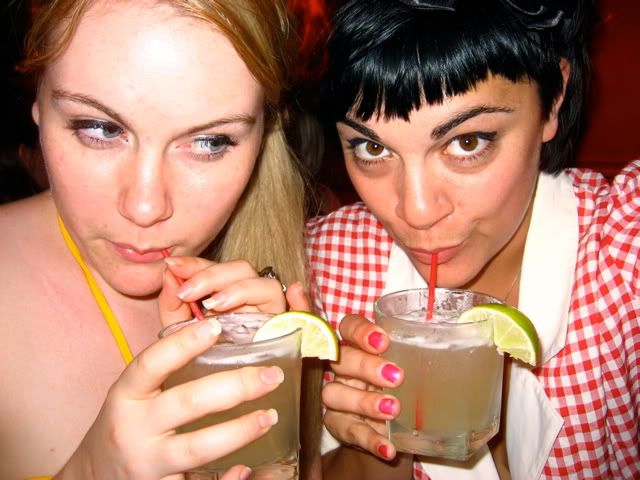 Later he took us out in Manhattan to the Annex for drunken dancing.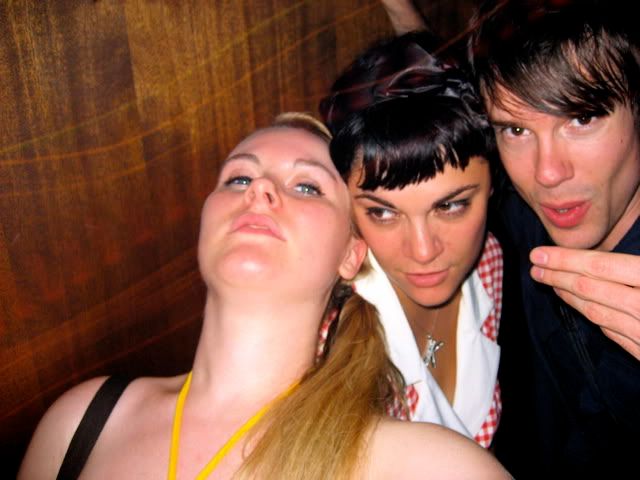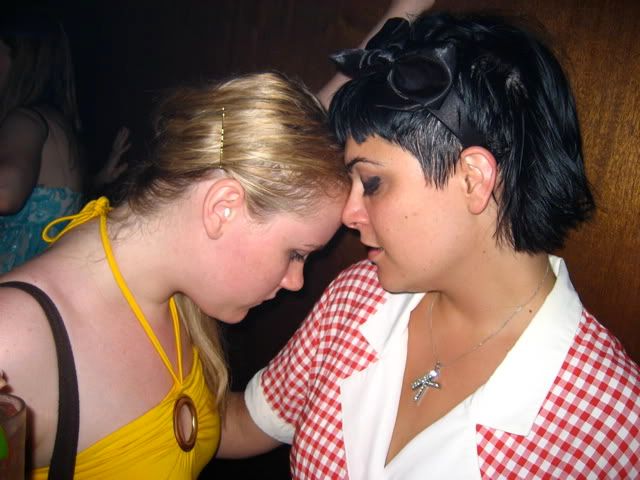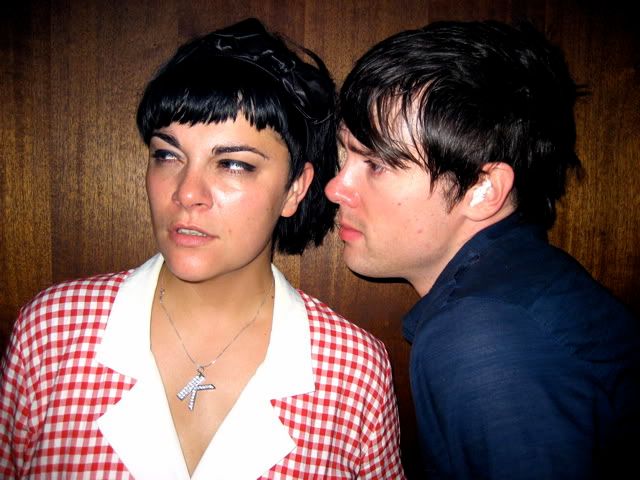 The Sunday there was one of the free 'Pool parties' at McCarren Pool a mere skip and jump from Mokki's place. I met Rachel who used to live in London for brunch and she came with. Erase Errata played amongst others, the sun was very hot, the slip and slide was packed and watermelon was the best snack available.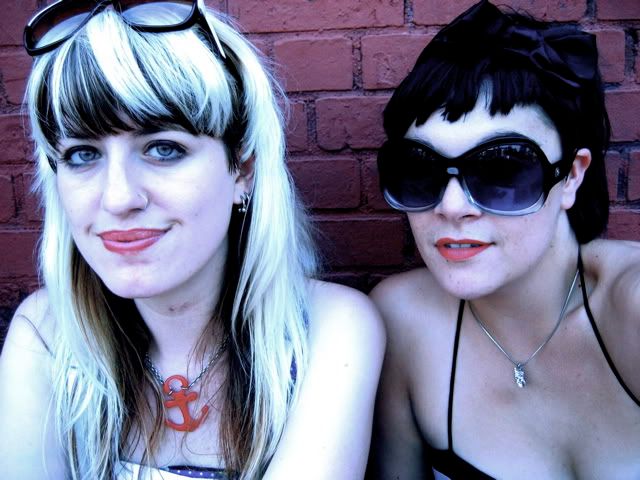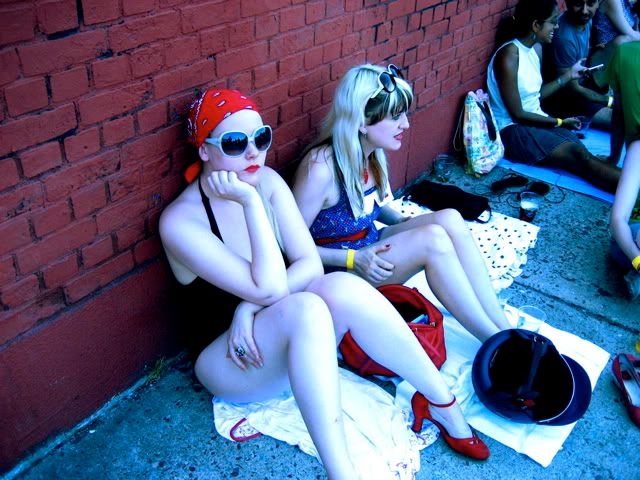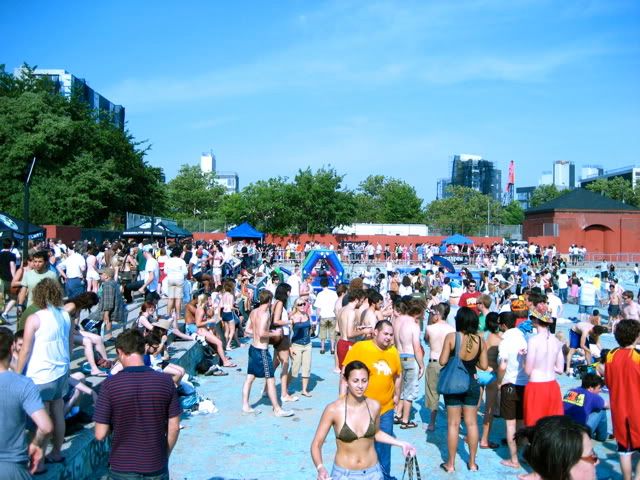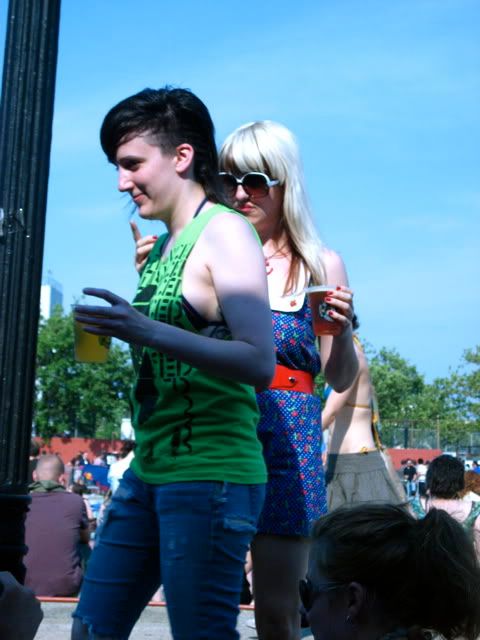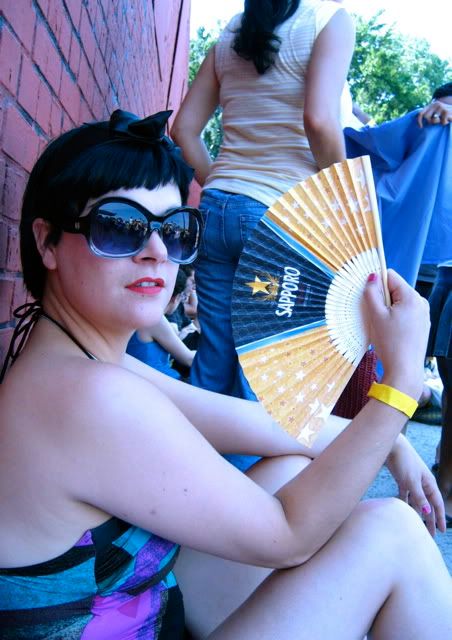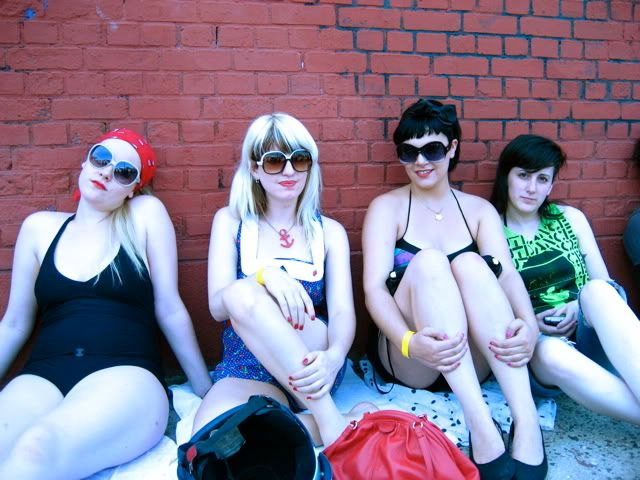 From there I went with Lauren et al to the weekly free BBQ at a gay bar and drank more margaritas. I have never drunk as many margaritas as I did in New York. You can't get a decent Margarita in Reykjavik to save your life and they were everywhere, and always with the option of frozen which in the heat was amazing. Until the morning after of course.
That evening Mokki and I went to the comedy night at Piano's hosted by Timmy of The Whitest Kids. I was dreading going to be honest as generally the stand up shows i have been to have made me cringe more than laugh. With the exception of one comic I had trouble stopping my margarita from flying out of my nose. Bravo.
The Whitest Kids have a TV show in America and since returning I have checked out some of the sketches. This one hurts me I think its so funny.
Anyway after the show most of the comics from the night along with Melissa who organises the night and some other of Mokki's friends came back to the pad and we introduced them to the hideous world of Opal (or the Black Shit as Curver calls it).
I left them all drinking and passed out through jetlag and heat exhaustion at silly AM.
The following day I went into Manhattan on the hottest day of the year and met David to go shopping. After my feet hurt too much we popped home before venturing back in to meet Angry Jonnie. Never thought i would end up doing that, but then I never thought I would end up going to New York last minute. Live life on the edge I say.
He won't let me put up any of the photos which make him look silly, which is wack, but there we go.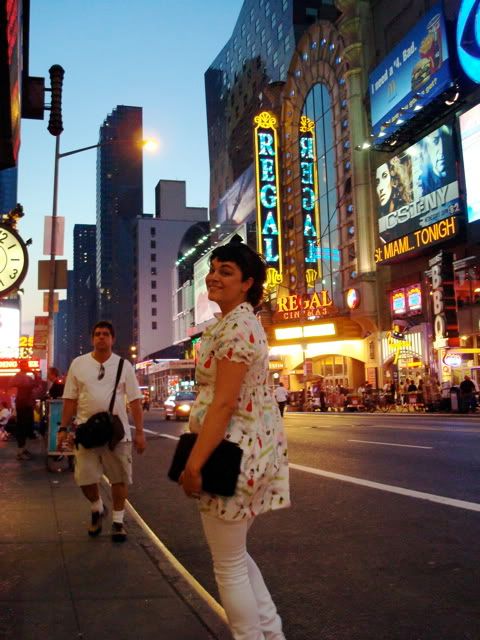 We had to dash from there to get back to Pianos again where I could rape some more of the best calamari in the world and swig it back with one of the best frozen margaritas in the world for it was Karaoke Killed the Cat.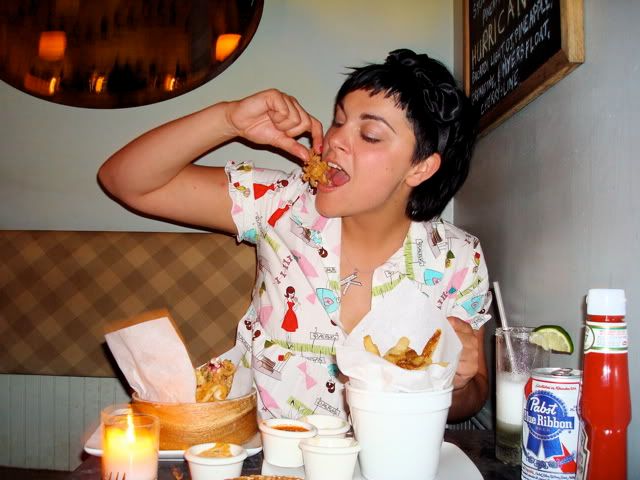 I can see why this is a legendary night and if I were remotely the kind of person up for singing, i would have. Crazy tunes, crazy people, stage diving and bundles.
We were the last ones to leave and we all hurt the next day. oh yes we did.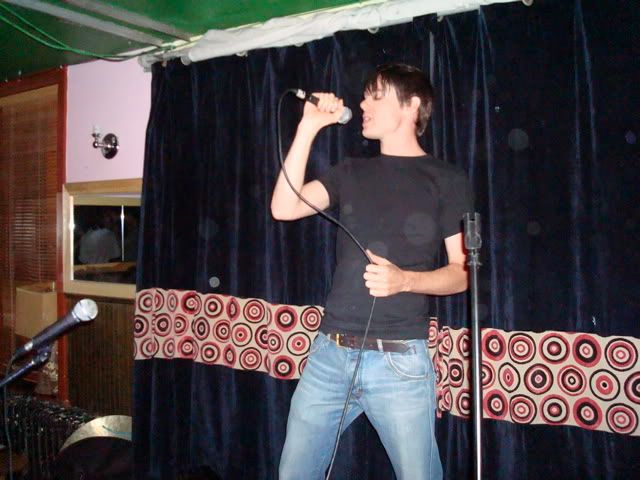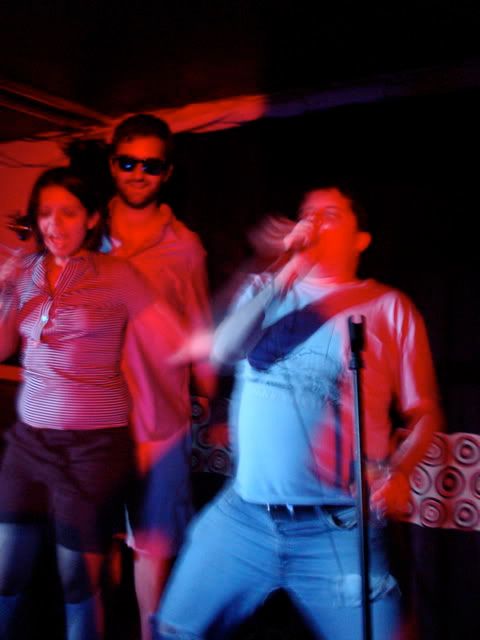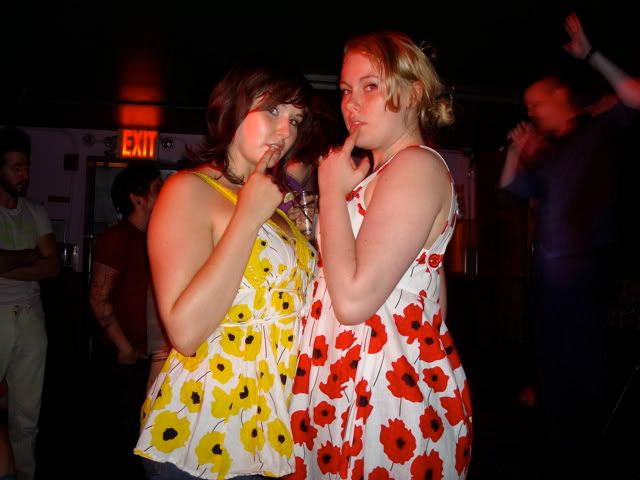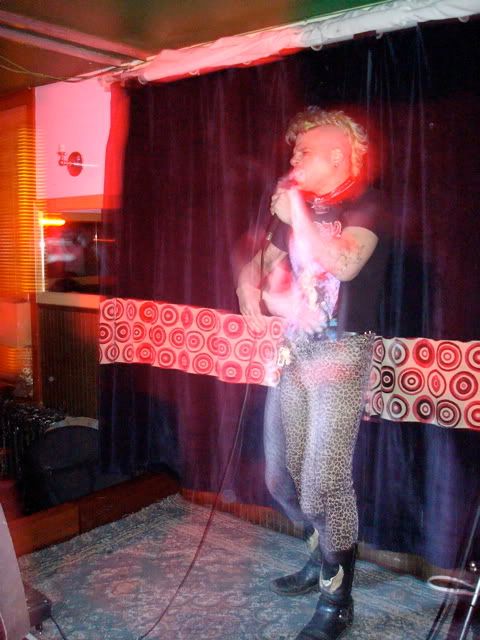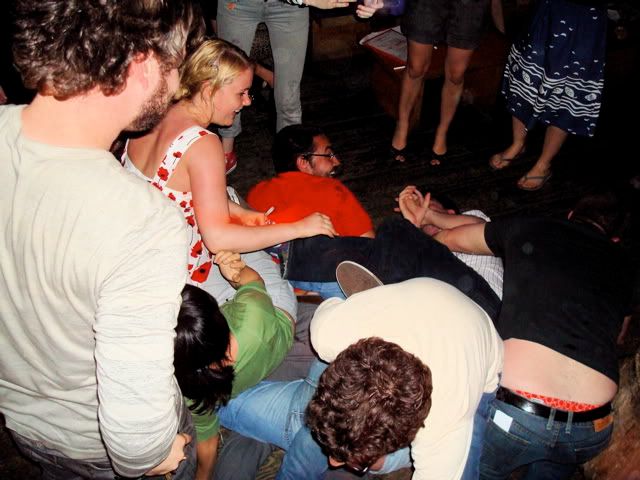 I moved over to Lauren's place with my hangover and went for brunch. again. I am so down with the brunching that New Yorker's do. I want to do it all the time. Especially when Bloody Mary's are 2 for 1.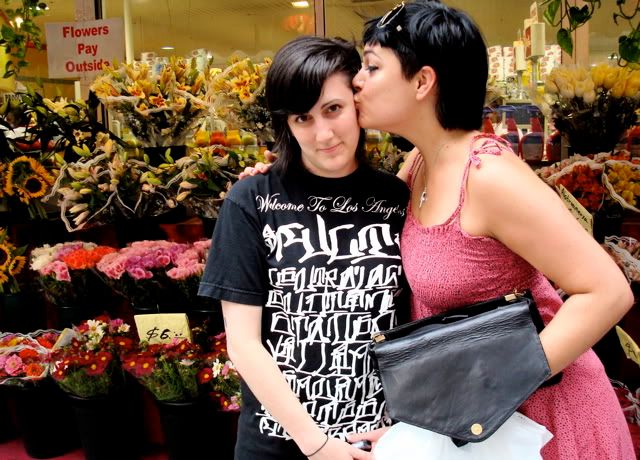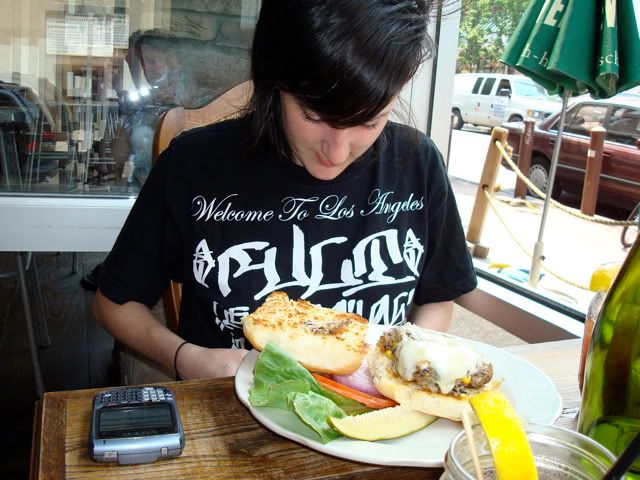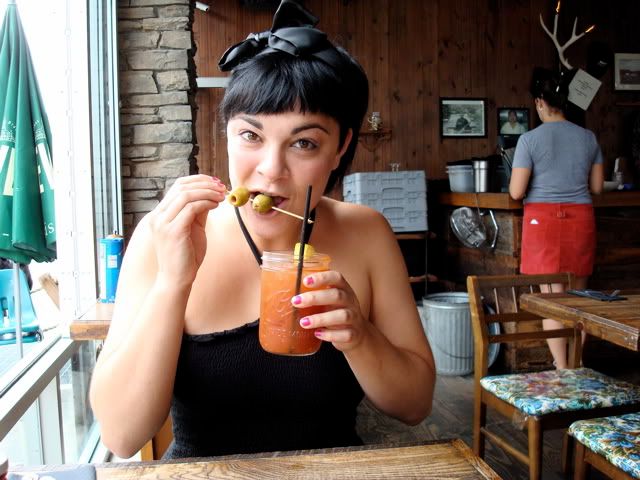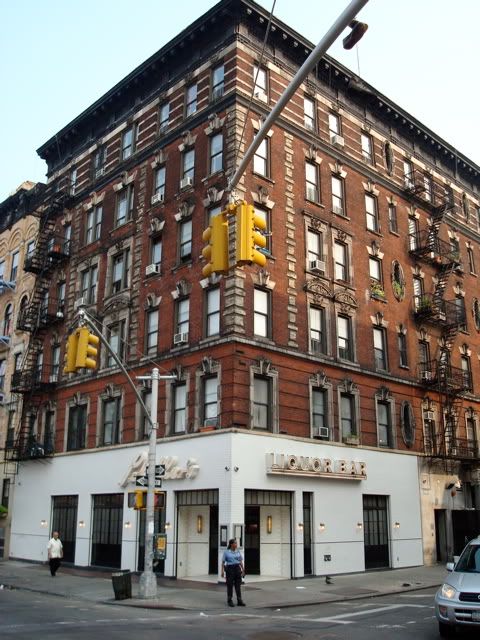 I did venture into Manhattan but apart from that stayed more or less in Williamburg partially because everyone i knew lived around there, partially because I really lived it and partially because of the heat. It was un-frikking-believable. 38+ degrees C in that city soupy aired heat was quite a struggle from the fresh bright air of an Icelandic summer. One of the days we simply couldn't leave the house, people cracked open fire hydrants up and down all the streets.
On the last day, only an hour before i was due to depart for the airport, the atmosphere couldn't take the immense heat any more and the heaven's opened. I miss thunderstorms. You just don't get them here, not to the crazy level of London anyway. I was glad to have had one before departing.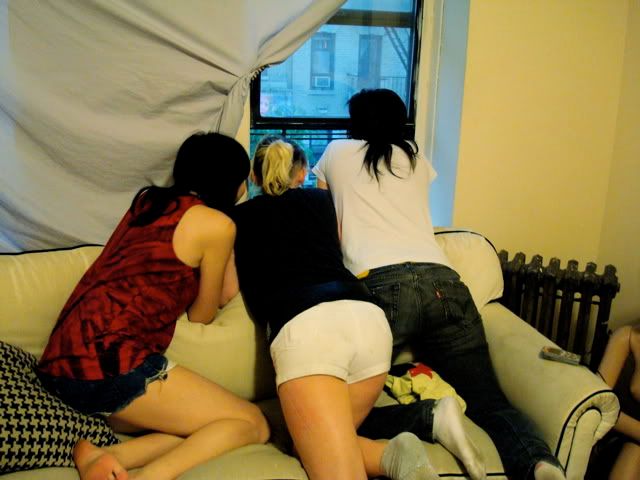 Thank you to Mokki for being amazing and to Lauren too, I love these girls. Mokki will be coming back soon enough and Lauren should be here in September to play a few gigs and run around causing mischief. I can't wait.
Pre-New York I had another one of my little Tea Parties. 20 people came and went and because it was one of the incredible summer days we have been gifted with here the last month we sat outside chatting and clinking teacups from around 3 until 7ish when Viddi and Hanna arrived with croquet sets so we moved over to the little park opposite my house and I served bruschetta for the players and lay in the sunshine. Wondrous.
(PHOTOS TO FOLLOW)
Prior to this, just after the Weird Girls night and the drama that came with, I had to pop to London for a few days ahead of Gus Gus arriving for their Thursday night 93 Feet East gig. I spent some time seeing people I missed, Jess and Gaui and Sebastian and my sister Hannah.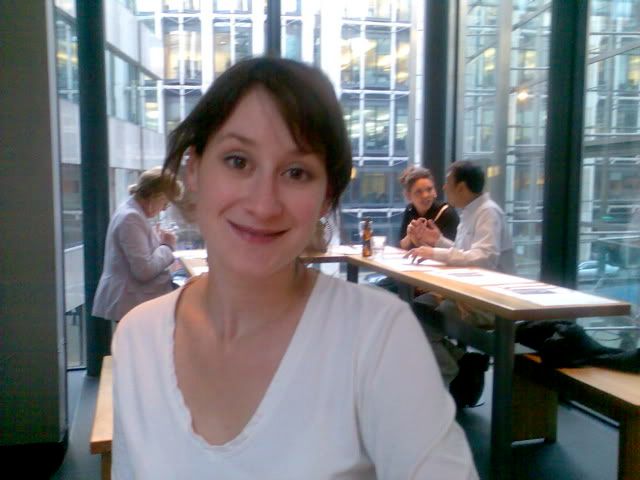 I didn't do my usual of rushing around, partially because of leg and partially because it was too hot. I had a lovely time and lil Matt had lent me his pad on Brick Lane.
Due to its close proximity to the venue I was able to make sure everything was set up for the already sold out gig. Everything that is except for the fucking plane. The band's flight was delayed by 8 hours. The gig had to be canceled which was frustrating, disappointing and irritating.
Just when you imagine things cannot get any worse, they do. The nightliner bus which had been booked for the journey from London to Glastonbury and which was to be our
accommodation at the festival had broken. Unrepairable. There was much toing and froing over whether the band were going to come or not but it ended up with a yes. A substitute bus was found which was basically a school bus and this meant that we had to stay in a Travel Lodge near effing Heathrow that night and then drive to the festival the next day.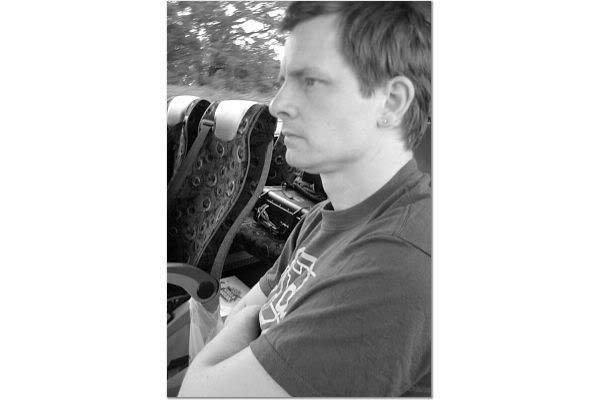 It was exhausting to say the least, then arriving at the rainy festival which was basically a mud bath already to find the dressing room wouldn't be available for another hour or two was less than enthusing for everyone.
Just as they were due to start playing I went out to the front of the stage where I had agreed to meet the Bainer and my heart sank at the group of about 5 people in the audience area.
But as soon as Stebbi, The President, got on stage and began the first track, the sun came out and I turned around to hundreds of people walking like zombies towards the stage. It ended up being what the band called their best gig in a long time and everyone's spirits were high. We all ventured off and around the festival to catch things we wanted to see and felt like the long journey had been worth it.