Well to say life is never boring doesn't even come close. Weird Girls night II the Return. This will be a short blog entry because i am in shitfuck pain right now, but i am uploading photos as they are the only thing making me not throw a total tantrum and cry alot.
The Girls were... Ég, Magga Sigga, Tinna, Stephanie, Hulda, Lilja, Katrín, Rósa, Tanya, Nadira, Eyglo.
We donned our super suits and photographer Hörður accompanied us to the cemetery where we scared tourists and climbed trees. I CANNOT WAIT TO SEE THESE PHOTOS. HE TAKES THE RADDEST AND LO WE LOOKED THE RADDEST.
Anyway we did some filming outside but it started raining so we moved inside and i will attempt to sort the footage after my uk visit. Long story short, when walking downtown and posing for a group photo i took a step back and my legs went straight down an open man hole type thing which was supposed to have a light in it for the statue nearby. AN EFFING OPEN C**TING HOLE, scraping my shin as i went.
I stood up and against the girls 'oh! shit!' assured i was fine as there was only a small tear in my suit and i couldnt see much blood, but as a few minutes went past i realised pain was a go go. Lilja assured me i needed stitches i said lets get to Q bar and put a plaster on it. Upon reaching the Q bar's back room and removing my suit it was fucking obvious i did indeed need to get to the fucking hospital.
Hulda and her boyfriend kindly got me in a cab to A and E. Arriving for my first icelandic hospital visit dressed from head to toe in a spandex suit and glimmer which i had to take off, with no underwear and only an old ladies coat to cover my modesty was less than dignified i have to say. They cut away the fatty flesh which was fun, so that they could stitch my shin together, it being a reeeeally comfortable place to stitch.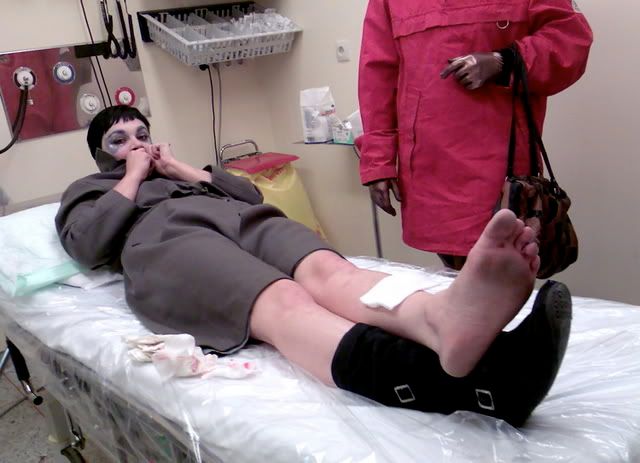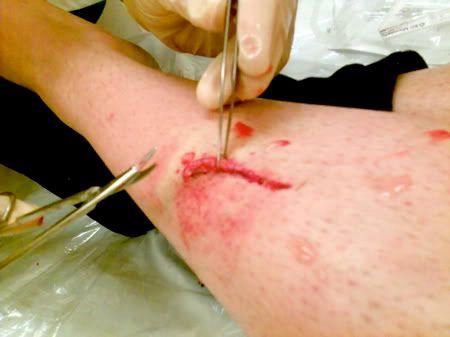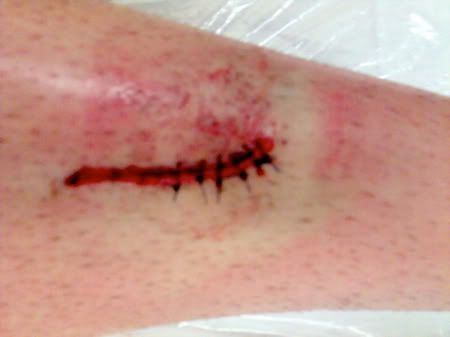 (yes i know my legs need shaving)
So I get home at 5 something Hulda and Bjarki left me with a cup of tea and I get a call from an upset Lilja, in the meantime her bag has been stolen from Kaffebarinn. With her new trousers, cards, wallet and my digital camera.
AAAAAAAAAAAAAARRRRRRRRRRGH! x guzillion.
She has now arrived here and we are sat in utter disbelief. My anesthetic is decidedly wearing off, and I would give almost anything for a shot of something pain relieving and fluffy round the edges. The only thing stopping me from tantruming is these photos.
Enjoy and appreciate the blood and tears it took. Takk to the girls and apologies that i had to leave before the night had properly begun. There will be the 'official' photos up as soon as I get them. My only concern now is how on earth to out do myself for Weird Girls III, for there are a great many ladies wishing to be involved now and I must top the level of greatness at each and every turn. Bear with me.