Well peeps this is a Björk based couple of weeks. Yesterday was the media world premiere listening of the new album - Volta, it was also the start of the ticket pre-sale for her tour (click
here
for website).
The listening was hosted at Kaffebarinn and it was an unusual event in my eyes. Press with cameras eagerly awaiting the lady's presence, but this wasn't about that, this was a chance to hear the new album, so far kept very protected in a fortress of security.
Several other local musicians were there too from Múm, Trabant, Gus Gus and more. We all sat relatively quietly and let the songs unfold. Being the voyeur i am i couldn't help watch people's faces, especially the other musicians. They helped me notice aspects in the music I would otherwise not have picked up in this environment with background chat and beer glasses clinking. A twitch of their finger or a smile and an exhale highlighting changes in key and the introduction of different instruments.
The album is hard to describe without belittling it with this one listen. It is more accessible than Medúlla, slightly more pop than Vespertine. There are some tracks which flow over and enter you in the way Björk's ballads tend do and there are those with a raw beat that made the everyone in the bar move at least one of their body parts to it. You can feel Timberland's presence but no where near in the way i first imagined when i heard he was working on it....
Let's cut to the chase shall we? You'll just have to buy it when its released May 7th.
If you are in Iceland this weekend then you can see her perform just the one song at the charity event for Forma at Nasa on Sunday along with some other amazing acts, and what's even better is that its all for charideeee mate.
If you aren't in Iceland, there is a world tour don't you know so go to
bjork.com
and see. I am hoping to be attending Glastonbury with Gus Gus. This depending on some things and stuff, but I very much hope to go. Not only is it my friend Craig's 30th birthday there but Daníel Águst will be going with Gus Gus, and Trabant and Björk will be playing too. Its like an Icelandic mafia and some of my UK friends are also playing. Besides that it is only an hour or so from my hometown so i always bump into old faces from days of yore. i do so hope i can go. i would love it.
I have realised I am too old for most festivals these days, maybe i have done enough, maybe I am hitting middle age too soon, but i need a festival where the liklihood of someone peeing on my tent is as minimal as possible. I personally love glastonbury as I turn into a hippy and spend all day in the healing field and Greenpeace showers. Fingers crossed.
Other excitement on the horizon is
Uffie
playing at Barinn this saturday with local faves
Steed Lord
. I will be there with bells on. Oh yes.
I'm ready to fuck
as Uffie says.
Musical news from yours truly, which is amusing as I always feel obliged to say, I have little to no talent in such, I am going to be on an album. Ha! Yes. truefact. The lovely
Manny
is including the track I, or Kiki-Ow rather does the vocals for. It is a cover of Justify My Love and I am of course only not hideous on it because it calls for sex. This being one of the few things I am good at. ahem.
You can take a listen on his profile
here
.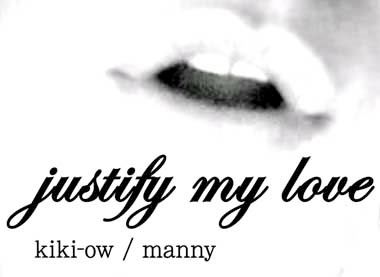 Other up and coming events is Curver, Wayne Paul and my RAVE at the Q bar next wednesday. 'Wednesday?' i hear you cry? Why yes. Thursday everything is closed so we are playing until 5am-ish and its going to be 90s dance but not as we usually play. This is the chance to be old school and I am hoping to play first so i can spend the rest of the evening raving.... big fish little fish card-board-box. If you know what that means you should definitely be coming....