i have returned home from a week in reykjavik and i have had the most amazing time once more. but possibly more so.
more than ever it feels like home. all my icelandic friends bitch about how its all the same people and its dark and its cold. these are things i cannot deny.
BUT for an outsider (who loves the cold, maybe its my slavic blood) who lives in a city of 7 million its a fucking godsend.
i dont deny i will be driven mental but the close proximity of everyone knowing every one and more to the point, knowing everyone´s business, i will suffer without the variety of everything i have at my fingertips.. food, music, clubs, food, food, food.... but there are things there i will enjoy muchly. the classic things all outsiders say... clean air, low crime etc etc then there are my friends.
i am a spoilt bitch when it comes to friends in iceland and it grows each time. i have left Sruli here to take care of business until i return and fuck him sideways for making me miss him already the goddamn baby bitch that he is. There are the solid long standing ones, Kalli, Viddi, Neni, Haddi, Ragnar, Egill, and the relatively new additions Sabrina, Asta, Sveinbjorg, Gunni, Hemmi and more...
viddi made sure that his home was made to feel like my home and i am extremely grateful that even whilst spending 2 long days filming trabant's video and more long days in the studio that we had time to gossip and pontificate and drink vodka.
i moved to kalli's for the second half of my stay and i brought the Team KikiKik gay jewelry to give kalli his half. we both have 2 'K' necklaces, one bling and one super bling, i was thinking about which would represent which member and i think that i would be lying if i tried to claim the mega bling as me. we did the usual Team KikiKik things of watching dvds and eating lobster and drinking champagne. this is what its all about and i like to think that no matter how poor we might get over the years, there will always be champagne and lobster.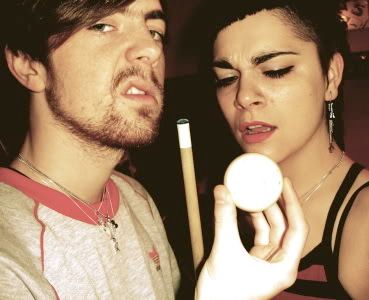 i had The Most Wonderful Birthday Party Ever. i had planned it to be a comforter for me to look around the place and see the faces i will be coming to, in order to calm my panic over leaving ones here. it worked and did loads more. so many people came during the evening to share the fun and glimmer and dancing. neni and the sign boys made a special journey back from a gig in kopavogur to come which i appreciated even more as it was ragnars birthday.
this trip was key for many reasons, for reassuring the nerves in me, for celebrating, for seeing my new gimp room in arnar's flat. it did all of that and more. it was also a wake up call to the fact that the hard stone i have been carrying around all year isnt there anymore. god knows where i've put it, where it went or exactly when, but it has.
special shouts to Nadira for my bad kitty tee, Bibi for Leeroy the gay priate tiger complete with eyepatch, Sindri for the attempt at Deep Throat (read into that what you will people). Maggi for his facial expression after beating him at pool, Arni for getting me thoroughly drunk in warm up for my party and Arnar for getting the glimmer spread around Sirkus after previously trying to avoid it. Asta and Sveinbjorg for my pirate china teaset, being princessy and being gorgeous. Gunni for dancing with me on thursday even if he didnt provide the promised leopard print suit. The other Sindri for bringing the champagne even if it started a head spin previously avoided with the white russians and jager. Einar for dancing absolutley ridiculously on the furniture with me and more or less everyone who came to my birthday party, who drank and danced and glittered and then who all reported how incredibly fucked up they were the next day.
hoorah i say. hoo the feck rah.