ok. i am not off to reykjavik permanently until march but i leave london soon. as i will be in reykjavik for a week this month (for birthday treats etc - see invite below) i only have NINETEEN DAYS left in my city. fuck fuck fuck fuck fuck. i feel very angsty about leaving her.
so here's a few requests to my london posse:
1. dont forget my leaving party - 18th DECEMBER. gay pirates all round thank you.
2. don't lose patience if you are trying to see me and i appear awkward to pin down, i have lots of people to see, lots of packing and paperwork to sort out.
3. come to devon to see me in jan-march as i will be bored shitless. seriously.
4. i will pop back to london for new years eve - what the bloody buggery bollocks are you doing? tell me so i can decide what would be most rad. i would like to attend a house party preferably methinks.
5. if you see me on the street as you go by on a bus or something and i am stood still staring at something, dont worry, i am just realising how much i will miss certain buildings, certain streets, certain quirks and idiosyncrasies.
I have had an utterly insane couple of weeks with friends and dancing and champagne and glitter and drinking. my London birthday party was a serious 9 hours of drinking and was crashed by Meg White of all people. I managed to still function by the end unlike quite a few (seb, dan, neil specifically), but decided not to accompany the Datsuns to a hotel in west london for further drinking as I had more to do the next day. I had been invited to a wear-only-yellow-wear-a-tash-wear-a-hat-and-name-badge party by Sruli, Mr Frost's wife, so Kris and Hanna and I dressed suitably and pootled to the east for drinking and dancing. The obscene cocktails left me somewhat worse for wear but it was much fun indeed.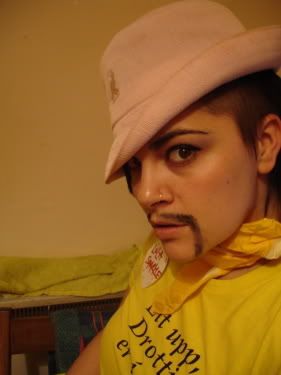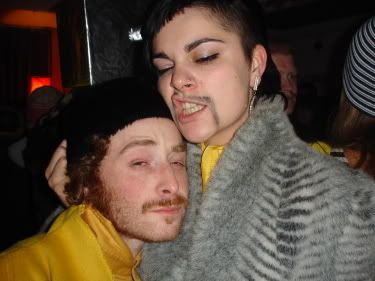 This past weekend I went to the east again (what is going on) to meet Debra at some pub for a freak show, can can dancers and an underlit dancefloor which rocked my socks greatly. Laura and I spent some time pretending to be John Travolta but we were soon put to shame by the singer from Selfish Cunt's dancemoves.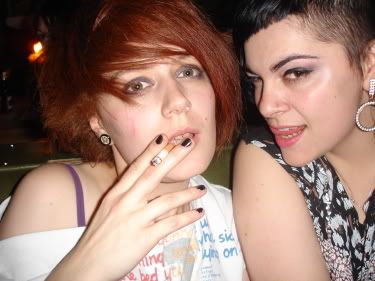 The following day I took Bjorg and Sruli for a Kitty's London day which Fanny joined us for. Mulled wine and coziness in Highgate then a jaunt into Soho for bloodshots and on to Afterschool by tuk tuk for hardcore dancing and sexy juice. Fanfuckingtastic.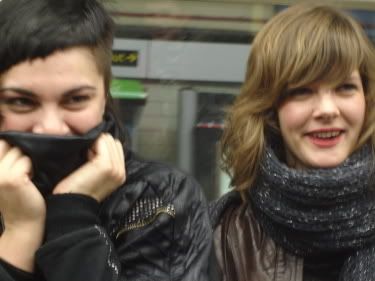 So now i am exhausted and realise in just 3 days i will be back in Reykjavik being a busy bee seeing lots of people i cant wait to see, destroying the town with the help of Asta, Sveinbjorg and Sabrina, and my birthday party on Friday at Sirkus. oooh i can't fecking wait.......