Well the life and times of kitty are hectic ones indeed and this week's theme has been media related. To start, Bart and Gundi of Grapevine fame were over for the weekend doing a London special. Unfortunately they arrived too late on Friday to gain the full secret London I had planned and anyone who's anyone will tell you that a saturday night in town has much less to offer than a friday for some unknown reason.
I took them around Camden market, resisting the temptation to get violent with the several thousand tourists getting in our way and found one of those dresses which makes me skip with joy. Vintage, fits perfectly, a style made for me, perfect condition and only a tenner. Such joy from something so shallow.
I was otherwise engaged on the saturday evening out in old street so suggested they give me a shout on sunday. sunday was a fancy dress party at Sambucca. I went as.......yes, of course, a pirate. It was after much drinking and dancing that Bart called at around 11 hoping for a night out. I had to quickly explain that in the UK on a Sunday you are hard pushed to find anywhere open at that time - except that is for the colour bar (previously Under Solo) where Omah plays orgasmic motown and soul hits. We agreed to meet in Camden as quick as possible and it wasn't long before we were shaking our poontangs with me getting a warm reception and 'AAAARRGH MATEY!' from all sides.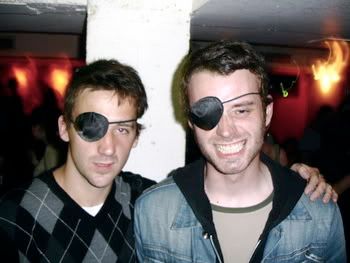 Monday evening had been reserved to meet up with Chris Rowe who is the director of the Iceland Airwaves documentary I am helping out with/being in. He and I had an interview booked with a journalist from Grapevine bizarrely enough. It turned out she couldnt make that evening and we rescheduled so instead I went and met Chris to run through some more details over a red wine and cola and i got some rather good cds as he works for one little indian.
Yesterday I was contacted by Tony who does PR for Epitah and thusly some things involving SG, like me. I was invited on the Trisha show. Oh my, too amusing for words. For those of you outside the UK - the Trisha show is a UK daytime chat show much along the lines of Oprah. I was invited to discuss the 'alternative slice of life' and I so desperately wanted to go on in a shell suit and ham it up no end purely for comedy value. But it is far too public for my liking. I am in no way ashamed of my pin up activities but am aware that in a job such as mine, involving meetings with clients etc, it would not be very professional to appear on terrestrial tv. Additionally people like my grandma watch that show and it would break her heart if she knew about it. I have shown my mum some of the photos etc and she was very complimentary about them even though I didn't spell out what or where they were for exactly, but my poor gran really doesn't need to know.
I was also asked if i would be on a documentary about the pin up worldwide, i have said i may very well do this as it will be a late night thing and i don't think it will be shown until the new year. So there's no concerns re: work or grandma.
Time is moving fast and there is still a great deal for me to get on with but things are clicking into place and fun keeps appearing, October will be full of fun things, for its Airwaves and Trabant are touring the UK, including playing at a Halloween party which should be radness untold. I am going to take Viddi to a 1930s style night at Cafe Royale jsut so that he can play at being a real English dandy. Oh yes, its going to be a crazy month.